Logan Paul, a popular YouTuber, faced scathing criticism over the weekend after he posted a video of a dead body while filming in Aokigahara, a forest located at the base of Japan's Mount Fuji that is often referred to as the "Suicide Forest."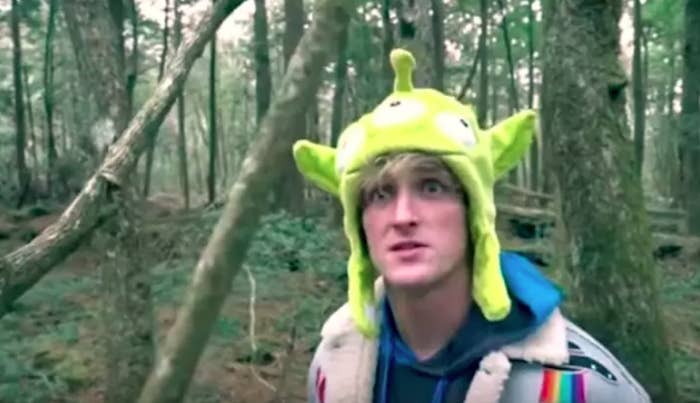 The demonetized video — which was on Paul's YouTube channel for several hours — got more than 6 million views and tens of thousands of likes before Paul removed it and issued an apology on Monday evening amid public outcry.
On Tuesday, Paul also issued an apology on his YouTube channel, saying, "I made a severe and continuous lapse in my judgment and I don't expect to be forgiven." He also urged his fans not to defend his actions.
Many people slammed YouTube for allowing the disturbing content on their site and not taking it down.
And they noted that Paul, not YouTube, removed the video hours after it was posted.
Many called for the company to delete Paul's YouTube account, which has more than 15 million subscribers.
In a statement on Tuesday, YouTube said that a graphic video "can only remain on the site when supported by appropriate educational or documentary information."
Here's the full statement from YouTube:
Our hearts go out to the family of the person featured in the video. YouTube prohibits violent or gory content posted in a shocking, sensational or disrespectful manner. If a video is graphic, it can only remain on the site when supported by appropriate educational or documentary information and in some cases it will be age-gated. We partner with safety groups such as the National Suicide Prevention Lifeline to provide educational resources that are incorporated in our YouTube Safety Center.
YouTube said Paul's video had violated its policies. However, it was unclear whether YouTube applied a "strike" to his channel, which it does when it removes a video for violating community guidelines.
The guidelines say that while "it's not okay to post violent or gory content that's primarily intended to be shocking, sensational or gratuitous," it can help to balance a violent or graphic video with "additional context and information."
However, people were appalled by the company's statement, which was first reported by YouTuber Philip DeFranco.

One person said YouTube's response was "resoundingly hollow," considering the video got millions of views. They also pointed out that YouTube has been facing similar criticism for allowing disturbing and exploitative content to be posted on its platform.

After BuzzFeed News provided YouTube with dozens of examples of viral videos — some from "verified" channels — that depicted children in disturbing and abusive situations, the company deleted them in November.
Many of those videos, which racked up millions of views and made YouTubers hundreds of thousands of dollars, featured young children, often in revealing clothing, being subjected to disturbing actions, such as being restrained with ropes or tape, and sometimes crying or in visible distress.
YouTube responded to criticism by saying it would increase the number of moderators to more than 10,000 people in 2018 to prevent disturbing content being published on the platform.
However, contract workers who train YouTube's search algorithms told BuzzFeed News that the guidelines they use to evaluate content on the world's biggest platform for internet videos are confusing and inadequate, allowing disturbing videos to remain online.
Some said that YouTube's statement offered no details on how they planned to deal with the fallout from Paul's video.
Others threatened to cancel their YouTube Red subscription based on the "horrible" statement.
The statement also drew criticism from other YouTube personalities.
People also questioned if several brands that Paul listed as "previous collaborators" on his website, were willing to work with him again.
BuzzFeed News reached out to all the "previous collaborators" listed on Paul's website, which included Disney, HBO, Pepsi, Dunkin' Donuts and Hanes.
A spokesperson for HBO said Logan did a Game of Thrones-related "marketing promotion" on Vine for the network "years ago."
"But we have not worked with him since nor do we have plans to," the spokesperson said.
A spokesperson for Virgin Mobile said, "While we did work with Logan Paul on one Vine video back in early 2014, we have not worked with him since and have no plans to in the future. As such, social media posts that express his views, opinions and content have nothing to do with Virgin Mobile."
A spokesperson for Ubisoft said in a statement, "Ubisoft worked with Logan Paul in 2013 to create a 6 second Vine video as part of a larger promotional piece for a product launch. We have not worked with Mr Paul since that time."
A spokesperson for Dunkin' Donuts said, "We currently do not have a sponsorship or business relationship with Logan Paul and we do not have any plans to explore a future partnership with him at this time."
Outside Your Bubble is a BuzzFeed News effort to bring you a diversity of thought and opinion from around the internet. If you don't see your viewpoint represented, contact the curator at bubble@buzzfeed.com. Click here for more on Outside Your Bubble.