Woman Who Says She Can't Remember Killing Her Young Daughter Seeks Parole
Nancy McGeoghean, who is serving life in prison without parole for murdering her child, was given a chance to get her sentence commuted.
Nancy McGeoghean, 45, says she does not remember killing her 2-year-old daughter Sarah after a night of binge drinking in 1988.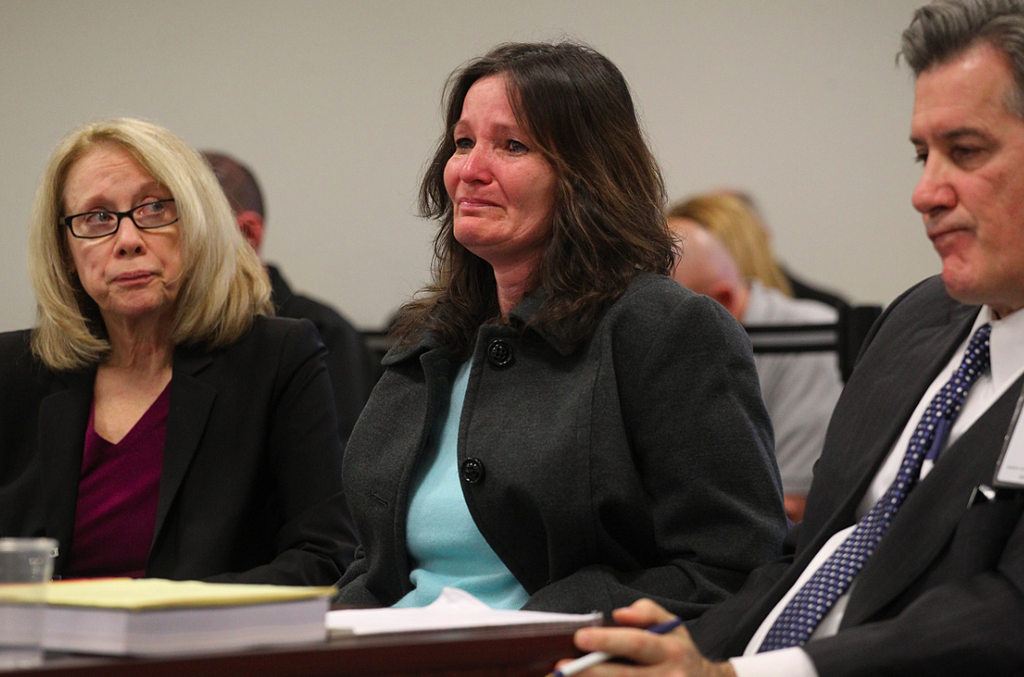 The child was was strangled by a stereo speaker cord and smothered by a hand or pillow, according to court documents.
McGeoghean was found guilty of first-degree murder in 1990 and sentenced to life in prison without parole after she refused to plead guilty for manslaughter, which would have sentenced her to no more than eight or nine years.
McGeoghean said she now accepts responsibility for the murder, although she continues to maintain that she does not remember what happened that night. She filed a petition with the Advisory Board of Commutations and Pardons to commute her sentence and make her eligible for parole.
On Dec. 29, a four-member panel of the board heard McGeohean's petition, the Boston Globe reported.
She told the panel that she did not remember killing her daughter.
"I ask myself that every day... I am ashamed of myself. I am disgusted with myself," McGeoghean said. "I loved Sarah. She was the only thing in the whole world that was mine."
She read out a letter she had written to Sarah during the hearing: "Because of my actions, you will never see another birthday, meet your brother and get to know your nephews or feel the wind or sun in your face. It was never your fault. You were beautiful, innocent and you deserved so much more. I really loved you."
The panel will eventually vote on whether to commute McGeoghean's sentence. If the recommendation is favorable it will have to be approved by the governor, after which it will go to the Governor's Council for a vote.
John Cunha, one of McGeoghean's lawyers, told BuzzFeed News that the board agreed to hear her petition because she had "extraordinary rehabilitation and achievement" during her time in the Framingham prison, including getting a college degree, training 10 service dogs for the disabled, war vets, and children, and mentoring other prisoners.
McGeoghean said she has limited memory of the night Sarah died, on Aug. 14–15, 1988.
That night, McGeoghean had consumed 9 to 10 beers. Her last memory of seeing Sarah alive was when she left her bound in the car seat on the floor next to the couch where McGeoghean passed out drunk.
McGeoghean said the next thing she remembered was waking up with her head pounding. "I noticed Sarah as not with me on the couch. I sat up and saw her still in the car seat. Her lips were blue, her eyes were half open. I was screaming her name. I ran and took her out of her car seat. Her body was limp. I did not know what to do." After McGeoghean called authorities for help, Sarah was transported to the hospital, where she was pronounced dead that early that morning.
During the trial, prosecutors argued that McGeoghean killed Sarah out of fear that the child would tell McGeoghean's husband about her affair with another man who was in the house the night Sarah died.
According to McGeoghean's petition, she was born to alcoholic parents and started abusing alcohol and drugs at the age of 12. She became a chronic alcoholic and cocaine user. She gave birth to Sarah when she was 18. Her allegedly abusive husband was in prison for carrying a firearm when Sarah was 14 months old. McGeoghean lived with her daughter alone in a flea-infested apartment and admitted that she was always intoxicated around her.
Psychiatrist Dr. Kathryn Rapperport, who examined McGeoghean, suggested in a report that she does not remember killing her daughter because of an alcohol-induced blackout and memory loss, cognitive impairment due to cocaine withdrawal and use of street and prescribed drugs, post-traumatic stress disorder (PTSD) due to the violence in her family and Sarah's death, and psychological denial of the traumatic event.
Rapperport said that while McGeoghean may not fully recall the details of the night, she clearly knows that she is responsible and that her daughter died at her hand.
"There is no punishment that will ever take away the guilt and shame I have," McGeoghean said in her petition. "I am so sorry! I am fully responsible for the death of my daughter. For the last 25 years I've had to face what I did. My actions and my behavior took an innocent life. Not remembering doesn't make it any easier."