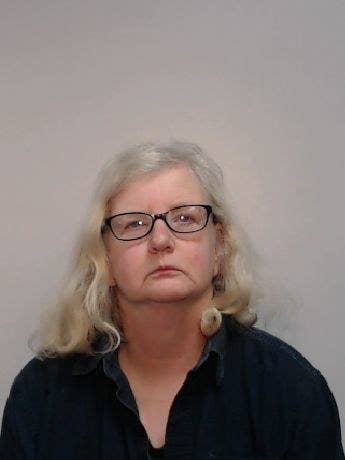 In January 2006, Barbara Coombes was gardening at her father's home in Greater Manchester, England, when she went inside the house and a saw a box of photographs on the dining table.
While going through the photos, the 51-year-old found explicit and indecent photos of children, including those of herself.
Coombes suffered 40 years of verbal, physical, and sexual abuse at the hands of her father, before she "snapped," according to court proceedings in Manchester on Wednesday.
After discovering the photos, Coombes grabbed a shovel she had been gardening with and confronted her 87-year-old father, Kenneth Coombes, in the living room of the house, police said.
She struck him in the back of the head with the shovel, and when he turned to face her, hit him a second time, according to police. She then used the sharp end of the tool to slit her father's throat and "watched him bleed to death," the judge said during Wednesday's court hearing.
Coombes wrapped her father's body in a rug, dragged it to the garden, and hid his body behind a tree, according to police. The next day, Coombes ordered a metric ton of soil, which she used to bury her father in the garden, only meters away from her bedroom window.
Kenneth Coombes's body lay there for 12 years, a secret that his daughter did not reveal to anyone, including her family members.
To explain her father's sudden disappearance to her family, Coombes said that Kenneth died in the hospital, which had arranged for his cremation, police said.
Coombes told her own daughter, then 18, that Kenneth had died suddenly from blood poisoning and had been cremated, the Guardian reported. She told other family members that he had died from a heart attack. Neighbors assumed he had moved away or had died. No one reported him missing.
She cleared out his belongings from his house in which she continued to live in for 12 years.
She also concealed his death from authorities while continuing to fraudulently claim more than £180,000 — roughly $238,221 today — in his benefits, police said.
In January this year, a welfare officer insisted on seeing Kenneth Coombes for a scheduled meeting.
On Jan. 7 — a day before the meeting — Coombes walked into a police station and admitted to killing her father 12 years ago.
Coombes, now 63, was arrested and pleaded guilty to manslaughter by reason of diminished responsibility, preventing a lawful burial, and fraud. On Wednesday, a judge sentenced her to nine years in jail.

Coombes told authorities that her father, who served as a mechanic during World War II, had mentally and sexually abused for more than 40 years since the age of five, using her as a "sex slave" and raping her hundreds of times over the course of her life.
Coombes said that when she was between the ages of six and nine, Kenneth took her to a photography club and forced her to expose her genitals while men took photos of her. Kenneth continued to abuse his daughter right up to the time he died, the Guardian reported.
Her attorney told the court that Kenneth might have been the father of Coombe's first child, who died shortly after birth.
Coombes suffered from post-traumatic stress disorder and severe depression, according to psychiatric reports, the BBC reported.
Prosecutors acknowledged that Coombes had suffered "a lifetime of abuse — verbal, physical and potentially sexual, at the hands of the deceased," but questioned whether she was remorseful for her actions.
The judge said that she concealed her father's murder in "quite an elaborate and careful way" and that she only confessed when "the net around you became tighter and tighter," the Manchester Evening News reported.
"This is a tragic case in which an elderly man has been killed by his own daughter, who then went on to fraudulently claim benefits of over £180,000," the senior investigating officer of Greater Manchester Police, Duncan Thorpe, said in a statement. "She showed absolutely no concern for what she had done and denied everyone the chance to say goodbye, as Kenneth lay buried at the bottom of his own garden, just metres from her own bedroom window."
"Despite having years to tell someone what really happened, she only came forward when she had no other choice," he continued. "The impact on the family and friends of all concerned cannot be underestimated."