A woman was kicked off an Alaska Airlines flight on Saturday for insulting a Donald Trump supporter, a spokesperson for the airlines told BuzzFeed News.
The woman turned to Kotesky and said, "You pretend that you have the moral high ground but you put that man's finger on the nuclear button. That man doesn't believe in climate change."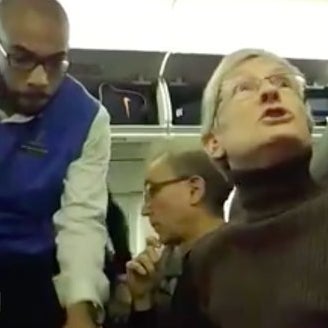 She then appeared to mock Kotesky, asking him, "Do you believe in gravity? Did you know gravity is just a theory?"
Another crew member asked the woman and her husband, who was seated next to her, to leave the flight.
"No, I paid for this seat and I'm sitting in it," the woman told him. "He is in my space."
Kotesky responded, "She's causing hostilities."
The woman told the crew member that her husband's mother had died. "I'm going home," she said.
After the crew member told her that the captain had ordered her off the plane, she said, "My husband just lost his mother. Have some respect."
The woman and her husband were seen leaving the flight as other passengers applauded and chanted "USA! USA!" in a second video Kotesky posted.
Kotesky alleged that before he started recording the video, the woman called him a "bigot" and told him she was going to "get drunk and puke in your lap."