Charles McMillian, a 61-year-old Black man, broke down in court after watching a video of himself witnessing George Floyd yelling, "I can't breathe" and calling for his mother during his arrest last May.

McMillian sobbed while testifying for the prosecution during former Minneapolis police officer Derek Chauvin's murder trial on Wednesday, prompting the judge to call for a 10-minute break.
The emotional moment in court took place when the prosecution played a video of McMillian pleading with Floyd to comply with the police officers and to get in the squad car.
The video was juxtaposed with body camera footage showing Floyd handcuffed and struggling with the officers while yelling that he couldn't breathe.
On the video, McMillian is heard repeatedly telling Floyd to get up off the ground and get in the police vehicle, saying, "You can't win, man."
When asked what he meant, McMillian told the court, "Once... the cops on you, you can't win. Just cooperate, get in the car, go with them, and you can win."

McMillian testified that he heard Floyd telling him, "I can't."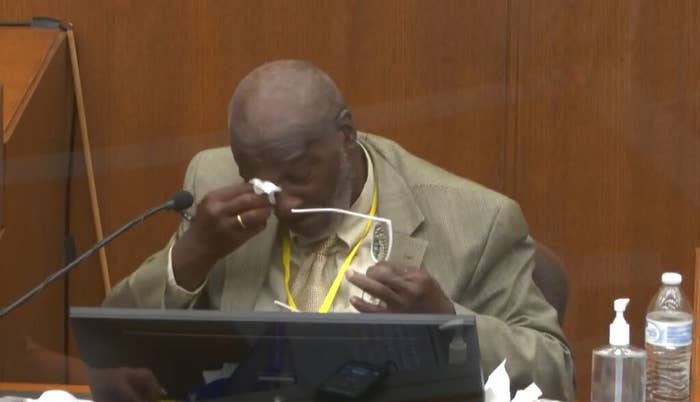 Prosecutors also played a new video revealing an interaction between Chauvin and McMillian after Floyd was taken away in an ambulance.

During that conversation, McMillian recalled, he told Chauvin he took issue with what he had done to Floyd.
Chauvin can be heard on the video telling McMillian, "That's one person's opinion. We gotta...control this guy because he's a sizable guy, looks like he's probably on something."
Chauvin's defense attorney, Eric Nelson, has previously talked about Floyd's size in comparison to Chauvin's and has focused on his use of drugs at the time of the arrest.
Several bystanders, including three teenagers and an off-duty firefighter, who witnessed Floyd's arrest have been overcome with emotion while testifying in court over the past two days. Some have talked about feeling guilty and helpless for not being able to help Floyd and prevent his death.
Nelson has characterized the bystanders as an "angry" crowd and a "growing threat" to the officers, distracting them while they restrained Floyd.
McMillian said on the day of the incident he pulled his car over and got out to watch the interaction between Floyd and the police because he was "being nosy."
He said that based on his own previous interactions with police officers, he was trying to get Floyd to understand that once he was arrested, "you can't win, you're done."

McMillian testified that at one point he told the officers, "Man, let off of him — he can't breathe." He recalled one of them responding, "He keeps talking, he can breathe."
He told the court that he knew Floyd was in trouble when the ambulance arrived.
"I knew that in my mind... it was over for Mr. Floyd," McMillian said. "He was dead."