The White House Says It Has No Idea How The Controversial Religious Leaders Were Involved In The Jerusalem Embassy Opening
Two pastors who spoke at the ceremony have previously made controversial comments about Jews.
As Israeli forces shot and killed dozens of Palestinian protesters in what was one of the deadliest days of violence at the Gaza border in years, a high-ranking White House delegation, including Ivanka Trump and Jared Kushner, gathered to celebrate the embassy's opening.
But White House deputy press secretary Raj Shah claimed he "honestly" did not know how two pastors — one of whom has said that Jews, Muslims, Mormons, and Hindus would go to hell, and another who has suggested that Adolf Hitler was part of God's plan — came to be involved in Monday's ceremony.
Robert Jeffress, an evangelical pastor at Dallas's First Baptist Church and one of President Trump's key faith advisers, gave the opening prayer at the ceremony, while Pastor John Hagee, the founder of Christians United for Israel, delivered the benediction.
During a lecture series in 2010, Jeffress — a pastor with a history of making hateful comments about non-evangelical faith groups — said, "Not only do religions like Mormonism, Islam, Judaism, Hinduism— not only do they lead people away from God, they lead people to an eternity of separation from God in hell."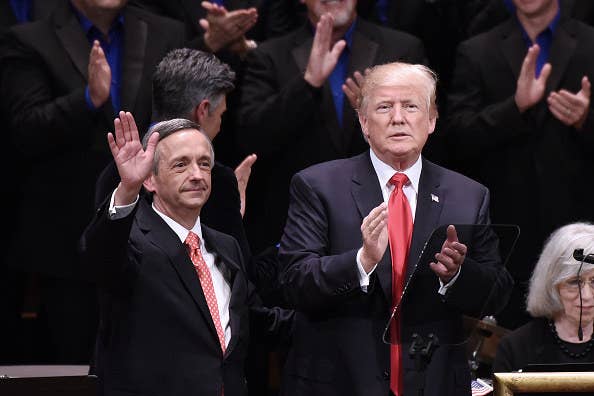 On his church's website, he called Islam a "false religion" based on a "false book" that would lead its followers to hell. He also suggested it was not anti-Semitic "to tell a devout follower of Judaism that unless he trusts in Christ as his Savior he is destined for Hell."
He has referred to both Islam and Mormonism as religions that were "a heresy from the pit of hell" and has referred to non-Christian religions as "cults."
Mitt Romney, a prominent Mormon, on Monday slammed the decision to let a "religious bigot" give the prayer at the opening of the embassy in Jerusalem.
But Jeffress defended his past comments.
When asked how Jeffress was chosen to deliver the opening prayer despite his past remarks, Shah said, "I honestly don't know how that came to be" and added that Jeffress had a "strong relationship" with people in the Trump administration as well as with Democrats.
video-player.buzzfeed.com
"Pastor Jeffress has had a strong relationship with many people in the faith community, as well as folks in the administration, and Republicans on the Hill, and others. I believe Democrats as well," Shah said. "I think he has a long-standing involvement with public officials."
He said that he was not aware of comments Jeffress made about Jews going to hell.
In a sermon in the 1990s, Hagee suggested that Hitler was part of God's plan to get the Jewish people "to come back to the land of Israel."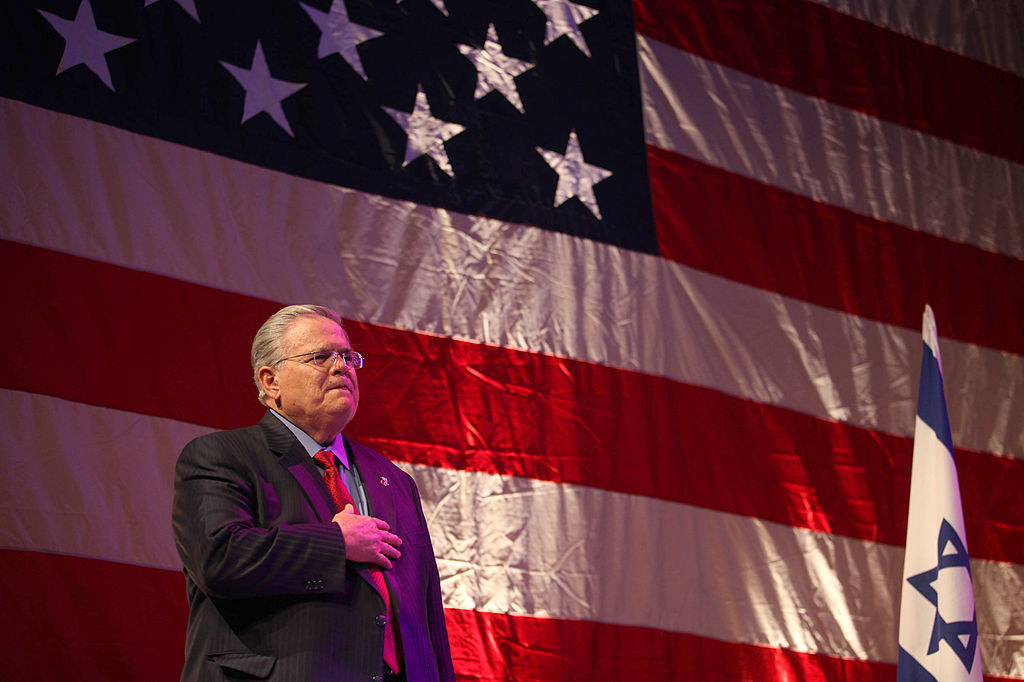 In a sermon delivered in the 1990s that resurfaced in 2008, Hagee said:
Then God sent a hunter. A hunter is someone with a gun and he forces you. Hitler was a hunter. And the Bible says — Jeremiah writing — "They shall hunt them from every mountain and from every hill and from the holes of the rocks," meaning there's no place to hide. And that might be offensive to some people but don't let your heart be offended. I didn't write it. Jeremiah wrote it. It was the truth and it is the truth. How did it happen? Because God allowed it to happen. Why did it happen? Because God said my top priority for the Jewish people is to get them to come back to the land of Israel.
"I don't have any readout on how they became involved with these events," Shah told a reporter during the White House briefing of Jeffress and Hagee.
He said that if their views — as outlined by the reporter — were "an accurate reflection" of what the pastors said, then they wouldn't be "embraced by this White House."
Shah also did not directly address why Ivanka Trump and Jared Kushner chose to receive a blessing from Sephardic Chief Rabbi Yitzhak Yosef, who referred to black people as monkeys during a sermon this year.
During his weekly sermon in March, Yosef used a perjorative Hebrew term, "kushi," while referring to black people and then went on to use the term "monkey" while talking about a black person.