University Of Oklahoma President: Frat Members May Be Expelled Over Racist Video
In a news conference Monday, the university's president, David Boren, said that his legal staff was exploring all options to take action against individual students involved in the video. He earlier issued a statement severing university ties with the Sigma Alpha Epsilon fraternity after its members were caught allegedly chanting racial slurs on video.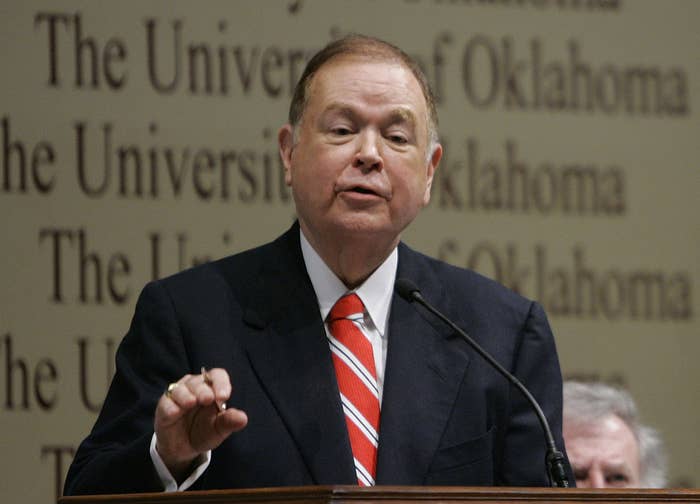 University of Oklahoma President David Boren said Monday there was "zero tolerance" for racist and bigoted behavior at the university.
His comments followed the release of a video clip on Sunday which showed members of the Sigma Alpha Epsilon fraternity chanting against African Americans.
At a press conference, Boren reiterated his earlier statement on the racist video, saying that those involved in the racist video "don't deserve to be called Sooners," the nickname for University of Oklahoma students. He said Sooners were not racists or bigots.
Boren said the fraternity house would be closed immediately and that the members would be out of the house by midnight tomorrow.
"As they pack their bags I hope they think long and hard about what they've done, about how words can injure and hurt other people," Boren said. "This is not our way. This is not our values. This is not who we are."
He said that the Sigma Alpha Epsilon fraternity would not be back at the university as long as he was president.
"We will look at all possible punishment for the student leaders most involved in the incident... up to and including expulsion," Boren said.
He said his legal staff was working to see if action could be taken against individual fraternity members who took a lead in the racist chanting under the Civil Rights Act of 1964 on which the university's discrimination policy is based.
When asked if the university's student services would help the fraternity members in any way, Boren said, "We don't provide assistance to racists and bigots."
He said he hoped the fraternity would provide a list of all the students on the bus where the video was taken.
He also said that he would want those students to meet African American leaders in the community and personally apologize to them in a meeting at his office.