Vatican Withdraws Papal Medals On Which Jesus Was Misspelled As Lesus
More than 6,000 medallions to commemorate the start of Pope Francis's papacy bore Lesus on them.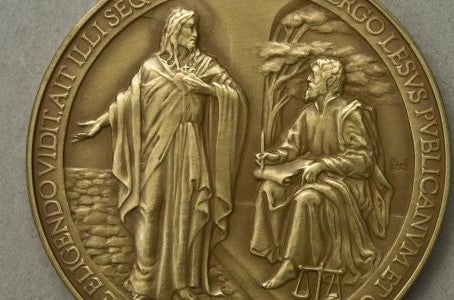 The Vatican had to withdraw more than 6,000 gold, silver, and bronze medallions because Jesus was misspelled as Lesus on them, reported The Telegraph.
The medals had been especially made by the Italian State Mint to commemorate the beginning of Pope Francis' papacy. The medals had a phrase in Latin that inspired the Pope to become a priest during his teenage years in the 1950s. It should have read, "VIDIT ERGO JESUS PUBLICANUM ET QUIA MISERANDO ATQUE ELIGENDO VIDIT, AIT ILLI SEQUERE ME." (Translation: "Jesus, therefore, saw the publican, and because he saw by having mercy and by choosing, He said to him, 'Follow me'").
Four of the unfortunate medals were sold at the Vatican Publishing House in St Peter's Square before they were recalled.