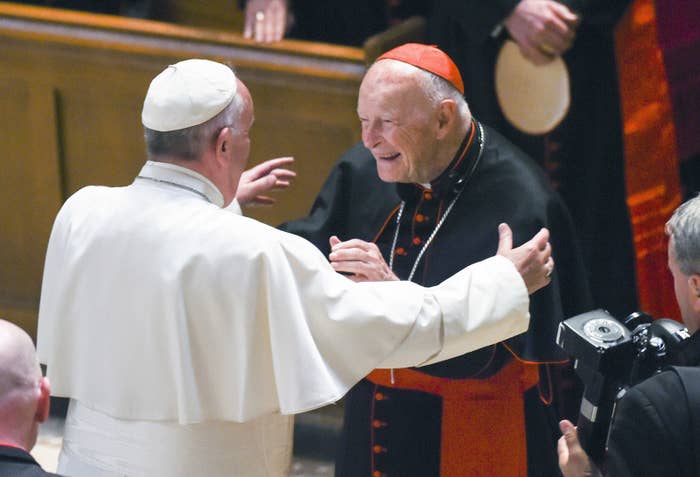 Archbishop Carlo Maria Viganò, the Vatican's former ambassador to the US, has written a detailed letter accusing Pope Francis of knowing about a prominent American cardinal's alleged sexual abuse of seminarians for years and helping to cover it up.
In the explosive letter released to the National Catholic Register and LifeSite News — conservative Catholic news sites critical of Francis — Viganò called for Francis to resign, along with other cardinals and bishops, for allegedly covering up the alleged crimes of the now-disgraced Cardinal Theodore McCarrick and for ignoring the sanctions that his predecessor, Pope Benedict, had imposed on McCarrick.
Francis declined to comment on Viganò's unsubstantiated allegations against him in the letter, telling reporters aboard the papal plane on Sunday evening: "I read the statement this morning, and I must tell you sincerely that, I must say this, to you and all those who are interested: Read the statement carefully and make your own judgment. I will not say a single word on this."
In a statement to BuzzFeed News, McCarrick's lawyer, Barry Coburn said: "These are serious allegations. Archbishop McCarrick, like any other person, has a right to due process. He looks forward to invoking that right at the appropriate time."

Francis accepted McCarrick's resignation in July after the 88-year-old cardinal was accused of sexually abusing a teenage boy in the 1970s — an allegation that was determined to be credible by the US church. McCarrick said he had "no recollection" of the alleged abuse. He also faced allegations of sexually abusing adult seminarians which senior church officials were reportedly aware of for decades.
The letter was released on Sunday, soon after Francis had asked for forgiveness from victims of clerical sexual abuse whom he met during his ongoing visit to Ireland.
"We ask forgiveness for the abuses in Ireland, abuses of power, conscience, and sexual abuse perpetrated by members with roles of responsibility in the Church," Francis said Sunday. "We ask forgiveness for some members of the Church's hierarchy who did not take charge of these painful situations and kept quiet."
The letter also follows a scathing indictment of the Catholic church in a grand jury report accusing more than 300 "predator priests" in Pennsylvania of abusing more than 1,000 child victims over the past 70 years. The report also detailed a "systemic" cover-up by church officials in the state.
Following the report, Francis wrote a letter calling for the church to condemn "with sorrow and shame, the atrocities perpetrated by consecrated persons, clerics, and all those entrusted with the mission of watching over and caring for those most vulnerable."
He also acknowledged that the church "did not act in a timely manner" to the widespread allegations of sexual abuse despite the "magnitude and gravity of the damage done to so many lives."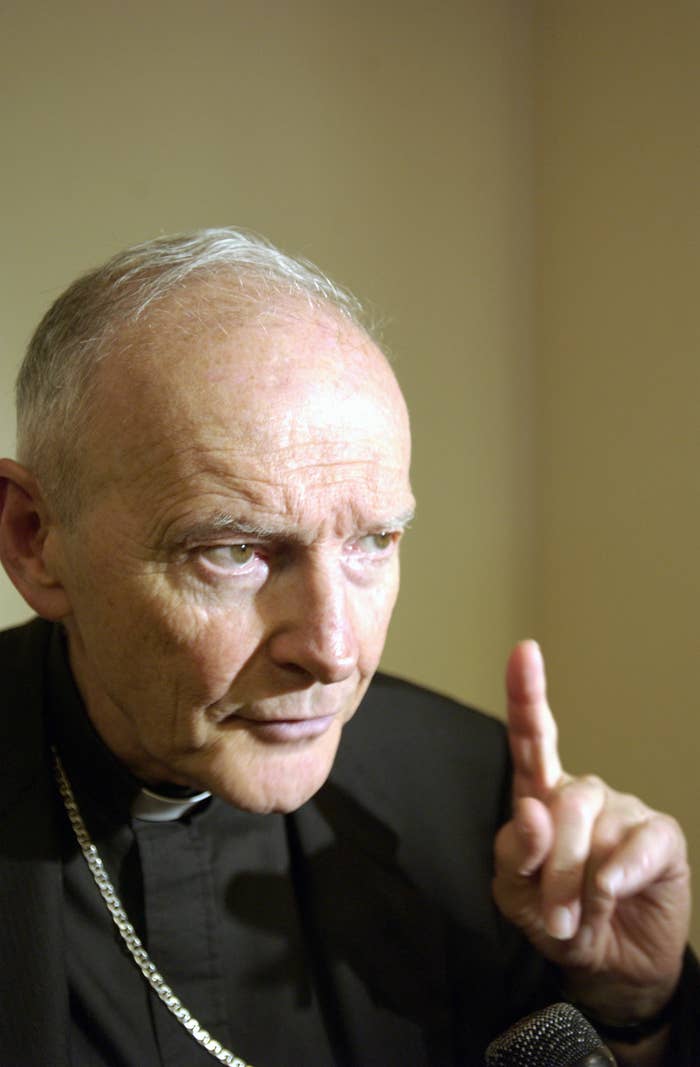 In his letter, Viganò wrote that senior Vatican officials knew of rumors that McCarrick shared his bed with seminarians, "inviting five at a time to spend the weekend with him at his beach house" since at least 2000.
He said that in either 2009 or 2010, Benedict imposed sanctions against McCarrick, forcing him to leave the seminary where he was living and forbidding him to celebrate Mass in public, participate in public meetings, give lectures, and travel, "with the obligation of dedicating himself to a life of prayer and penance."
Viganò wrote that he didn't know when Francis may have learned of McCarrick's alleged abuses, but added that Francis "continued to cover for [McCarrick]" even after Viganò himself told the pope about the allegations in 2013.
Viganò said that Francis also did not take into account the sanctions that Benedict had imposed on McCarrick and instead made McCarrick "his trusted counselor."
After Francis's election, McCarrick was free to travel around the world, give lectures and interviews, and become the "the most listened to advisor in the Vatican for relations with the Obama administration," according to Viganò.
"[Francis] knew from at least June 23, 2013 that McCarrick was a serial predator," Viganò wrote. "Although he knew that he was a corrupt man, he covered for him to the bitter end; indeed, he made McCarrick's advice his own, which was certainly not inspired by sound intentions and for love of the Church. It was only when he was forced by the report of the abuse of a minor, again on the basis of media attention, that he took action [regarding McCarrick] to save his image in the media."
Viganò, who called for "homosexual behavior" to be denounced, blamed the church's sexual abuse crisis on "homosexual networks which are now widespread in many dioceses, seminaries, religious orders, etc."

He called for the resignation of all those in the church who kept silent about McCarrick's alleged criminal behavior, and those who used him to "advance their career or promote their intentions, ambitions and power in the Church."
"In this extremely dramatic moment for the universal Church, he must acknowledge his mistakes and, in keeping with the proclaimed principle of zero tolerance, Pope Francis must be the first to set a good example for cardinals and bishops who covered up McCarrick's abuses and resign along with all of them," Viganò wrote.