Tyler Magill, a University of Virginia Library employee, suffered a stroke three days after he was caught in violent clashes with tiki torch–wielding white supremacists who descended on a group of students protesting them in Charlottesville on Friday.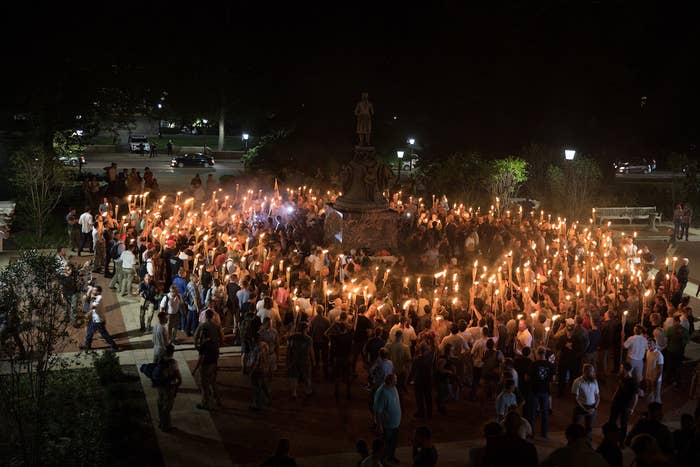 Magill, 46, was hospitalized at the University of Virginia Medical Center on Tuesday after complaining about loss of vision, Lisa Moore, a friend who started a GoFundMe page for his expenses, told BuzzFeed News.
"Tyler Magill, vanquisher of Charlottesville nazis, suffered a stroke on August 15," Moore wrote on the fundraising page.
Relating information from Magill's wife, Sena Magill, Moore told BuzzFeed News that the carotid artery in Magill's neck was dissected, resulting in blood clots that caused the stroke.
She said that doctors believe blunt force trauma on his neck may be one of the reasons for the damage to his carotid artery.
"Tyler Magill is in fair condition at the UVA Medical Center," a UVA spokesperson told BuzzFeed News in a statement.
Many of Magill's friends and UVA colleagues shared his story on social media — some saying that he had a stroke after allegedly being struck on the neck with a torch held by one of the white supremacists who marched across the UVA campus on Friday.
The impromptu march by hundreds of torch-wielding white nationalists led to violent exchanges with a group of counterprotesters on the campus. One protester was arrested and several injuries were reported, UVA officials said.
The protest came amid an ongoing dispute over the proposed removal of the statue of Confederate General Robert E. Lee in Emancipation Park.
One friend said that Magill's carotid artery was dissected as a "result of being hit on the neck by a fascist fuck wielding a torch." Though there's no direct evidence of this so far.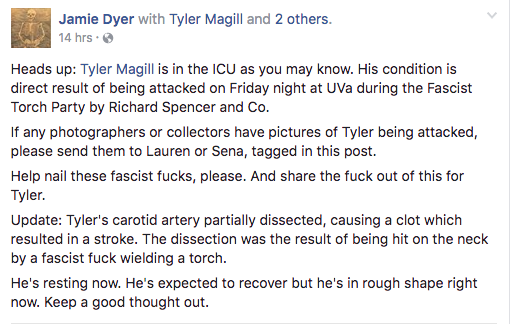 Moore told BuzzFeed News that the only "trauma" Magill had recently experienced was that he was hit in the neck with a tiki torch "by a Nazi" on Friday.
She added that she could not "legally" say that was the cause of his stroke as they did not have video of him being hit with a torch.
Other UVA staffers shared similar accounts of the incident.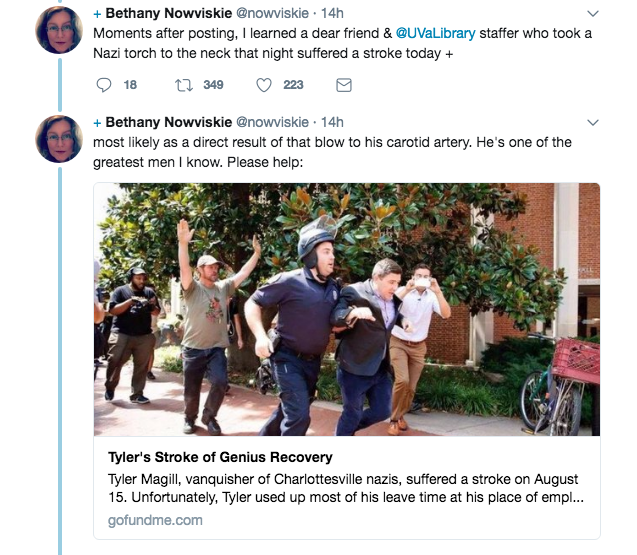 However, Magill's brother-in-law, Loren Mendosa, told BuzzFeed News on Wednesday that this was all "conjecture" and that they had no proof so far that Magill was hit in the neck with a tiki torch.

Mendosa, who was with Magill at the hospital on Wednesday, said Magill's memory was "spotty" after the stroke, and that he did not recall being hit in the neck during Friday's clashes with the white supremacists.
He said that Magill was "doing really well" and showed a "marked improvement" since his stroke on Tuesday.
Mendosa confirmed that Magill was in the midst of the violent fights that broke out when the torch-wielding white supremacists descended on a small group of counterprotesters, including UVA students, who were hailed as heroes when they linked arms and stood around a statue of Thomas Jefferson on campus.
"He had linked arms with some of the students and stood to protect them," Mendosa said. "But he does not remember actually being hit," he said.
Mendosa said the tear in Magill's carotid artery could have been caused by a number of factors including blunt force trauma to the neck, smoking, or stress from lifting heavy objects.
He said that while there was no evidence of any external injuries to his neck, doctors were still determining the cause of the dissected carotid artery.
Mendosa expressed caution about the frenzy whipped up on social media about the cause of Magill's injury.
"That is pure conjecture on people's part. They are inferring that because that's what they want to hear," he said.
He said that while Magill being hit by a Nazi "made for a better story" there was no evidence of it so far.
"We don't want to imply something that's not true," he said.
In a Facebook post after Friday's rally, Magill claimed that around 300 white supremacists "threw torches and tiki fuel on us" and that the police did nothing to stop them. He didn't mention being hit by a torch.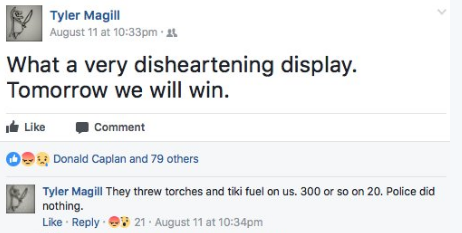 "They just walked around me chanting. I saw they were starting to surround 20 or 30 students," Magill told the Chronicle of Higher Education on Monday, recounting how the white nationalists confronted the small group of counterprotesters during Friday's event.
Magill was also seen raising his hands and chasing Jason Kessler, the Unite the Right organizer, out of his own press conference on Sunday.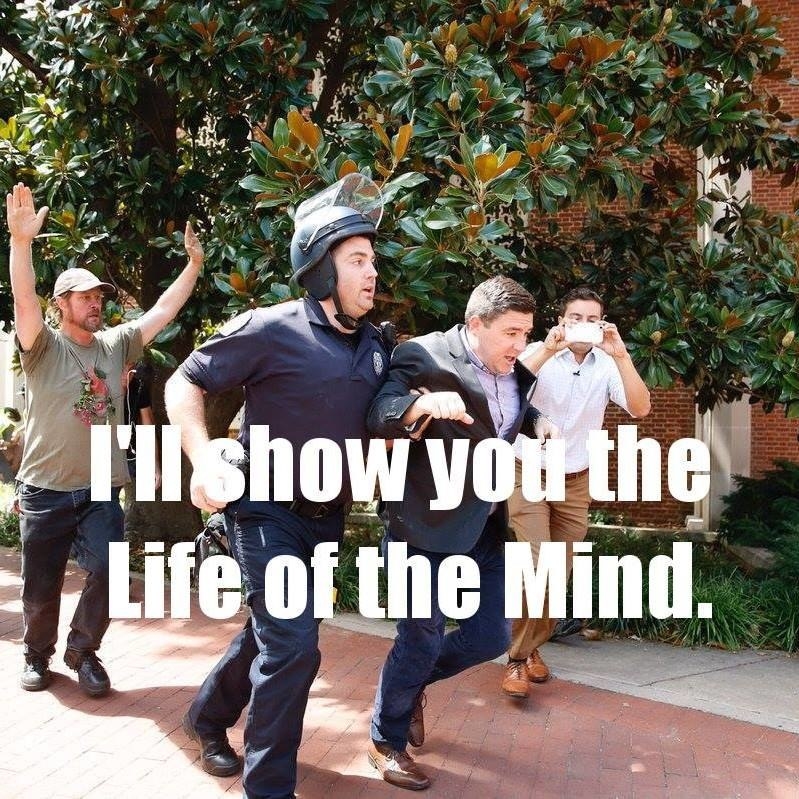 A video showed Magill running behind Kessler and blaming him for the death of Heather Heyer, the woman who was killed when a man plowed through a group of anti-racist protesters in Charlottesville.