The University of Wisconsin-Madison suspended the Sigma Alpha Epsilon chapter on Tuesday, after a black member of the fraternity, which gained notoriety for a racist chant recorded on video, alleged that he was choked and subjected to racial slurs by other members.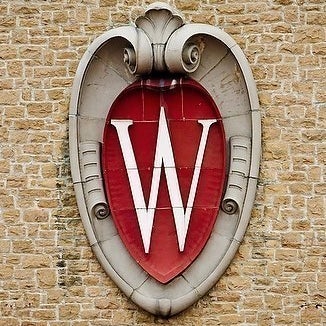 The university suspended the chapter until Nov. 1 in response to a complaint filed in March by the black member, who was not identified.
After an investigation and review of findings into his allegations, a student-led committee found that the SAE chapter violated the Student Organization Code of Conduct by "creating an environment that was discriminatory."
The committee also found that the actions SAE took in response to the black member's complaints were "insufficient" and required all the chapter's members to undergo training in diversity, inclusion, and mental health before it could be reinstated.
"I am deeply disappointed in the chapter's failure to address persistent reports of discriminatory behavior, as well as the national body's inability to address discrimination within its chapters," Chancellor Rebecca Blank said in a letter to SAE's executive director. "These type of actions are in direct contradiction to the values SAE purports to uphold, as well as our institutional commitment to diversity and inclusion here at UW-Madison."
The black SAE member alleged that one of his brothers choked him for about five seconds and addressed him with a racial slur during a 2014 chapter meeting, according to documents released by the university.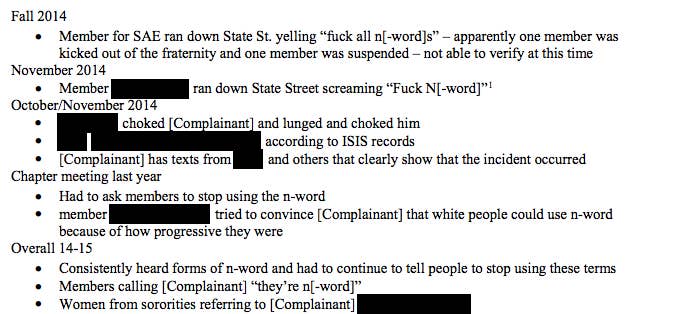 While the documents allege the incident happened during a chapter meeting, a timeline of the allegations by the university said it happened during a Halloween party.
While no criminal report was filed, the chapter said it imposed sanctions on the member who allegedly assaulted the complainant, including "sober monitoring" at events and barring him from attending a formal. The member graduated from the university in December 2014.
The chapter also expelled one member who ran down State Street yelling "Fuck all n******" in 2014, while another member involved in the incident was suspended. The expelled member, however, continued to live in the chapter house.
The black member said that when he asked the brothers to stop using the n-word, one of them tried to convince him "that white people could use n-word because of how progressive they were," according to the documents.
The complaint also stated that SAE members used anti-gay and anti-Semitic slurs through 2015. A brother allegedly used to refer to the black member as "his n*****."

The complainant claimed that the brothers used to say "no offense" to excuse their racist language.

Another SAE member, who was interviewed as part of the investigation, said that rap and hip hop lyrics with the n-word "causes confusion" for the brothers.
He also admitted that members used "fag" and "gay" as part of the fraternity's slang, but not in "an intentionally derogatory" way, and that the chapter's openly gay member had not expressed concerns about its use as a slur.

Last year, SAE — a fraternity with a history of racism that generally went unchallenged — announced an initiative to eliminate racial discrimination after a leaked cellphone video showed its members at the University of Oklahoma singing a chant about lynching black people.
"I understand that your organization attempted to address these issues across all chapters in the wake of the Oklahoma incident, but clearly incidents such as these persist within SAE. It suggests that your efforts to address an intolerant and discriminatory culture have not been effective," Blank wrote in her letter to SAE.
In a statement Wednesday, SAE's national organization "disagreed" with Blank's accusation that they were unable to address discrimination in their chapters, noting four-step initiative last year.
"Sigma Alpha Epsilon apologizes for the actions of these former members because they do not represent our mission and values," the statement said, adding that headquarters was investigating details of the racial intolerance with chapter members and had issued sanctions in response to the behavior.