The University of Michigan refused to remove #StopIslam chalk graffiti on the campus center because it wasn't considered "threatening or hate speech," a spokesperson told BuzzFeed News Thursday.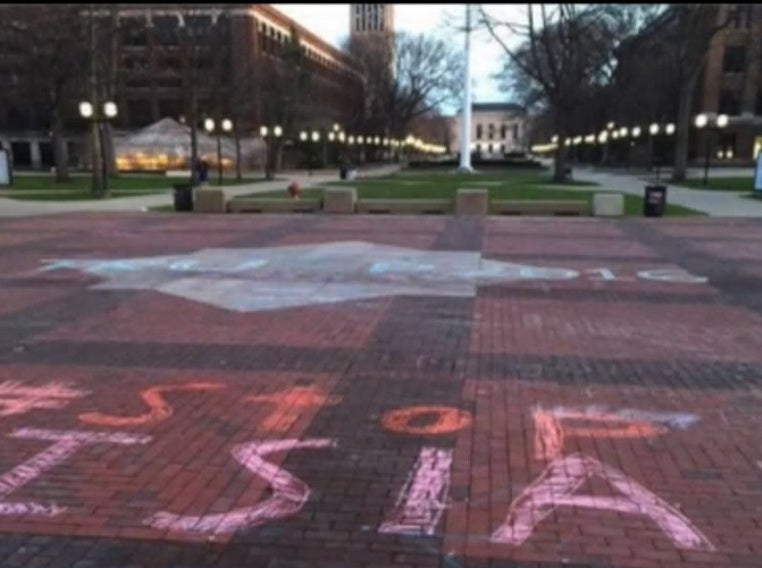 Students on Wednesday posted pictures of #StopIslam and "Trump 2016" scrawled in chalk across the "Diag," an open space in the center of the campus.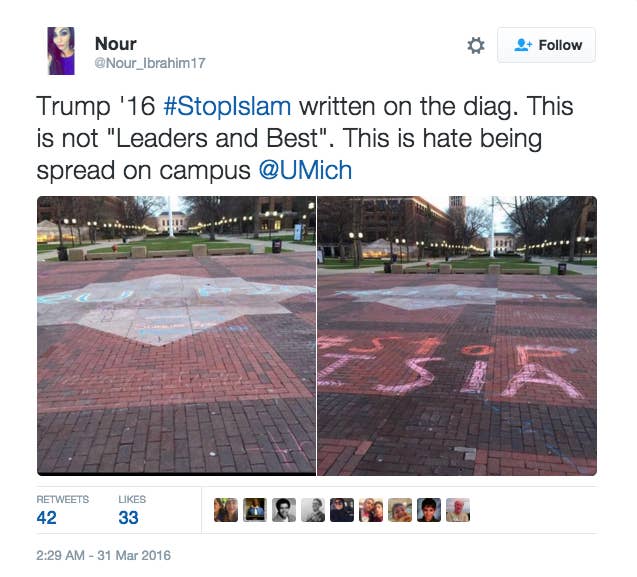 University of Michigan spokesman Rick Fitzgerald told BuzzFeed News said that campus police were called Wednesday night, but that "no criminal activity was being alleged at this point."
"Our policy does allow using chalk on sidewalks," he said. "Unless the speech is clearly threatening in any way we would not typically remove chalk messages."
He added adminstrators were continuing to look into the matter, "but it's unclear where it might go."
"Chalk is routinely used as a carrier of messages," he said. "We look at the messages carefully in the context of what constitutes hate speech, or speech that's threatening to an individual or a group versus speech that maybe unpopular."
He added that free speech is "critically important to our country and to this campus community."
"Sometimes, people react differently to different points of view," Fitzgerald said.
In a statement to BuzzFeed News, the university said that "where speech is free, it will sometimes wound."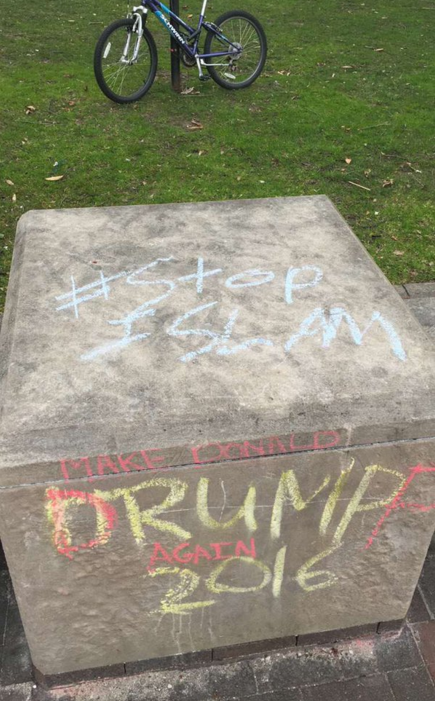 The university added:
"Earlier today someone used chalk to write a #stopislam message on the main square in the heart of our campus known as the Diag.

Attacks directed toward any member or group within the University of Michigan community, based on a belief or characteristic, are inconsistent with our values of respect, civility and equality.

We all understand that where speech is free it will sometimes wound.

But our message is this: We are fully committed to fostering an environment that is welcoming and inclusive of everyone."
The Council on American-Islamic Relations (CAIR), however, expressed concerns that the "anti-Islam" messages would make students feel unsafe on campus.
"We are concerned that these recent anti-Islam and anti-immigrant messages are creating an environment in which some students, teachers and other university faculty members feel unsafe on campus," CAIR-MI Executive Director Dawud Walid said in a statement Wednesday. "We encourage anyone who has information about these messages to immediately contact the university's Department of Public Safety."
The American-Arab Anti-Discrimination Committee Michigan Regional Office (ADC-Michigan) said that they contacted university officials after a group of Arab-American students raised concerns about "racist symbols and phrases" that were found on the campus.
"We will defend against the intimidation of our students everywhere," ADC-Michigan Director Attorney Fatina Abdrabboh said in a statement. "We expect university officials to take proactive measures to ensure safe spaces for our community's students in these heightened times of Islamophobia and anti-Arab sentiment."
Students took matters into their own hands and scrubbed the graffiti off.
"It was raining here all night," Fitzgerald said. "Mother Nature has taken care of it."
He said the university was also engaging with Muslim students "on a number of different fronts" but that he did not have "first-hand information" on conversations about the graffiti.
Students and alumni, meanwhile, took to Twitter to express anger over the incident.