Harry Hurt III, author of a 1993 biography that was critical of Donald Trump, said the president-elect kicked him off his Florida golf course on Friday.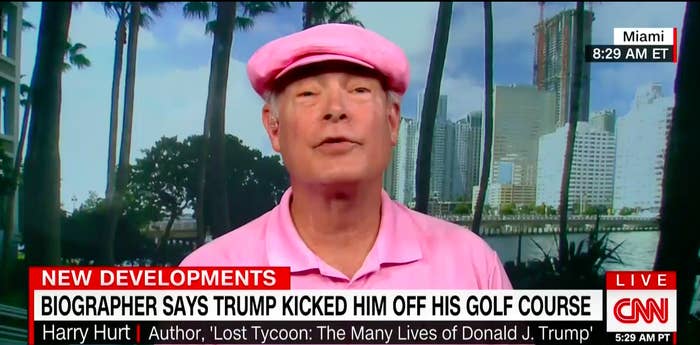 "I went up out of courtesy and respect for the office of the president of the United States," Hurt told CNN on Monday.
video-cdn.buzzfeed.com
Hurt said he had crossed paths with the president-elect twice before. He said he had an "amicable conversation" when he met Trump in 2015 at the same golf course where he joked about his knickers — traditional golf attire — with Trump who "laughed" and told him to "enjoy the golf course."
He also said Trump had once emailed him in 2007 or 2008, responding to Hurt's review of the Emerald Dunes Golf Club with a note saying, "My course is much better. You should come play it."
Hurt said that after he congratulated Trump on Friday, Trump "launched into a diatribe that I had been rough on him" and "used an expletive to describe the content of my book."
"The book has been out for 23 years," Hurt told CNN. "I expected him to act presidential and act like a gentleman."
Hurt said that although he was the only one asked to leave the golf course, his other companions, including Koch, said they would leave with him.
"I offered to take an Uber because we had all come in the same car," Hurt said. "David [Koch] and our other companion said no, no, we'll go with you."
Hurt said "there was security around all of us as we went to the parking lot, but it was me that they were really escorting off the property, not the other players."
A spokesperson for Koch told BuzzFeed News that Koch was not present during the exchange between Hurt and Trump and neither was he asked to leave.
"Upon hearing about the interaction, [Koch] felt it best for the entire group to depart together," the spokesperson said. "Trump International is Mr. Koch's favorite course, and he looks forward to returning again soon."
An unidentified transition official told Politico that Hurt was "trying to instigate" and that the course security had to "go and tap him on the shoulder and tell him to leave."
Hurt said Trump had "made signs of mending fences, burying hatches," citing his recent interactions with Mitt Romney.
"I do expect, though, Donald will continue to exhibit the erratic behavior that he has exhibited for his entire life, and I think this is just another example of it," Hurt said.
Hurt and Trump's transition team did not respond to BuzzFeed News' request for comment.