Donald Trump supporters are encouraging voters to wear red to polling booths on Election Day to somehow avoid voter fraud and to show their support for the candidate.
Several pro-Trump Twitter accounts have tweeted memes showing a sea of people in red to encourage voters to wear the color to their polling booths.
"Get ready to #WearRedForTrump on 11/8," one Trump supporter tweeted with a photo showing a huge crowd of people in red.
One of the photos used in pro-Trump memes is a photo showing South Korean soccer fans — nicknamed the "Red Devils" — gathered in Seoul to watch the 2002 FIFA World Cup game between South Korea and the US in 2002.
Another meme encouraging Trump voters to wear red uses a photo showing anti-government "Red Shirt" protesters in Thailand in 2010, marking the fourth anniversary of a 2006 military coup which toppled Thailand's prime minister.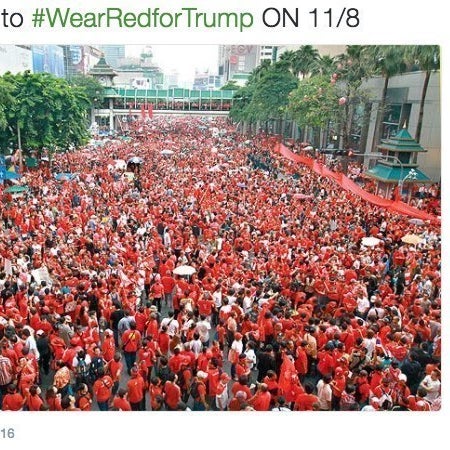 Though there weren't any apparent seas of red on social media, several Trump supporters wore the color to vote.