President Trump said Friday that his summit with North Korean leader Kim Jong Un was back on for June 12, a week after he suddenly canceled the meeting.
Speaking to reporters on Friday at the White House after meeting with a North Korean representative, Trump said, "We'll be meeting on June 12 in Singapore."
"We've gotten to know their people very well," he said.
"I think it's going to be a process," Trump said, "but the relationships are building and that's a very positive."
Addressing the dramatic letter he sent Kim canceling the meeting, Trump said that his letter was a response to comments made by North Korea.
"I didn't cancel the meeting — I canceled it in response to a very tough statement," Trump said. "And I think we're over that, totally over that, and now we're going to deal and we're going to really start a process."
Trump said that the June 12 meeting is "probably going to be very successful."
"We'll see," the president said. "We will see what we will see, but I think it's going to be a process that we deserve to have. I mean, we really deserve. They want it, we think it's important, and I think we would be making a big mistake if we didn't have it. I think we're going to have a relationship and it will start on June 12."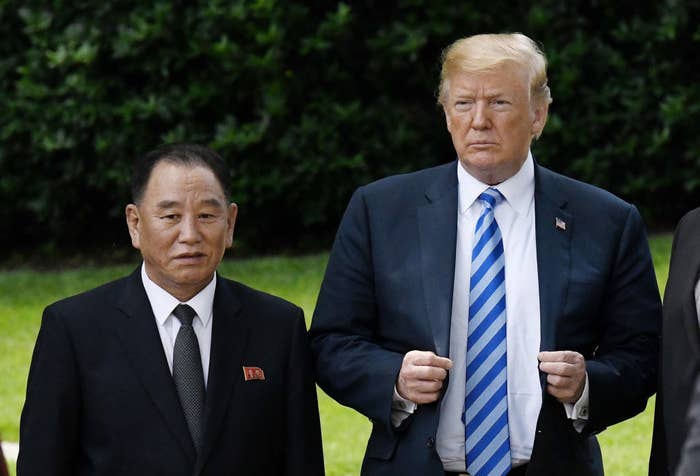 Trump's reversal comes in the wake of a week of uncertainty about whether the nuclear summit would take place at all, and whether it would take place on the originally scheduled date of June 12.
His decision to go ahead with the on-again, off-again summit followed his nearly two-hour meeting with a top North Korean aide — Kim Yong Chol — at the Oval Office on Friday.
Trump said it was "a very good meeting," where he was presented with a "very nice" and "interesting" letter from Kim Jong Un.
However, Trump did not elaborate on the contents of the letter, telling reporters that he may give it to them "at some point."
"It was actually very interesting because this [meeting] was literally going to be the delivery of the letter and it ended up being a two-hour conversation with the second-most powerful man in North Korea," Trump said.
Trump said they talked about "a lot of things" in Friday's meeting but that "the big deal will be on June 12."
"It's a process," he said. "We're not going to go in and sign something on June 12. We never were."
Recalling his conversation with Kim Yong Chol, Trump said, "I told him today, take your time. We can go fast, we can go slowly. They'd like to see something happen and if we can work that out, that would be good."