President Trump on Monday spoke to Mexican President Enrique Peña Nieto on a somewhat awkward televised conference call during the announcement of a new trade deal with Mexico in place of NAFTA.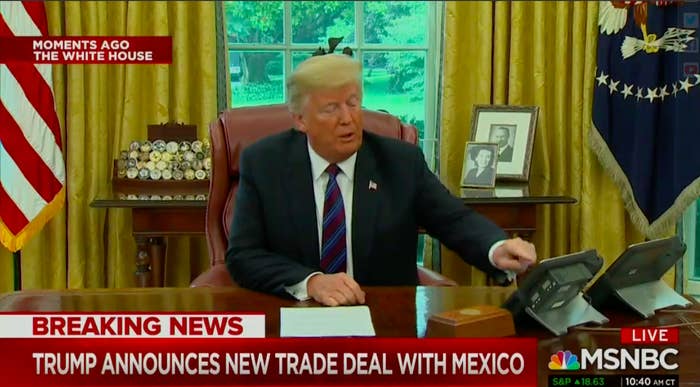 For one whole excruciating minute, Trump — who mistakenly thought Nieto was already on the line — struggled with the speakerphone to try to connect to the Mexican president.
"I believe the president is on the phone........................Enrique?"
As cameras rolled, Trump pressed buttons on the speakerphone and repeatedly said, "Hello?"
"You can hook him up," he told an aide. "You tell me when."
He then asked an aide to patch Nieto through another phone.
"It's a big thing. A lot of people waiting," Trump told the room.
Then for several minutes — which felt like an eternity — Trump sat silently as Nieto and his translator talked on the speakerphone.
TFW your mom is lecturing you on the phone and you can't get a word in.
The Mexican president also offered "an affectionate hug" to Trump, who ended the call with "A hug from you would be very nice."
Several people commented that the call felt like it was straight out of a scene of HBO's political satire Veep.
And someone perfectly set the conversation's most awkward moment to the Veep theme song.
It also went perfectly well with the classic Curb Your Enthusiasm theme song.
After the call, Trump also sat silently with his arms crossed when asked to address Sen. John McCain's death.