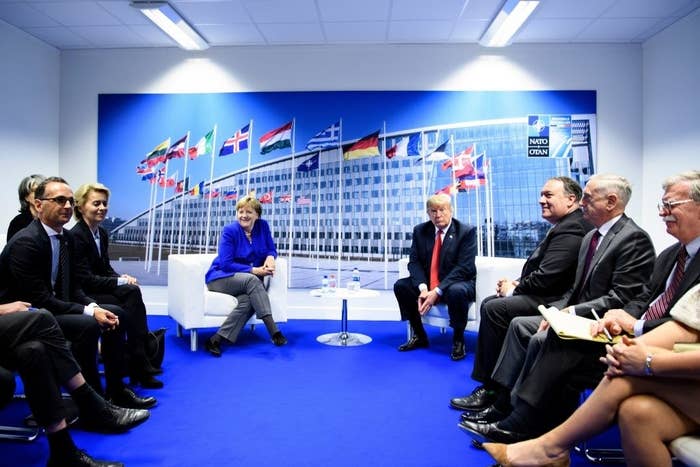 President Trump on Wednesday suggested NATO members commit to spending 4% of their GDP on defense — up from the previously agreed upon goal of 2% by 2024 — during a meeting at the two-day summit in Belgium, prompting more pushback from allies.
In the lead up to the July 11 summit, Trump had publicly slammed NATO members for not spending enough on defense, saying they weren't moving fast enough to meet their 2024 commitment, which he described as "low."
So during a meeting on "burden sharing" Wednesday, Trump told NATO leaders that even 2% was not enough and raised the idea of doubling it. The White House confirmed Trump made the suggestion, although it was unclear whether it was a formal policy proposal, Bloomberg reported.
But Trump apparently didn't stick around to read the room.
"President Trump, who spoke, raised the question not just to reach 2%, today, but set a new target: 4%," Bulgarian President Rumen Radev told reporters, according to BNR public radio. "He just left after he announced that."

The President followed up Wednesday's comments with two tweets on Thursday morning, in which he stressed that Germany and other countries pay "only a fraction" of the US commitment to NATO.

He also doubled down on his criticism earlier on Wednesday of Germany's reliance on Russian oil and gas. Germany, he said during a breakfast meeting on the first day of the summit, "is totally controlled by Russia" because, he claimed, it gets "60% or 70%" of its energy from Russia via the new €9.5 billion Nord Stream 2 pipeline.

NATO allies have fought back against Trump's criticism of their spending. Before the summit, German defense minister Ursula von der Leyen, told Time that the country stands by the 2% goal set during the 2014 NATO summit and that they were not interested in impressing Trump with any explanations.
The Norwegian defense minister also told the Associated Press that Norway, too, stands by the 2014 decision and that the country had spent "far beyond" the NATO target on new military equipment.
Belgian Prime Minister Charles Michel said he was "not too intimidated" by the letters Trump sent NATO leaders demanding an increase in their defense spending prior to the summit.
"We participate in many military operations with our NATO allies and it is this government that decided to end the systematic reduction of defense spending," he told Time.

Ahead of the summit, White House press secretary Sarah Huckabee Sanders told reporters the US is carrying most of the burden of defense spending and that Trump would like to see other countries "step up and do more."
"The president has publicly shared his frustration that he'd like to see other countries step up and do more, particularly when they have the capability and they've made the commitment to do 2%," Sanders said Tuesday. "He'd like to see them fulfill that commitment."

The US contributed an estimated 67% of NATO's total defense budget in 2017, according to factcheck.org.