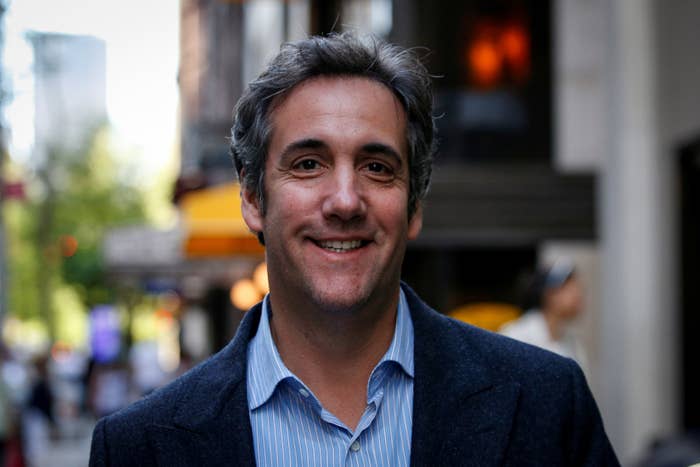 President Donald Trump was secretly recorded by his confidant and longtime personal lawyer, Michael Cohen, talking about paying off a former Playboy model who said she had an affair with Trump, the New York Times reported Friday.
Trump's conversation about a payoff to Karen McDougal happened just two months before the presidential election, the Times reported, citing people familiar with the tape.
Cohen is under criminal investigation by federal authorities in New York. The FBI seized the recording when it raided his offices earlier this year.
Cohen's lawyer, Lanny Davis, said that the recording would not hurt Cohen.
In a statement to BuzzFeed News on Friday, Davis said, "Obviously, there is an ongoing investigation, and we are sensitive to that. But suffice it to say that when the recording is heard, it will not hurt Mr. Cohen. Any attempt at spin can not change what is on the tape."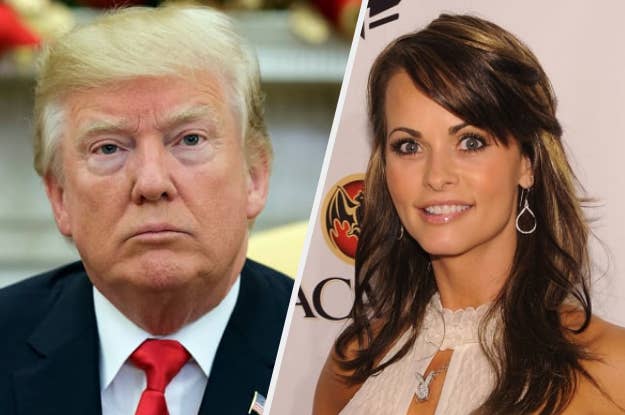 Trump's lawyer, Rudy Giuliani, told the Times that his client discussed a payment with Cohen on the recording, but said that the payment was never made and that the tape exonerates the president.
"Nothing in that conversation suggests that he had any knowledge of it in advance," said Giuliani, who didn't immediately return a request for comment from BuzzFeed News.

McDougal reportedly sold her story to the National Enquirer for $150,000 in August 2016 — but the tabloid never ran it, a practice known as "catch and kill." The tabloid's publisher, David Pecker, is a strong Trump ally. A representative at American Media Inc. (AMI), which owns the Enquirer, said he would pass a request for comment on.

In the September 2016 recording, Trump and Cohen discussed Cohen's plan to buy the rights of McDougal's story from AMI for around $150,000, a person familiar with the recording told the Washington Post.
On the tape, Trump could be heard telling Cohen to use a check instead of cash to keep a record of the proposed transaction and to properly document the agreement with AMI, according to the Post. Giuliani also told the Times that Trump had urged Cohen to write a check if he was going to pay the woman.
The recording was less than two minutes long and cut off before the conversation between the two men ended, people familiar with the recording told the Wall Street Journal. It's not clear why Trump and Cohen did not purchase the rights from AMI.
Trump tweeted on Saturday morning that it was "unheard of" and "perhaps illegal" for a lawyer to tape a client.

"The good news is that your favorite President did nothing wrong!" he wrote.
Carol Heller, McDougal's lawyer, had earlier tweeted, "We are learning of this in real time just like everyone else. Thankful to #MSM for keeping us all informed #KarenMcDougal."

Peter Stris, a lawyer who represented McDougal in her settlement with AMI, said that Trump had falsely accused him and McDougal of lying. Stris did not immediately return a request for comment from BuzzFeed News.
The White House has previously said that Trump denies having an affair with McDougal. In a 2016 Wall Street Journal report about the Enquirer's payment to McDougal, former Trump campaign spokesperson Hope Hicks said that McDougal's claims of having an affair with Trump were "totally untrue."

In a February report about the alleged affair in the New Yorker, a White House spokesperson said, "This is an old story that is just more fake news. The President said he never had a relationship with McDougal."


The White House did not immediately return a request for comment on Friday.
In an interview with CNN in March, McDougal apologized to first lady Melania Trump, who had given birth to Barron Trump a few months before the alleged affair began.

"What can you say except, I'm sorry? I'm sorry," McDougal said, holding back tears. "I wouldn't want it done to me. I'm sorry."
McDougal said that her affair with Trump lasted for 10 months through 2006 and 2007. She told CNN that Trump tried to pay her after their first alleged sexual encounter.
McDougal said she told Trump, "That's not me. I'm not that kind of girl." According to her, Trump replied, "You're really special."
Jason Leopold contributed to this report.