President Donald Trump made another false claim about crowd size — this time at the National Scout Jamboree on Monday.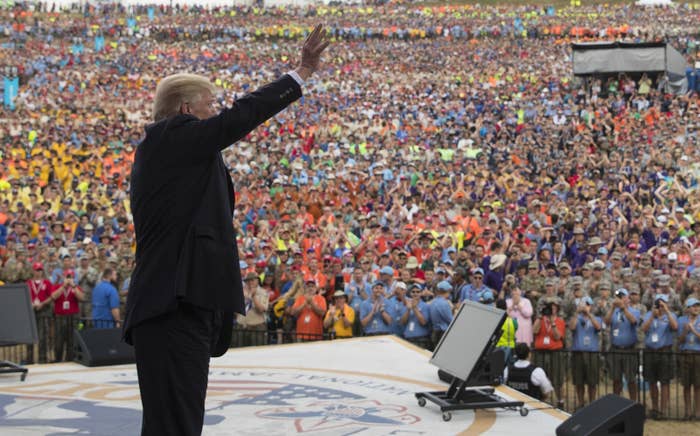 During his overtly political speech to a gathering of Boy Scouts in West Virginia, Trump claimed several times that the crowd was "record-setting."
"Nineteenth Boy Scout Jamboree, wow, and to address such a tremendous group," he said at the start of his speech.
"Boy, you have a lot of people here. The press will say it's about 200 people. It looks like about 45,000 people. You set a record today. You set a record. That's a great honor, believe me," he said.
Later, he bragged about the size of the crowds again, saying, "By the way, what do you think the chances are that this incredible massive crowd — record-setting— is going to be shown on television tonight? One percent or zero?"
Then he went on to berate the media.
"The fake media will say, 'President Trump spoke' — you know what is — 'President Trump spoke before a small crowd of Boy Scouts today.' That's some — that is some crowd. Fake media. Fake news."
But according to the Boy Scouts of America, this was not its largest jamboree on record, the organization told BuzzFeed News on Tuesday.
The organization said that while it could not estimate the exact size at Monday's event, "we can tell you the Boy Scouts of America welcomes 40,000 Scouts, Venturers, volunteers and other participants to the Summit Bechtel Reserve in West Virginia over the course of the ten-day event."
The BSA added, "This is not our largest jamboree on record. To the best of our knowledge, it was in 1960, when more than 56,000 Scouts and volunteers gathered in Colorado Springs, Colorado, for the BSA's fifth National Jamboree."
President Dwight D. Eisenhower addressed the BSA during its 1960 jamboree.