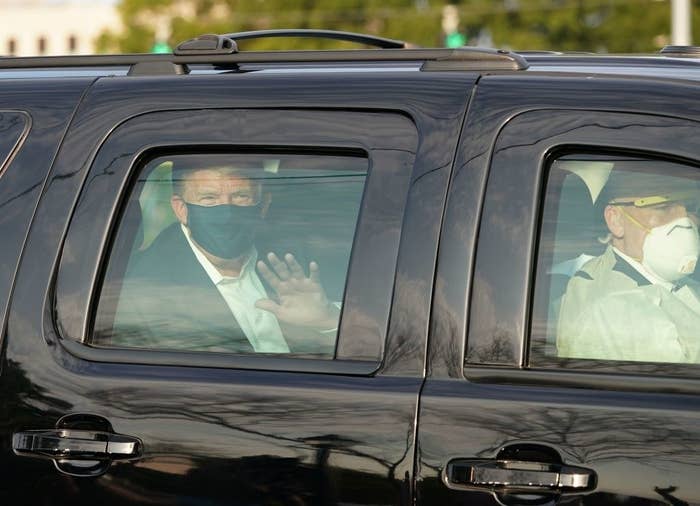 President Donald Trump, who is infected COVID-19, sat in an enclosed SUV with at least two other people on Sunday evening so that he could greet his supporters, raising concerns about his cavalier attitude to the deadly disease and to the health of the people forced to ride with him.
In a recorded video released minutes before the "last-minute" stunt, Trump insisted, "I learned a lot about COVID. I learned it by really going to school...and I get it, and I understand it, and it's a very interesting thing, and I'm going to be letting you know about it." (The pandemic has been raging for months and more than 208,000 people have died in the US as officials across the nation have pleaded for Trump to offer real leadership.)
On Sunday, hours after Trump's medical team said they were treating him with a powerful steroid after his oxygen levels dropped twice, the president left the hospital for what the White House said was "last-minute motorcade ride to wave to his supporters outside."
It came as a surprise to the pool of White House reporters covering the president's stay at Walter Reed hospital.
"It is outrageous for the president to have left the hospital — even briefly — amid a health crisis without a protective pool present to ensure that the American people know where their president is and how he is doing," the White House Correspondent's Association said in a statement.
"Now more than ever, the American public deserves independent coverage of the president so they can be reliably informed about his health," the organization said.
Medical experts and others pointed out the irony of Trump saying he has learned a lot about COVID and then sitting in an enclosed vehicle with other people who were identified as Secret Service members.
Responding to the incident, the Secret Service said in a statement that the agency "will continue to follow established protocols to ensure the safety of our employees."
"The Secret Service does not discuss our protectees or the specific means and methods regarding our protective missions," a spokesperson said.
All three of them were wearing masks and one Secret Service member was seen wearing personal protective equipment (PPE), but medical professionals noted how "irresponsible" the ride was for a person with a highly infectious disease.
Dr. James Phillips, the chief of disaster medicine at George Washington University Emergency Medicine, tweeted that the two others in the car would have to be quarantined for 14 days following the drive-by.

Phillips also said the risk of COVID-19 transmission inside the SUV was high.
Other medical professionals also noted that CDC guidelines require isolation for a minimum of 10 days after a positive test "no matter who you are." Trump received a positive diagnosis on Thursday, only three days before the stunt.
Some questioned why Trump was allowed to step out of the hospital and go for a drive on day three of his illness when they were not allowed to visit their loved ones inside hospital rooms because of COVID.