At around 5 a.m. ET on Tuesday, President Donald Trump accused Google of rigging search results against him, claiming that 96% of results for "Trump News" were from left-wing media that contained only "BAD" stories about him.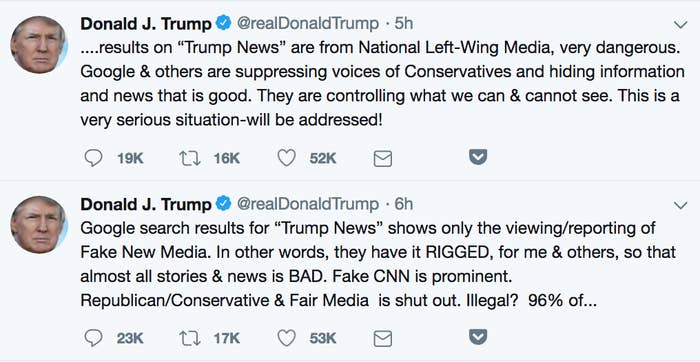 Trump accused Google of "suppressing" conservative voices and "hiding information and news that is good" about him.
He suggested that Google's supposed actions were illegal and that he would address this "very serious situation."
At an event later in the day, Trump claimed he was getting "thousands" of complaints.
"I think Google is really taking advantage of a lot of people. And I think that is a very serious thing and it is a very serious charge. I think what Google and what others are doing, if you look at what is going on with Twitter and if you look at what's going on in Facebook, they better be careful because you can't do that to people. You can't do it. We have tremendous, we have literally thousands and thousands of complaints coming in. And you just can't do that. And so I think that Google and Twitter and Facebook, they are really treading on very, very troubled territory and they have to be careful. It is not fair to large portions of the population," Trump said.
The White House later said it was looking into the issue, suggesting that the administration was considering investigating or regulating the tech giant.
Google issued a statement on Tuesday denying Trump's claims that their search results were ranked to "manipulate political sentiment."
The statement said:
When users type queries into the Google Search bar, our goal is to make sure they receive the most relevant answers in a matter of seconds. Search is not used to set a political agenda and we don't bias our results toward any political ideology. Every year, we issue hundreds of improvements to our algorithms to ensure they surface high-quality content in response to users' queries. We continually work to improve Google Search and we never rank search results to manipulate political sentiment.
While the president's claim that Google's algorithm is politically biased has no basis in proven fact, he is — unintentionally — correct that all algorithms have some amount of bias based on their design.
Google's search results for a given term are displayed as the result of a combination of complex and opaque signals that rank information based on what its algorithms think is most pertinent to a user, including what's been previously searched and clicked on. And those signals can be gamed.
Search engine optimization — the process of tagging an article or webpage with relevant keyword terms, which Google then uses to index the article in its search engine — is a generally accepted example of tailoring a piece of content so that it's more likely to appear in popular searches and thus be seen by more people.
Of course, this can be gamed by bad actors or pranksters — a tactic called "Google bombing" (though the company has long since changed its algorithms to make this harder).
Similarly, search engine algorithms like Google's can make mistakes. In the past, it has ranked Holocaust denier hate sites ahead of factual statistics about the Holocaust and served up racially insensitive results on numerous occasions.
So, where did Trump get his information from?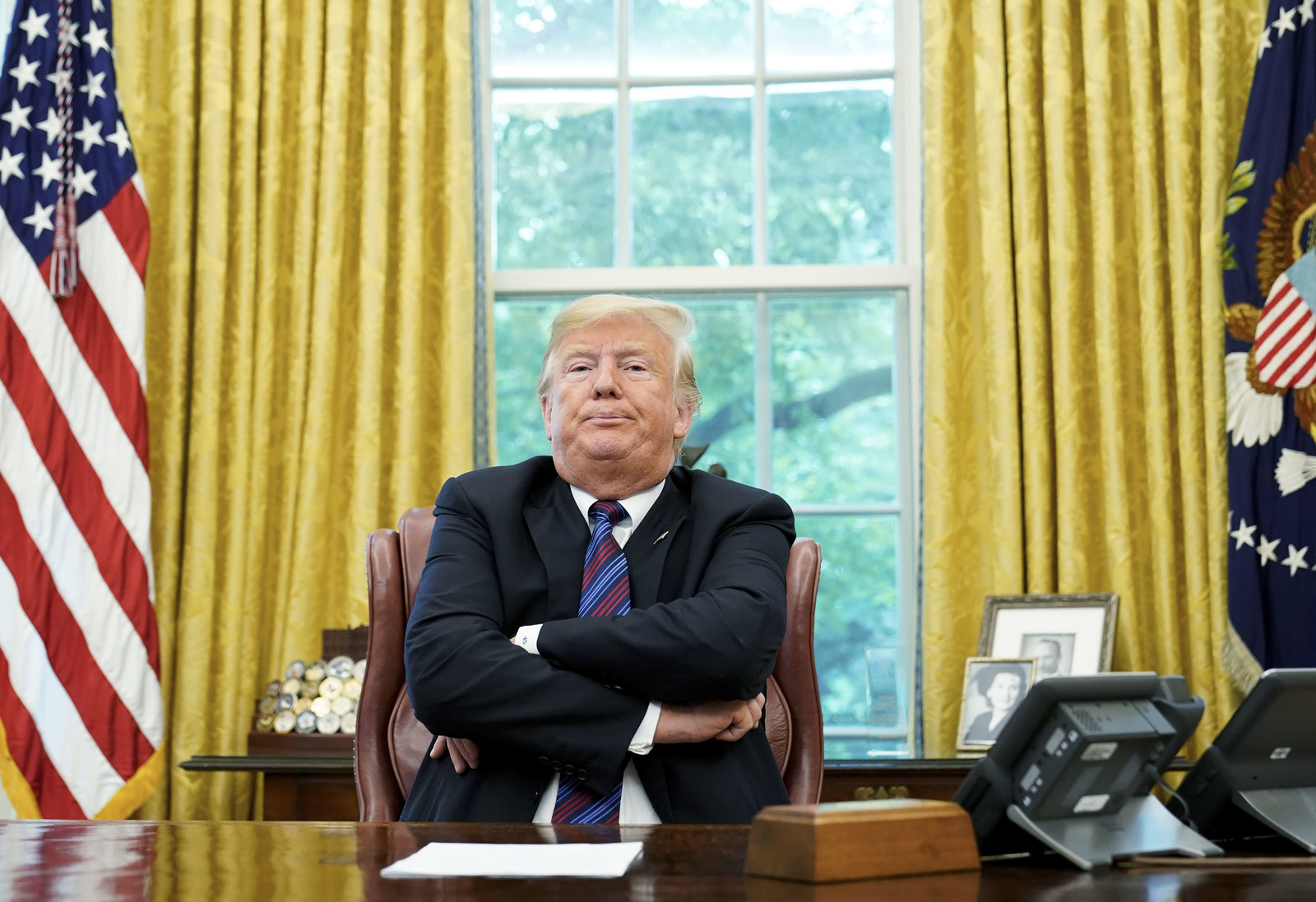 Fox, of course. Monday night's episode of Lou Dobbs Tonight on Fox Business aired claims saying that 96% of Google search results for "Trump" news are from "National Left-Wing media."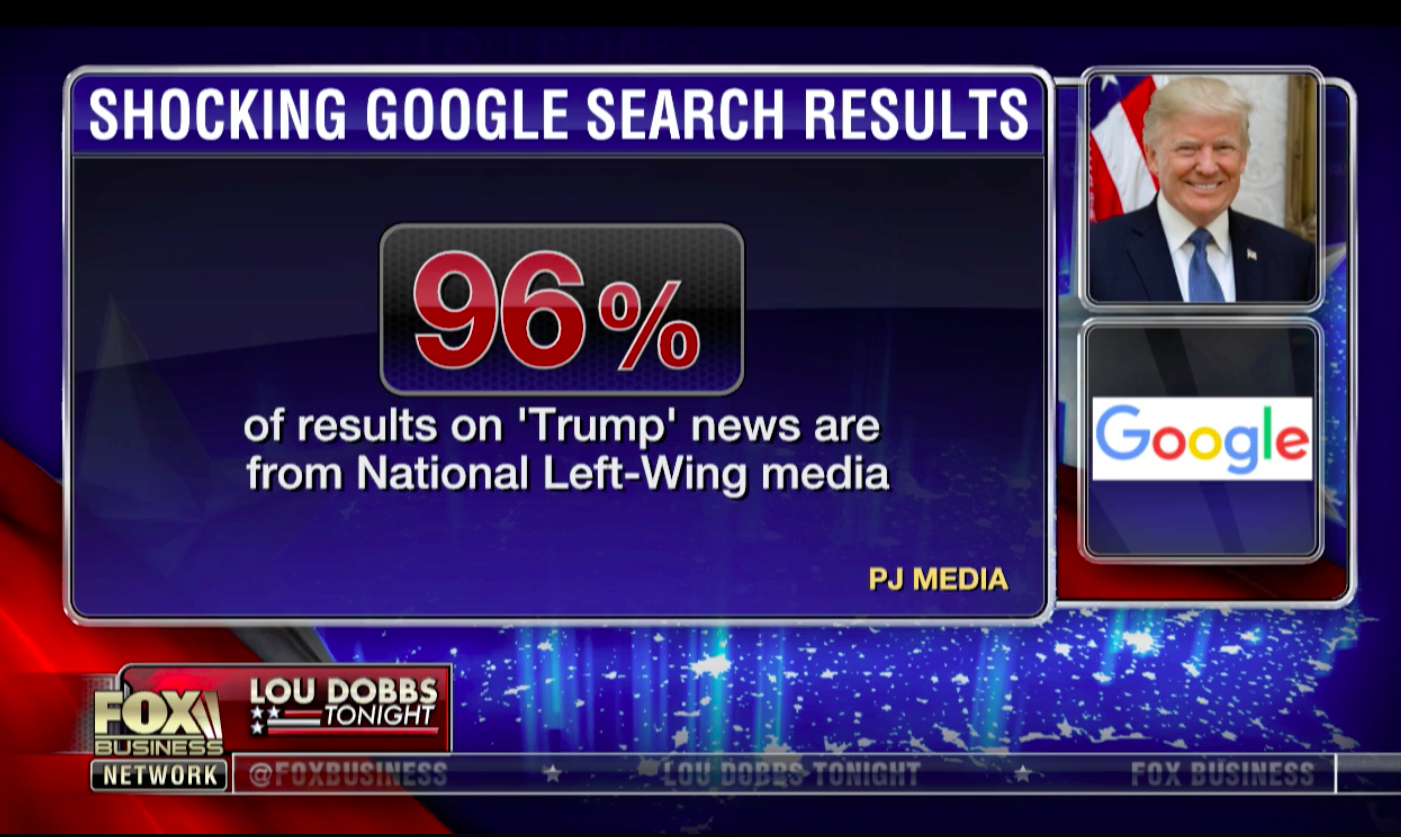 That statistic came from an outlet called PJ Media — a conservative news site. Dobbs had tweeted a link to the post the day before he took it to the airwaves.
The Drudge Report later took credit for sharing the PJ Media post that eventually prompted Trump to consider regulations against Google.
Dobbs treated the PJ Media post like it was an academic study — it's far from it.
He used the results of the post verbatim — without providing any information about its source or methodology — to accuse Google of "blatantly suppressing conservative media outlets from Americans searching for Trump."
"Ninety-six percent of results from national left-wing media," Dobbs said. "In the first 100 results, CNN appears most frequently, 21 times, followed by the Washington Post and NBC News."
"That is tough going," Dobbs said.
Fox Business Network did not respond to a request for comment.
Trump, in his tweets, also appeared to be quoting pro-Trump bloggers Diamond and Silk, who have urged the government to investigate how media companies were "controlling what we can and cannot see."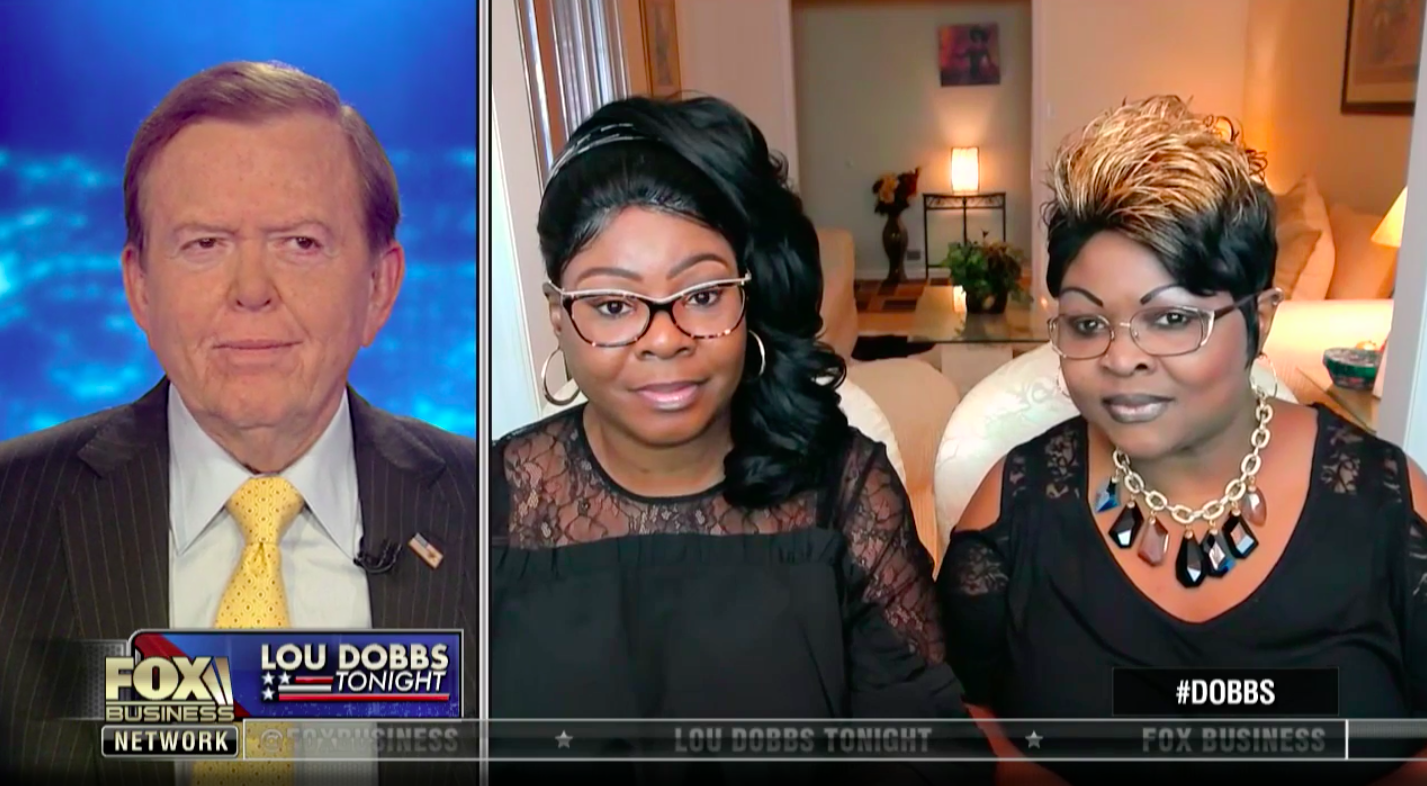 "To us this looks like tyranny," the bloggers told Dobbs. "You have the media outlets along with Google ... suppressing voices of conservatives."
"I am not for big government but I really do believe that the government should step in and really check this out because this is again going to turn into tyranny. We don't need dictatorship; we don't need people controlling what we can and cannot see," Diamond told Dobbs.
However, Paula Bolyard, the author of the PJ Media post, said that the way she reached her conclusions was "not scientific" and that she had used "two different computers" to test the premise that Google's algorithm was politically biased against Trump.
In her article, Bolyard wrote that she performed a Google search for "Trump" using the search engine's "News" tab and analyzed the results against a "media bias" chart that its author, Sharyl Attkisson, called "subjective."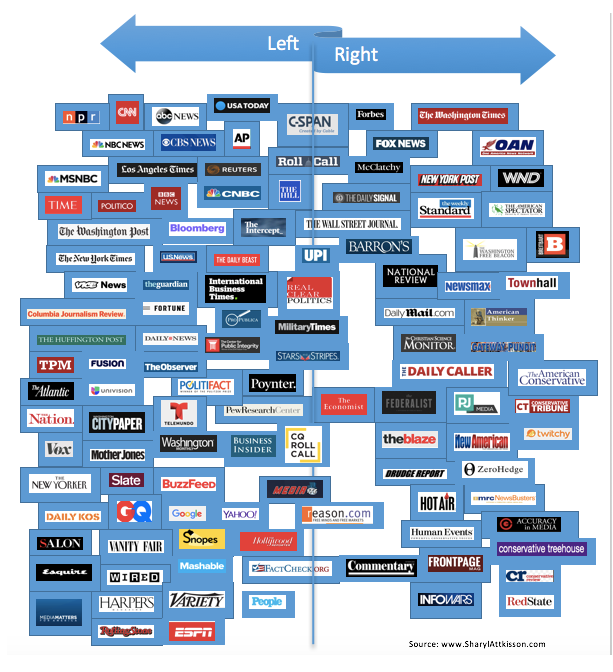 Attkisson said she compiled the chart "from various sources and your feedback." The link on "various sources" is to a Pew Research Center study that measures audience bias, not the alleged bias of an outlet and a college library's website that cites another college library's project describing media outlets.
The "media bias chart" includes sites that are not news outlets but peddlers of outright unproven conspiracy theories — such as Infowars.
Attkisson also links to more Infowars content on her website explaining the chart.
Using this information, Bolyard said she performed the search "multiple times using different computers" and Google returned similar results each time.
"While not scientific, the results suggest a pattern of bias against right-leaning content," Bolyard, who is the supervising editor of PJ Media, wrote.
On Tuesday, she said she used only two different computers registered to different users, and only one web browser — Chrome — to test her premise.
When asked if she was comfortable with Trump using her methodology to consider regulating Google, Bolyard told BuzzFeed News that she didn't "think the government should be involved in regulating tech companies."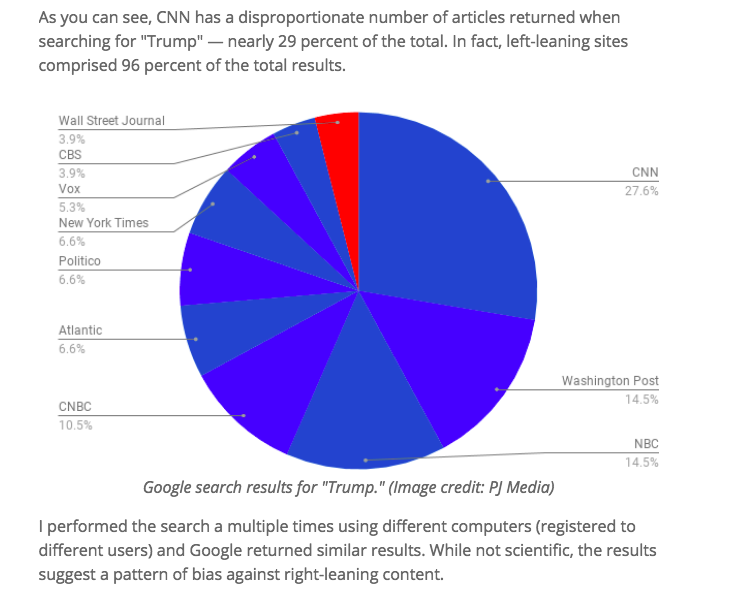 She also tweeted on Tuesday that "government almost always makes things worse" and said that "biased social media outlets" could run their companies "however they want."
However, Bolyard stood by her post, saying, "While my article was anecdotal, I do believe there is reason to be concerned about anti-conservative bias at Google as well as at Facebook and Twitter."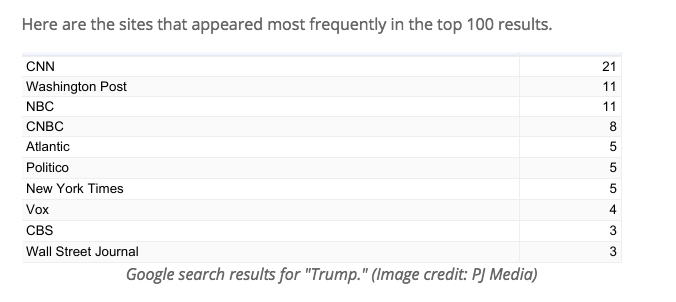 To bolster the validity of her post, Bolyard referred to the "internal documents" released by James Damore — the author of the controversial "diversity" memo who was fired from Google in 2017.
Bolyard told BuzzFeed News that Damore's documents "appear to show a culture of animus toward conservative viewpoints at Google, so people are understandably concerned that those views could be reflected in their algorithms."
She said that her post would "stand up to scientific scrutiny" because she linked to a report from a San Francisco SEO company — CanIRank — that used a sample of 2,000 search results to "find an anti-conservative bias" in Google's search results.
"If Google wants to restore confidence in their product, they should welcome an independent study and be more transparent about their practices," Bolyard said.
Google's algorithms can still be gamed by determined actors — though it's much more difficult to do so than it used to be, and they're usually corrected quickly.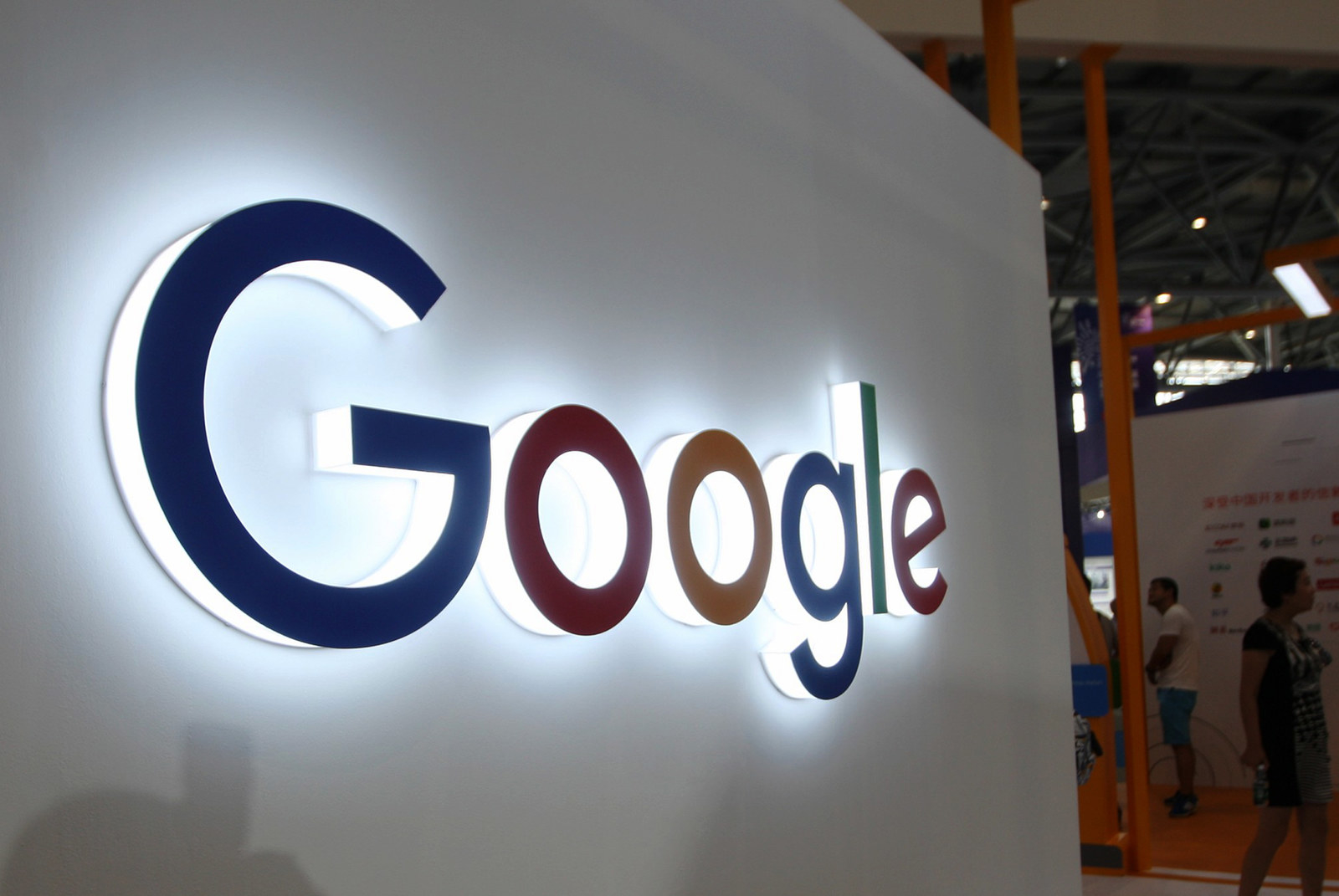 And while transparency advocates continue to press the company for more information as to how Google serves information to its users, it remains unproven that the president's specific criticism of political bias has any proven merit.