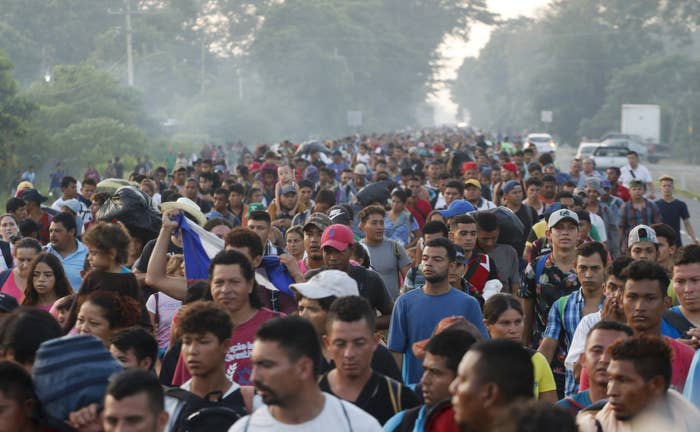 President Donald Trump on Monday claimed, without providing evidence, that "unknown Middle Easterners" were "mixed in" the caravan of Central American migrants heading to the US border.
"Sadly, it looks like Mexico's Police and Military are unable to stop the Caravan heading to the Southern Border of the United States," Trump tweeted. "Criminals and unknown Middle Easterners are mixed in."
The White House did not respond to BuzzFeed News' request asking for any evidence it has to support the unproven idea that "unknown Middle Easterners" were part of the caravan of more than 7,200 migrants.
A Customs and Border Protection spokesperson directed BuzzFeed News to the White House for questions "related to the President's tweet."
A State Department spokesperson told BuzzFeed News, "We understand there are several nationalities in the caravan." The agency directed further inquiries to the Department of Homeland Security.
A Department of Homeland Security official did not address if the agency had any evidence of "unknown Middle Easterners" being part of the caravan.
The official said that Customs and Border Protection had apprehended 17,256 criminals; 1,019 gang members; and 3,028 special interest aliens from countries such as Bangladesh, Pakistan, Nigeria, and Somalia in 2018, and had prevented 10 known or suspected terrorists from traveling to or entering the United States every day last year. The response wasn't about the specific caravan Trump tweeted about.
In a statement Sunday, Secretary of State Mike Pompeo said the administration was "deeply concerned by the violence provoked by some members of the group, as well as the apparent political motivation of some organizers of the caravan."
Trump later told reporters Monday, "Take your camera, go into the middle [of the caravan] and search. You're going to find MS-13; you're going to find Middle Eastern [sic]; you're going to find everything."
While the source of Trump's "unknown Middle Easterners" claim remains unclear, the president is known to tweet about his opinions on significant policy issues after they are brought up on his favorite television show, Fox & Friends.
During Monday's episode of Fox & Friends, three people, including cohost Pete Hegseth, suggested — without providing evidence — that ISIS operatives could be part of the caravan headed to the US.
Hegseth said that ISIS terrorists "could have used the caravan" to enter the US.
"You got the president of Guatemala saying to a local newspaper down there just last week they caught over 100 ISIS fighters in Guatemala trying to use this caravan," Hegseth said, which was a mischaracterization of what Guatemala's president said.
When another host asked if it was true, Hegseth responded, "He talked to their local newspaper. We don't know. It hasn't been verified. But even one ISIS— even one poison pill is too many in a caravan like that."
Hegseth appeared to refer to a report by Guatemala's newspaper, Prensa Libre, which quoted President Jimmy Morales' comments made at a security conference that Vice President Mike Pence and Pompeo attended on Oct. 11.

In a transcript of the remarks released by the US State Department, Morales said, "We have arrested almost 100 people highly linked to terrorist groups, specifically ISIS. We have not only detained them in our territory; they have also been deported to their countries of origin. All of you here have information to that effect."
In the public remarks, Morales did not mention if any of the people arrested were attempting to join the caravan or were in the caravan of Central American migrants headed to the US border.
A State Department spokesperson said that they did not have evidence to corroborate Morales' claims and directed inquiries to Guatemala's government.
A Pence official told BuzzFeed News that the vice president "took President Morales at his word, and there's ample US intelligence to confirm the fact that terrorists have attempted to exploit the Southern border."
A Fox News spokesperson told BuzzFeed News that they would get back with a source of information for Hegseth's comments, but had not responded by the time of publishing this article.

Following Morales' comments, Judicial Watch — a conservative watchdog group — published a report stating that Americans should be alarmed about the arrests of ISIS operatives in Guatemala, linking their presence to the caravan of Central American migrants heading to the US.

The Judicial Watch report said "a terrorist could have easily slipped in" with the migrants from Honduras, El Salvador, and Guatemala who had previously entered the US under "Barack Obama's open border free-for-all."
"Guatemala has long been known as a major smuggling corridor for foreigners from African and Asian countries making their way into the U.S.," the report said. "All this makes ISIS terrorists operating in Guatemala incredibly alarming."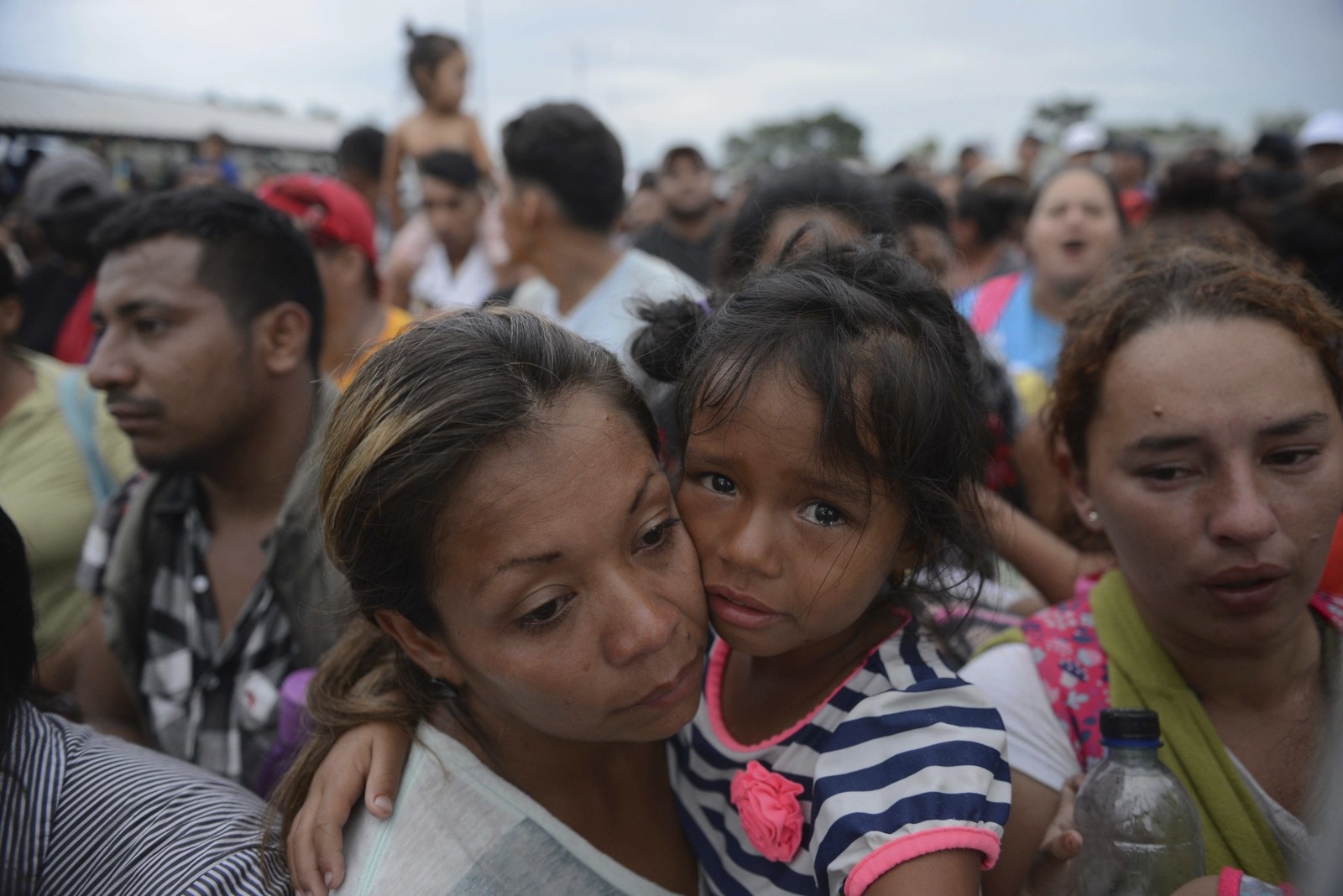 Morales' comments were also picked up by the Center for Immigration Studies (CIS) — which has been designated as a hate group by the Southern Poverty Law Center.
While the CIS report urged "healthy skepticism" of Morales' claim of arresting 100 ISIS operatives, the report added, "More plausible is the claim that at least some migrants with terrorism backgrounds were apprehended on their way north to the U.S. border or that American intelligence and law enforcement services may be in-country pressing to slow and vet this migration flow."
The report said that it was "well-established that migrants from origin 'sending' countries the United States regards as national security concerns — due to the presence of Islamist terrorist groups in them — have for many years routinely traversed Guatemala on their way to the U.S. southern border."
Like DHS's response, the report didn't specifically refer to the current caravan that Trump tweeted about.
A few other conservative news sites also linked Morales' comments to the Central American migrants' caravan headed to the US.
Monday morning's episode of Fox & Friends also featured Jason Piccolo, a former ICE supervisor and former Border Patrol agent, who suggested that the caravan "potentially" includes ISIS members.
Piccolo said, "How many people are from specially designated countries? How many may be potentially ISIS? How many of other malicious intent? What about smugglers and traffickers mixed in there with them?"
Piccolo said that the flow of migrants needed to be stopped before they entered the US, adding that he "would deploy military police" to vet them.

Another Fox & Friends guest, Amapola Hansberger, the founder of Legal Immigrants for America, said she did not know who the people in the caravan were, but said that they were "a threat to our national security," citing groups such as ISIS, Hezbollah, and the Taliban.
Fox & Friends cohost Brian Kilmeade asked Hansberger why the people in the caravan were coming to the US and "who are they?"

Hansberger responded, "I believe that they are — we do not know."
Then, she added, "But they are a threat to our national security, because today war is not only countries that go to war; it is groups such as ISIS, Hezbollah, Hamas, the Taliban — and they have declared war openly against the United States. So, with the open borders policies we have had, how many of them are in America?"
The guest provided no proof that this applies to the current caravan.
Reporters who have been traveling with the caravan said they found no evidence to support Trump's tweet.