Boeing's CEO said Wednesday that his company would build new Air Force One planes for less than the supposed $4 billion price that President-elect Donald Trump called "out of control" while threatening to cancel the contract.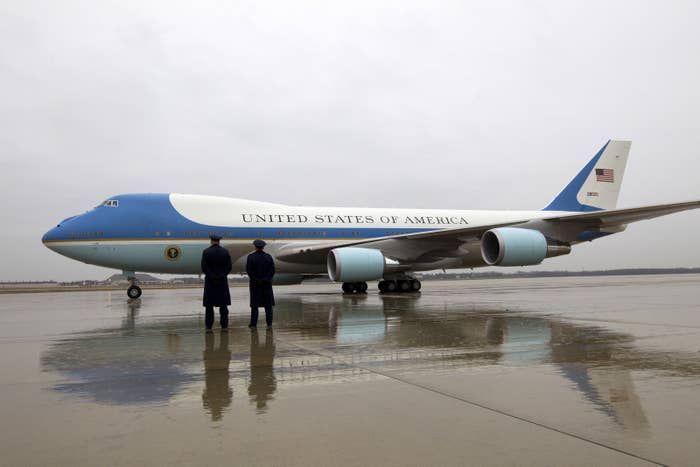 Earlier this month, Trump tweeted that costs for building the Boeing 747 Air Force One for future presidents were "out of control, more than $4 billion" and demanded the government to "cancel order!"
The source for Trump's $4 billion figure was unclear. The cost of the project is estimated to rise to at least $3 billion over the next five years, according to multiple media reports.
But after Boeing's CEO Dennis Muilenburg met with Trump on Wednesday, he told reporters, "We're going to get it done for less than that and we're committed to working together to make sure that happens. And I was able to give the president-elect my personal commitment on behalf of the Boeing Company."
Muilenburg, who described the meeting with Trump as "very productive," said that the pair discussed a range of topics, including Air Force One.
"This is a business that's important to us," he said. "We work on Air Force One because it's important to our country and we're going to make sure that he gets the best capability and that it's done affordably."
About an hour later during a brief press appearance, Trump mentioned his meeting with Muilenburg, saying "we're looking to cut a tremendous amount" from the Air Force One program.
Trump had earlier said, "The plane is totally out of control. It's going to be over $4 billion for Air Force One program and I think it's ridiculous."
"I think Boeing is doing a little bit of a number. We want Boeing to make a lot of money, but not that much money," Trump said.
In a statement issued after Trump's tweet, Boeing did not directly address Trump's claims or the total estimated cost of the project, but said that the company was currently under contract for $170 million "to help determine the capabilities of these complex military aircraft that serve the unique requirements of the President of the United States."
"We look forward to working with the U.S. Air Force on subsequent phases of the program allowing us to deliver the best planes for the President at the best value for the American taxpayer," the statement said.
The Air Force also released a statement saying it had budgeted $2.7 billion for the project, but "expect this number to change as the program matures with the completion of the risk reduction activities."
Trump spokesman Jason Miller did not explain how Trump devised the $4 billon figure, but said that the overall program cost was "a pretty big number."
"I think this really speaks to the president-elect's focus on keeping costs down across the board with regard to government spending," Miller, said. "I think people are really frustrated with some of the big price tags that are coming out for programs, even in addition to this one. So, we're going to look for areas where we can keep costs down and look for ways where we can save money."
He said the exact details would come once Trump was sworn in.
In January 2013, Trump had tweeted that Boeing was a "great company" and that he had bought stock in Boeing. However, Miller told reporters on Tuesday that Trump had sold all of his stocks in June, though he didn't provide evidence.