Trooper's Account Of Sandra Bland Arrest Differed From What Was Caught On Video
Texas Trooper Brian Encinia's version to his sergeant of the heated confrontation between him and Sandra Bland differed from what was captured by his dash cam, a review of the footage shows.
The Texas state trooper involved in the controversial arrest of Sandra Bland gave a different account of what happened to his supervisor than what was actually recorded by his dashcam, a review of the video footage shows.
Contrary to the version of events Trooper Brian Encinia gave his sergeant over the phone minutes after arresting Bland, at no point did he attempt to give the 34-year-old a reason for wanting her out of her car, and for ultimately taking her into custody.
Instead, Encinia is shown shouting, "Get out of the car or I will remove you," before opening the car door to "yank" her out.
Bland then asks, "Why am I being apprehended?" Encinia, however, does not attempt to answer her question.
At one point, Bland tells Encinia that he didn't have the right to pull her out of the car because she was not under arrest.
"You are under arrest," Encinia is heard telling her.
However, in his phone call with his sergeant — part of which was picked up in the recording — Encinia said he did not tell Bland she was under arrest.
"I never said 'Stop hands up,'" he said.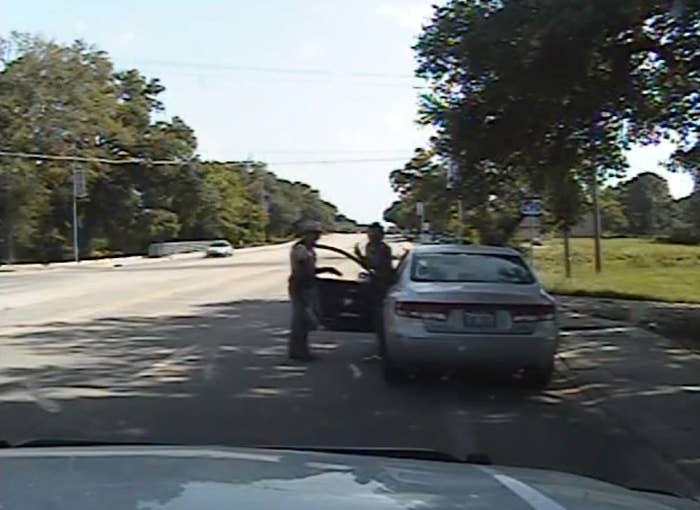 The dashcam video — released by the Texas Department of Public Safety — has renewed national criticism over how officers interact with the public. In this case, Bland's interaction on July 10 quickly escalated after she was pulled her over for not signaling a lane change.
Bland, who was ultimately arrested on charges of assaulting a public officer, died three days later in her jail cell of what authorities say was an apparent suicide. Her family, however, has questioned the circumstances surrounding her arrest and subsequent death.
On Wednesday, Sharon Cooper told reporters that the video clearly shows Encinia was picking on her sister from the beginning.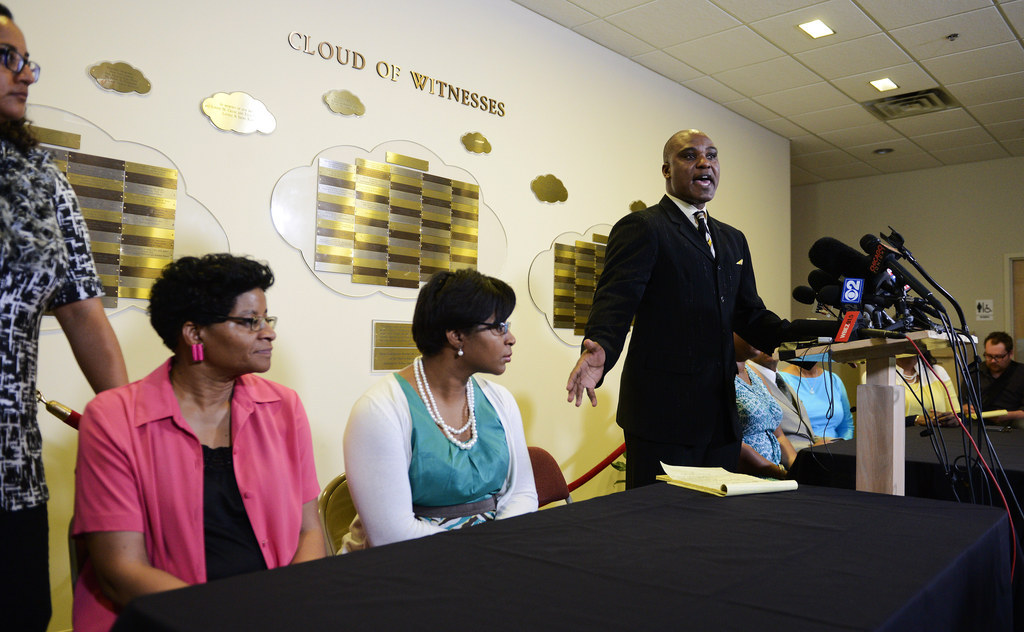 But in his phone call to the sergeant, Encinia said Bland appeared "very much irritated" for being pulled over.
"She wouldn't even look at me, she was looking straight ahead...just mad," Encinia said.
He also said that he was trying to get Bland out and over to the sidewalk because he didn't want to be in the middle of the road while they were arguing. He then corrected himself, saying, "Not arguing, but I'm trying to tell what she's doing and she's arguing with me."
"I just stepped back from the car and was like, 'Are you done ma'am? I need to tell you why and what I'm giving you.' But it just kept on going," Encinia told his sergeant.
However, during the actual exchange recorded by the dashcam, Encinia is not heard attempting to explain to Bland why he asked her to get out of the car.
When he returns to her car with the ticket, Encinia instead asks, "You OK?"
"I'm waiting on you...this is your job," Bland responds.
Encinia then replies, "You seem very irritated."
Bland goes on to explain that she is irritated because she was just trying to get out of the trooper's way as he sped up to and started tailing her.
"So yeah, I am a little irritated, but that doesn't stop you from giving me a ticket," she is heard saying.
"Are you done?" Encinia asks.
He then asks her to put out her cigarette, which she refuses, saying, "I'm in my car. Why do I have to put out my cigarette?"
Encinia then responds, "Well you can step on out now" while putting his pen, presumably for her to sign the ticket, back in his shirt pocket.
After Bland refuses to get out of her car, Encinia is seen removing his taser and pointing it at her, saying, "Get out of the car! I will light you up!"
Once she steps out of the car, the exchange between the two gets more heated as he asks Bland to turn around, presumably to handcuff her. Bland is repeatedly heard asking him why she is being arrested, but Encinia's only response is that he was giving her a "lawful order."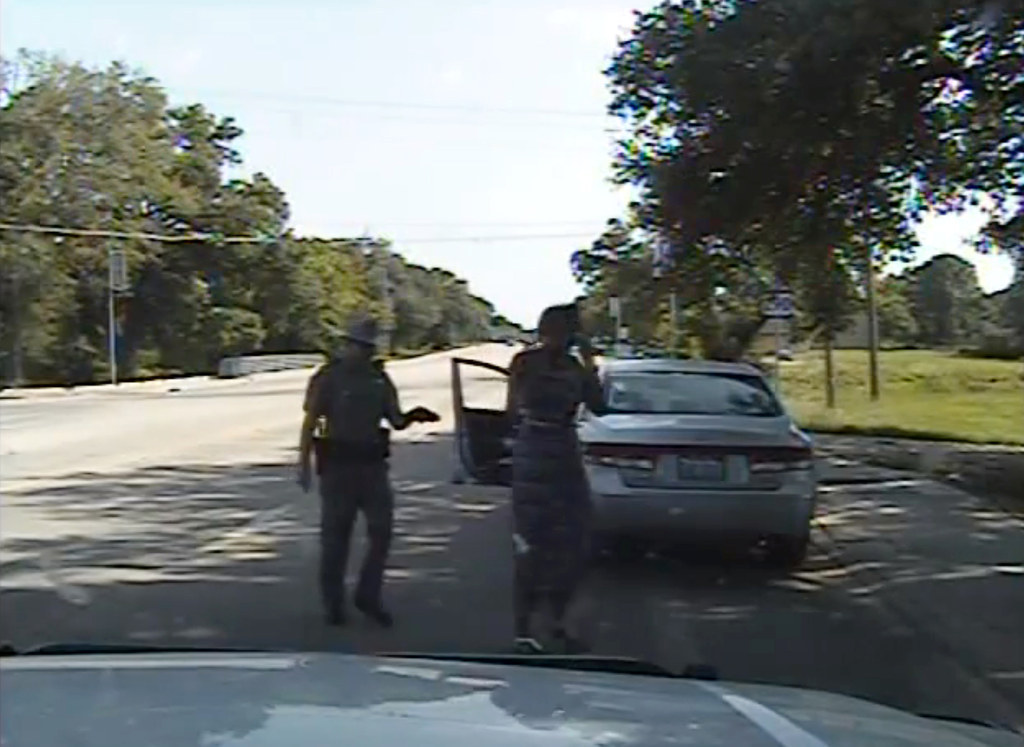 While reporting the incident to his sergeant, Encinia said that he put his taser away and tried to "de-escalate" the situation.
"I kept telling her to calm down, calm down," he said.
But at no point in the video footage is Encinia heard telling Bland to calm down.
"I only took enough force as I see necessary," Encinia told his sergeant. "I'm not saying I just threw her to the ground, I allowed time to de-escalate."
There were also differences in how he described the physical altercation to his sergeant and how he recorded it on her arrest affidavit.
In the video footage, the trooper is heard describing how he was kicked, but that he didn't sustain "serious body injuries."
Encinia also tells the sergeant that he had to detain Bland because she was "flailing her arms and stomping around," but that "she never swung at me."
However, in his arrest affidavit, Encinia stated that Bland "began swinging her elbows at me," and that he had "pain in his right leg" from a kick to his shin.
He also described her as "combative and uncooperative" as he gave her "numerous commands" to exit the vehicle.
Encinia has been put on administrative duty pending the outcome of the investigation into Bland's death.