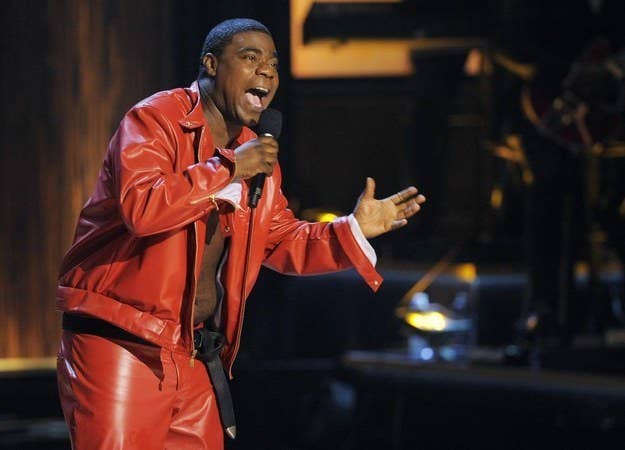 UPDATE —July 12, 2014 3:23 p.m. ET:
Tracy Morgan has been released from the rehabilitation center and will continue his recovery at home, the actor's rep. said in a statement. The statement said that Morgan passed along his sincerest gratitude to everyone who has helped him and he has requested privacy as he continues his recovery with "an aggressive outpatient program."
30 Rock star Tracy Morgan is suing Walmart over the deadly June 7 limo bus crash caused by one of their truck drivers, which killed his friend and fellow comedian James McNair, and left Morgan with broken ribs, a broken leg, and a broken nose.
The crash occurred on the New Jersey Turnpike when a Walmart truck rear-ended Morgan's limo and flipped it over. The truck was traveling 20 mph over the speed limit in a construction zone, and the driver was near his allotted drive-time limit, according to a preliminary report by the National Transportation Safety Board.
The lawsuit alleges that Walmart acted carelessly and negligently by allowing its driver, Kevin Roper, to drive the truck despite being awake for over 24 hours, thereby causing Morgan to suffer severe personal injuries.
The complaint says, "As a result of Walmart's gross, reckless, willful, wanton, and intentional conduct, it should be appropriately punished with the imposition of punitive damages."
Last month, Kevin Roper pleaded not guilty to criminal charges of vehicular homicide and assault by auto.
In a statement, Walmart called the crash a "terrible tragedy" and wished "full recoveries" to Morgan and two others who were injured in the crash.
The statement said, "We are deeply sorry that one of our trucks was involved. As we've said, we're cooperating fully in the ongoing investigation. We know it will take some time to resolve all of the remaining issues as a result of the accident, but we're committed to doing the right thing for all involved."