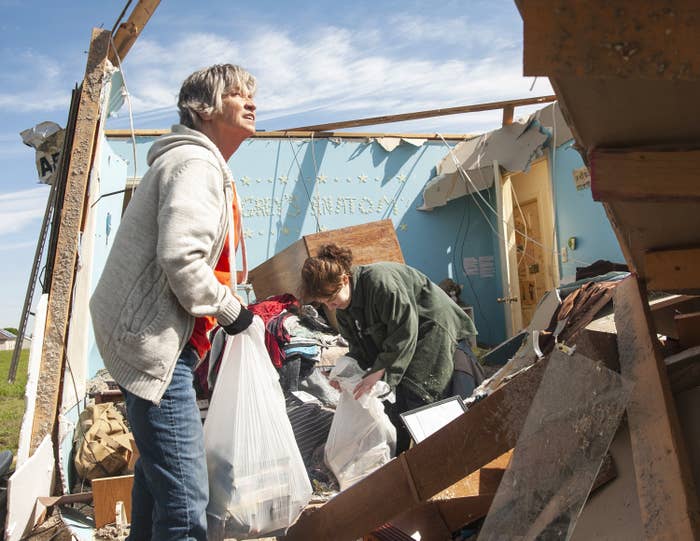 The journalists at BuzzFeed News are proud to bring you trustworthy and relevant reporting about the coronavirus. To help keep this news free, become a member and sign up for our newsletter, Outbreak Today.
People in the South faced an unprecedented choice over the weekend: To protect themselves from a deadly global pandemic or from deadly tornadoes.
Over the weekend, severe storms swept across several Southern states, including Mississippi, Tennessee, Alabama, Texas, and Louisiana, killing at least 19 people, destroying hundreds of structures, and causing power outages as the country is struggling to contain the spread of the coronavirus that has so far killed more than 22,000 people in the US.
Public officials and meteorologists urged residents to prioritize taking shelter from tornadoes over concerns about the coronavirus, despite many community shelters being shuttered due to the pandemic. Officials also asked people to maintain social distancing and cover their faces while seeking refuge from the violent storms in public or community shelters.
"Do not let the virus prevent you from seeking refuge from a tornado," the American Meteorological Society said in a statement last week. The group urged people to follow the CDC's guidelines for social distancing while in a public tornado shelter.

Social distancing measures call for people to be at least 6 feet apart in public places, and many states have forbidden group gatherings to prevent the spread of the coronavirus.
Public health and weather officials in Alabama and Mississippi told residents that their "first priority" should be to protect themselves from potential tornadoes, but acknowledged that the need for social distancing complicated matters for those who relied on community shelters during severe weather events.
They asked residents to consider options that would keep them safe from storms while also possibly limiting their exposure to the coronavirus.
"The decision to seek shelter in a community storm shelter is certainly made more difficult by the consideration of COVID-19 and each individual will need to make an educated decision on where and when to shelter from a tornado," Alabama's National Weather Service and public health department said in a joint statement last month.

"The Alabama Department of Public Health (ADPH) is recommending that your first priority is should be to protect yourself from a potential tornado," the statement added. "If a warning is issued for your area, you are more likely to be affected by the tornado than the virus."
Officials also cautioned residents who relied on public community shelters to "explore other options."

The National Weather Service in Mississippi acknowledged that social distancing brought "added complications" to taking shelter from severe weather, however, "state and federal officials agree that your top priority should be to protect yourself from a potential tornado."
The NWS asked families that usually use a public storm shelter to first check if community shelters in their areas were still open and if they had to plan for any COVID-19 measures.

The severe weather, coupled with the coronavirus emergency, "poses extraordinary conditions of disaster and of extreme peril" to residents, Alabama Gov. Kay Ivey said while declaring a state of emergency on Sunday, along with the governors of Louisiana and Mississippi.
Ivey suspended provisions of the state's COVID-19 public health order if it "endangered" people affected by the severe weather conditions or impeded efforts to respond to the storms. She also requested community safe rooms to remain open while implementing "reasonable practices and procedures" to prevent the spread of the virus among those seeking shelter.
A video shared by a meteorologist on Twitter showed a large crowd of people — many wearing masks — social distancing in a public tornado shelter in Starkville, Mississippi.
Community shelters that remained open asked people to practice social distancing guidelines and to wear "facial coverings."
Workers at two school shelters in Decatur, Alabama, asked people to stay 6 feet apart and also checked with people if they were feeling ill, Decatur Police Chief Nate Allen told the American Independent. Those who were feeling sick were asked to isolate in a room near an exterior door.
"They were pretty honest about it," Allen said. An older couple who were concerned about the virus isolated themselves in a teachers lounge, he added.

The National Weather Service in Milwaukee warned people at outdoor COVID-19 testing locations to "seek safe shelter immediately" while issuing severe thunderstorm warnings last week.
The National Weather Service in Wakefield, Virginia, included more hospital locations in their thunderstorm warnings, the Washington Post reported.

The office was sent a list of COVID-19 testing locations, including hospitals with outdoor tents, which they put into their thunderstorm warning software, the Post reported.
Videos and photos shared on social media showed the devastating impact the storms had on states.
Alabama
Georgia
Mississippi
Tennessee
Texas