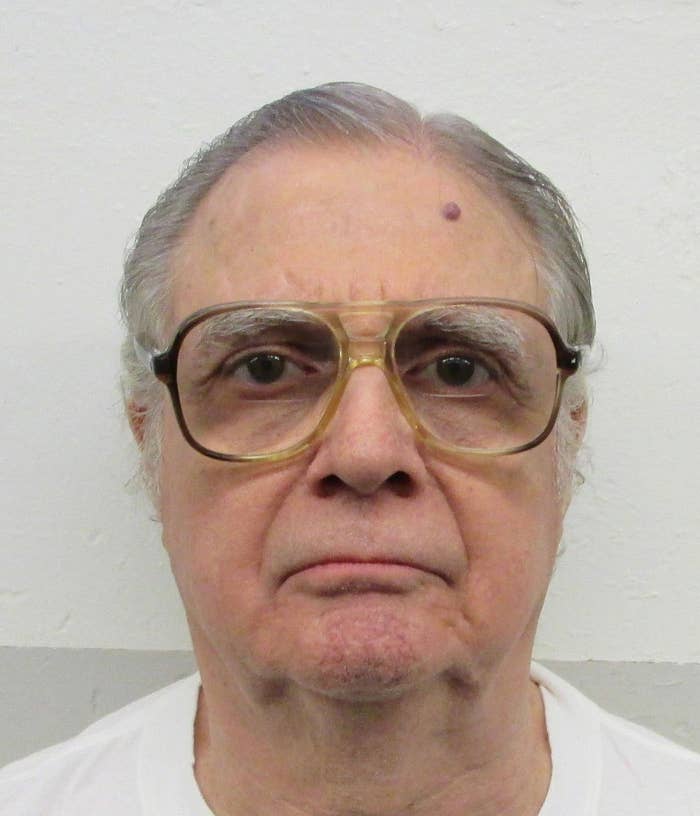 Tommy Arthur faced his eighth scheduled execution on Thursday. Alabama had been stopped from carrying out Arthur's execution the first seven times the state had planned to execute him since he was was sentenced to death in 1983.
This time the state carried out his execution — beginning it just minutes before the death warrant was to expire at midnight. Arthur's time of death was 12:15 a.m. Central Time on Friday, according to information from reporters on the scene.
Arthur, 75, was convicted in the 1982 murder-for-hire of Troy Wicker. He has maintained his innocence for 34 years on death row and has scheduled execution dates put off seven times since then — including once, in 2008, when another man confessed to the crime.
Arthur was the twelfth execution in the country in 2017. The next scheduled execution is also in Alabama: Robert Melson is set to be executed there on June 8.

Arthur's lawyers filed two requests to the US Supreme Court for a stay of execution, one relating to the availability of phones to defense counsel during the execution process and the other relating to the state's lethal injection process. The state opposed both requests.
Although the execution was scheduled to begin at 7 p.m. Central Time, Justice Clarence Thomas issued a temporary stay of execution before that time, halting Arthur's scheduled execution while the court considers his requests.
A little before 11 p.m. CT, the US Supreme Court issued orders denying Arthur's requests and vacating the stay of execution.
Justice Sonia Sotomayor wrote that she would have granted a stay of execution to Arthur in the telephone-related challenge, noting that "the State has no legitimate reason—penological or otherwise—to prohibit Arthur's counsel from possessing a phone during the execution, particularly in light of the demonstrated risk that midazolam will fail."
She concluded: "The State's refusal serves only to frustrate any effort by Arthur's attorneys to petition the courts in the event of yet another botched execution. ... Its action means that when Thomas Arthur enters the execution chamber tonight, he will leave his constitutional rights at the door."
Alabama's most recent attempt to execute Arthur — nicknamed the Houdini of death row — did not proceed last November when the US Supreme Court granted him a stay of execution while considering his appeal challenging the state's lethal injection protocol. Courts have also halted his execution in 2001, 2007, 2008, 2012 and 2015.

Arthur's attorneys have argued that his execution should be stayed because the Alabama Legislature and not the Department of Corrections ought to decide which lethal injection drugs should be used in executions. On Tuesday, a state appeals court reversed a judge's ruling that had rejected this claim, Al.com reported. However, the reversal does not halt Arthur's execution tonight.

His attorneys had earlier filed an emergency motion with the 11th Circuit Court of Appeals on Monday, challenging the constitutionality of the state's lethal injection protocol that involves the use of midazolam — a controversial sedative at the center of several botched executions in 2014.

"Men don't cry, but I have," Arthur told the New York Times from prison. "I'm scared to death right now."

Arthur was convicted and sentenced to death for Wicker's murder after three separate trials — his convictions were overturned twice. At the time of Wicker's murder, Arthur was on a work release program while serving a life sentence for the 1977 murder of his sister-in-law. While he admitted to that murder, Arthur has maintained his innocence in the Wicker case.

According to court records, Arthur had an affair with Wicker's wife, Judy Wicker, who paid him money to kill her husband. Arthur put on an "afro wig" and used "dark face makeup" to disguise himself as a black man and enter the Wickers' house, records showed. He then shot fatally Troy Wicker in the right eye at close range while Wicker slept in his bedroom.

Although another man confessed to the crime in 2008, halting Arthur's execution. However, his confession was discounted after DNA testing could not provide evidence linking him to the crime.