UPDATE
A little before midnight, the US Supreme Court granted a stay of execution to Thomas Arthur — the seventh time he has lived past a scheduled execution date.
Sentenced to death for a 1982 murder-for-hire scheme, Arthur received a stay of execution while the Supreme Court considers whether to hear his appeal of a challenge to the state's lethal injection protocol.
Chief Justice John Roberts issued a statement along with the stay. He wrote that he did not think the court should grant the stay because, in his view, the case "does not merit the Court's review." Nonetheless, he continued, "Four Justices have, however, voted to grant a stay. To afford them the opportunity to more fully consider the suitability of this case for review, including these circumstances, I vote to grant the stay as a courtesy."
Justices Clarence Thomas and Samuel Alito noted that they would have denied the stay.
Because of the way votes on such requests work at the court, justices do not need to publicly state whether they would have granted the stay or not. As such, it is not entirely clear how the remaining justices voted on the request.
Earlier this year, Justice Stephen Breyer noted that he was providing a so-called "courtesy fifth" vote in another, non-capital case — although he referenced a death penalty case in his statement issued with that stay.
Arthur also has a challenge pending relating to the state's death sentencing law, but the justices took no action Thursday on that request.
The order came less than two hours after Thomas issued a temporary stay of execution while the justices considered the request granted later in the evening.
UPDATE
US Supreme Court Justice Clarence Thomas issued a temporary stay of execution to Thomas Arthur on Thursday night — hours after Arthur was scheduled to die.
The stay, halting Alabama's seventh attempt to execute Arthur, will remain in place pending a further order from the court.
An Alabama Department of Corrections spokesperson told BuzzFeed News that the current death warrant expires at midnight, meaning a new date would need to be set if the stay remains in place for the rest of Thursday evening.
Thomas had received Arthur's request for a stay of execution as the "circuit justice" responsible for last-minute requests from states within the 11th Circuit Court of Appeals.
Arthur's lawyers have asked the Supreme Court to review two questions — one federal challenge relating to the constitutionality of Alabama's execution protocol and the other out of state court relating to the constitutionality of its death penalty sentencing law. Although both requests remain pending, the stay was issued in the federal case raising the questions about the protocol.
ORIGINAL ARTICLE
Tommy Arthur is scheduled to be executed in Alabama on Thursday for the 1982 murder-for-hire of a man. Arthur, 74, has maintained his innocence and had scheduled execution dates put off six times since his conviction — including once, in 2008, when another man confessed to the crime.

Arthur's attorneys petitioned the US Supreme Court on Thursday for a writ of certiorari and a stay of execution on the grounds that Alabama's death penalty sentencing law is unconstitutional based on its similarities to Florida's sentencing law which was struck down by the US Supreme Court in January. Alabama officials oppose the requests.
In the case of Hurst v. Florida, the Supreme Court held that Florida's death sentencing law violated the Sixth Amendment right to a jury trial by permitting a judge to enter a sentence of death. The Alabama Supreme Court had, on Wednesday, denied a stay of execution relating to that request.
His attorneys also filed a second stay application and cert petition with the Supreme Court related to the 11th Circuit Court of Appeal's 2–1 ruling that rejected Arthur's claim that the state's method of execution should be found to be unconstitutional. The state opposed this request as well, but a trio of medical professionals and ethicists weighed in to support Arthur's argument.
Specifically, Arthur challenges the state's new lethal injection method — a three-drug combination involving midazolam, a controversial sedative at the center of several botched executions in 2014. Arthur is among several death row inmates who have challenged the protocol. The US Supreme Court upheld the use of midazolam in a case out of Oklahoma last year — Glossip v. Gross — which used the same drug combination as Alabama. In his appeal, though, Arthur's lawyers challenged the lower courts' interpretation of Glossip — which stated that a death row inmate must offer an alternate execution method that is less likely to cause pain in order to challenge the current protocol.
Arthur wrote a letter in October to Alabama Gov. Robert Bentley asking him to place a moratorium of all executions and request the "United States Justice System" to "investigate Alabama's entire capital punishment procedure, arrests, trials, appeals," AL.com reported. Bentley declined to intervene.

After three separate trials — his convictions were overturned twice — Arthur was convicted and sentenced to death in the 1982 murder-for-hire of businessman Tory Wicker. At the time of Wicker's murder, Arthur was on a work release program while serving a life sentence for the 1977 murder of his sister-in-law.
According to court records, Arthur had an affair with Judy Wicker who paid him money to kill her husband. Arthur put on an "afro wig" and used "dark face makeup" to disguise himself as a black man and enter the Wickers' house, records showed. He then shot fatally Troy Wicker in the right eye at close range while Wicker slept in his bedroom. Arthur has maintained his innocence in Wicker's murder.
In 2008, another man confessed to the crime — leading to a stay of execution. Later DNA testing could not provide evidence that linked the other man to the crime scene, leading the court to discount the confession.
Arthur could become the second person to be executed by Alabama's new lethal injection protocol using midazolam. The state executed Christopher Brooks in January after the Supreme Court rejected his appeal to stop the execution over claimed similarities between Alabama's and Florida's death sentencing laws, as well as Alabama's use of lethal drugs. Brooks was the first death row inmate put to death by the state since 2013.

In July, Strange asked the Supreme Court to set an "expedited execution date" for Arthur, saying he "managed to evade justice" six times before.

Read the order from the US Supreme Court: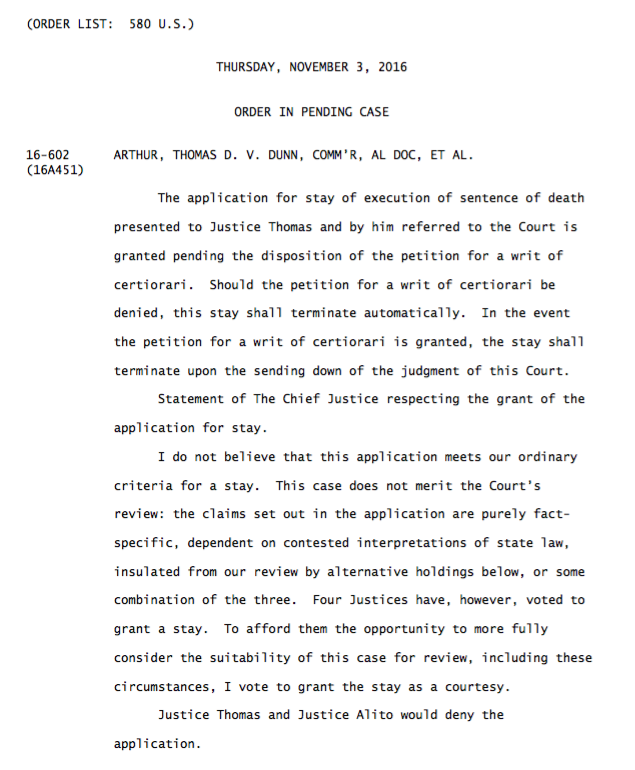 Read the Supreme Court order from Justice Thomas: