Three Cops Charged With Raping A Woman Inside A Mumbai Police Station
A 29-year-old model alleged that the officers kidnapped, raped, and extorted money and gold from her.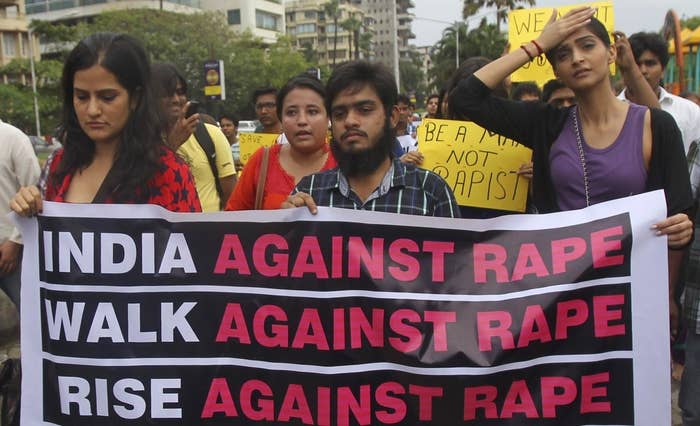 Two assistant police inspectors and a constable were arrested Thursday for allegedly raping a 29-year-old model inside a police station in Mumbai, India's financial capital, officials told local news organizations.
The police officers are among six people arrested – including a woman – for extorting around $8,000 from the alleged victim and her boyfriend.
The incident occurred on April 3, but the model fled the city that night, fearing harassment, Mumbai newspaper Mid-Day reported.
It was only after she texted a complaint to Mumbai Police Commissioner Rakesh Maria that the accused were arrested.
According to her account, police officers stopped the woman and her boyfriend outside a five-star hotel in Mumbai on the grounds that she had gone to the hotel for soliciting clients for prostitution, DNA India reported. After taking them to the police station, the officers detained the two for hours and threatened to arrest them for prostitution unless they paid the cops around $8,000, she said.
The model also alleged that the officers sexually molested her and that one of them forced her to perform oral sex on him inside the police station.
They paid the officers the money, which her boyfriend managed to withdraw from different ATMs during the night. The officers also forced the woman to give them her gold jewelry, finally letting them go in the early hours of April 4, the woman said, according to the news reports.
After the woman complained to the police commissioner, the officers were arrested and booked for sexual harassment, extortion, and wrongful confinement among other charges. They are scheduled to appear in court on Friday.
"Such black sheep will not be tolerated in the force," joint Commissioner of Police Deven Bharti told reporters. "We will ensure that each one of them gets the harshest punishment."
In 2006, a Mumbai constable was sentenced to 12 years in prison for raping a 17-year-old girl inside a police station. In August 2014, a high-ranking police officer in Mumbai was suspended for six months over alleged charges of sexual assault.