Thousands of students from schools across the U.S. staged a massive walkout Monday in solidarity with Ferguson and other communities affected by police violence.
The #HandsUpWalkout movement, organized by the Ferguson Action group, called on people to mobilize in the wake of a grand jury's decision not to indict officer Darren Wilson for the fatal shooting of unarmed black teen, Michael Brown.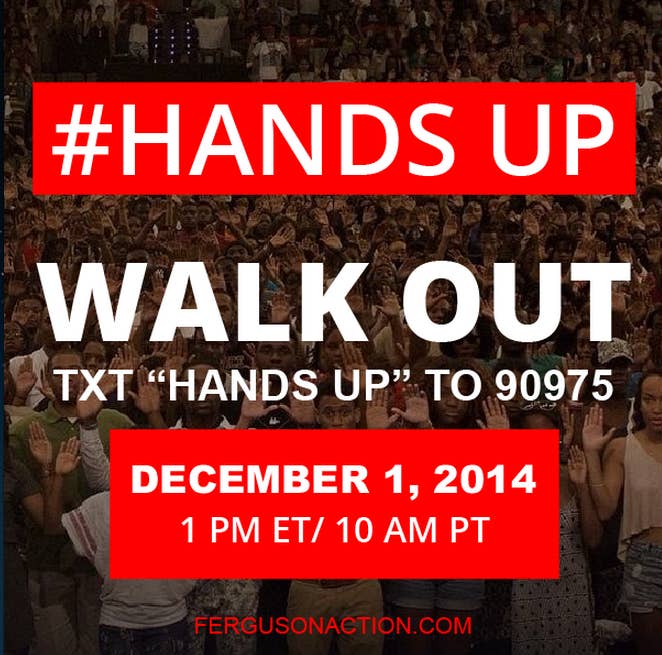 In a statement, Ferguson Action said:
In the wake of events in the last weeks, including the non-indictment in the killing of Mike Brown and the senseless killings of Akai Gurley in New York and 12-year-old Tamir Rice in Cleveland, our communities are hurting and justifiably angered. What gives us hope in this moment of pain and anguish is the thousands of people who have poured into the streets of America to demand change.

From the #ShutItDown actions that have blocked major highways and intersections to the #BlackoutBlackFriday protests,the message is clear: No more business as usual. We can no longer do what we have always done and cooperate with a system that does not respect Black Lives. We will only get the change we want if we disrupt the daily order and insists that Black Lives Matter. If that means shutting down the entire country, that's what we'll do.
Here are some of the schools and cities that staged the walkout for Ferguson.
Harvard Law School, MA.
Cambridge Rindge and Latin School, MA.
Harvard Graduate School of Education, MA.
University of Rochester, NY.
Bard High School, NY.
Yale University, CT.
Georgia State University, GA.
Wake Forest University, NC.
Texas A&M University, TX.
Hyde Park Cluster of Theological Schools, IL.
Washington University, MO.
Louisiana State University, LA.
Wheaton College, IL.
University of Massachusetts Amherst, MA.
Jackson State University, MS.
Brandeis University, MA.
Boston University, MA.
Johnson Senior High School, MN.
Brookline High School, MA.