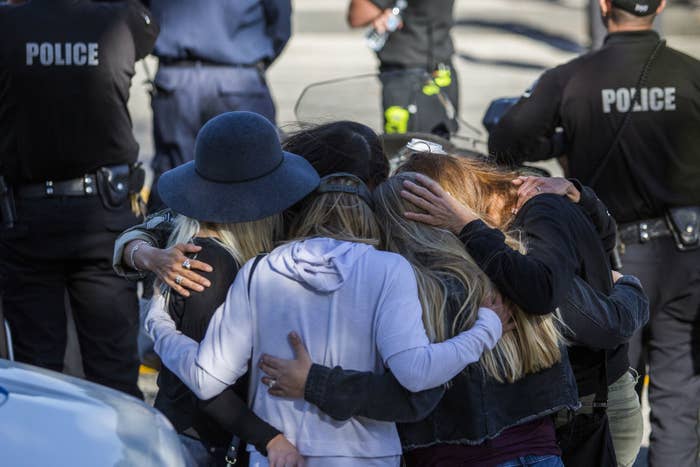 At least 12 people were killed on Wednesday when a gunman opened fire inside a Southern California bar filled with local college students.
The shooting at Borderline Bar & Grill shocked the community of Thousand Oaks, which touted its status as one of the safest cities in the US. On Wednesday, the bar was hosting College Country Night — a night of dancing open to anyone 18 and older, which regularly drew crowds of local country music fans.
The shooter, who killed himself, was identified as a 28-year-old Marine veteran who'd once been a victim of battery at the bar and also crossed paths with county mental health specialists for acting "irrationally."
Victims included the first law enforcement officer who tried to stop the gunman, bar employees, and college students.
Sgt. Ron Helus, 54
Ventura County Sheriff's Sgt. Ron Helus, a 29-year veteran of the department, was talking to his wife on the phone — as he frequently did during his shifts — when he got a call to respond to a shooting at the Borderline Bar & Grill in Thousand Oaks, California, on Wednesday night.
According to officials, he told her, "Hey, I have to go. I love you. I'll talk to you later."
Helus, 54, was the first officer to arrive at the scene of the shooting, along with a California Highway Patrol officer.
As part of deputies' training for an active shooter situation, Helus knew he had to enter the building immediately and try to stop the gunman, who had opened fire on scores of young patrons.
When Helus and the patrol officer entered the bar, they immediately exchanged gunfire with the suspect, Ventura County Sheriff Geoff Dean said at a press conference.
Helus was shot several times and died in the hospital early Thursday morning. He was due to retire next year.
Eleven others were also killed in the shooting and the gunman was found dead at the scene.

"Ron was a hardworking, dedicated sheriff sergeant," an emotional Dean said. "He was totally committed. He gave it his all, and tonight, as I told his wife, he died a hero because he went in to save lives, to save other people."
Hundreds of people lined up on the street waving flags as part of a procession for the fallen officer.
Dean told CBS News that he and Helus were gym buddies.
He said there was "no doubt" that Helus and the patrol officer helped to save the lives of many young people at the bar.

Photos on Helus's Facebook page showed him enjoying outdoor activities, including fishing with his son.

"He was a father, a husband, and he died tonight going in to try to save others, and made the ultimate sacrifice," Dean said.
Telemachus Orfanos, 27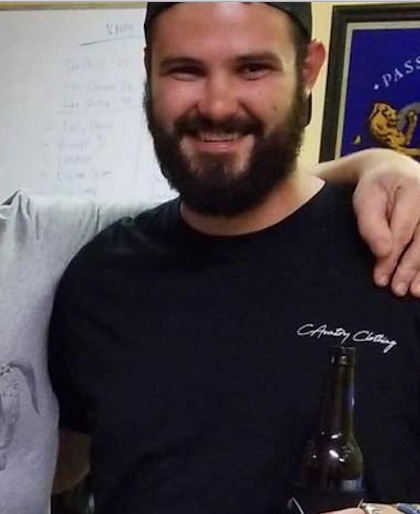 Telemachus Orfanos, who went by Tel, was a survivor of the Route 91 Harvest music festival mass shooting in Las Vegas last year, his mother said. But on Wednesday, he was killed at Borderline.
His mother, Susan Schmidt-Orfanos, made an emotional appeal the next day, saying she didn't want prayers for her son's death — she wanted gun control.
"I have two words," she told BuzzFeed News. "Gun control now, now, now, now. No more NRA, no more money, gun control now, thank you."
Tel was a 2009 graduate of Thousand Oaks High School, earning the rank of Eagle Scout that year before going on to Moorpark College. He then joined the Navy, according to his Facebook page.
He returned to civilian life in Thousand Oaks, and in 2017, his mother said he traveled to Las Vegas for the music festival, where 58 people were killed and hundreds injured.
"He came home," she told BuzzFeed News about that night. "And he didn't come home last night."
Cody Gifford-Coffman, 22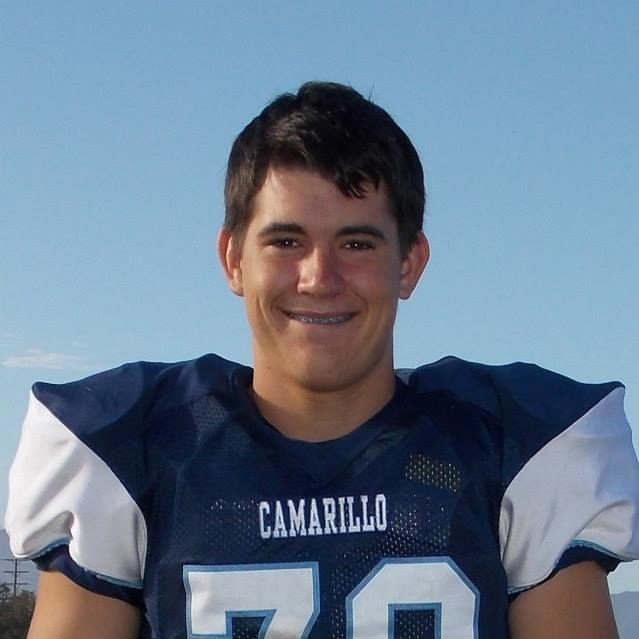 Jason Coffman spoke to his son Cody, who was headed to the Borderline Bar & Grill on Wednesday night.
"First thing I said was, 'Please don't drink and drive,'" Jason Coffman told reporters on Thursday. "The last thing I said was, 'Son, I love you.'"
Cody was later shot during the rampage at the bar. His father said he was pronounced dead on the scene.
Cody had just turned 22. Coffman said that Cody was talking to recruiters to be part of the military and was on his way to "fulfilling his dream of serving the country."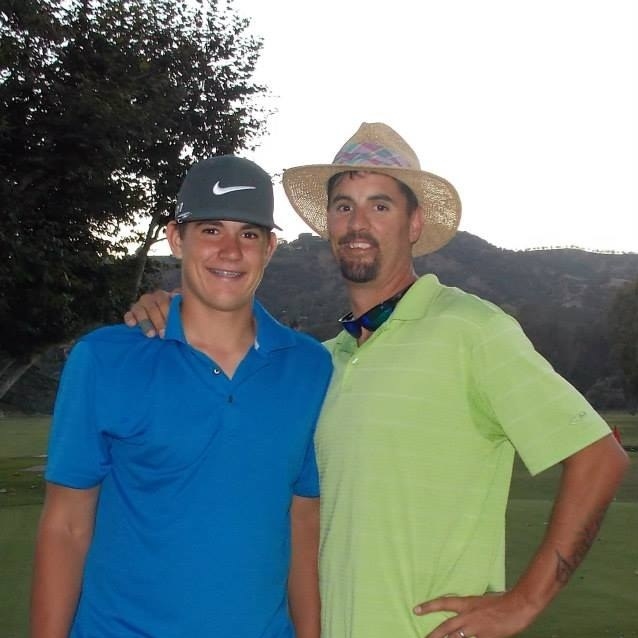 Cody had "outgoing love for everybody," especially his baseball team, his father said. He was the head umpire for the Camarillo Pony Baseball league.
Cody's death was going to "crush" his two younger brothers, ages 8 and 6, their father said. He was also set to have a little sister soon, as Jason's wife is pregnant with a girl.
Before he heard his son had died, Coffman told BuzzFeed News that he and his wife woke up to Cody's friends pounding on their front door just after 1 a.m.
"They made it," Coffman said. "He didn't.
"This is going to be an absolute heart-wrenching time for me and my family," Coffman told reporters. "For me, this is the heart I will never get back. I will never get back."
Kristina Morisette, 20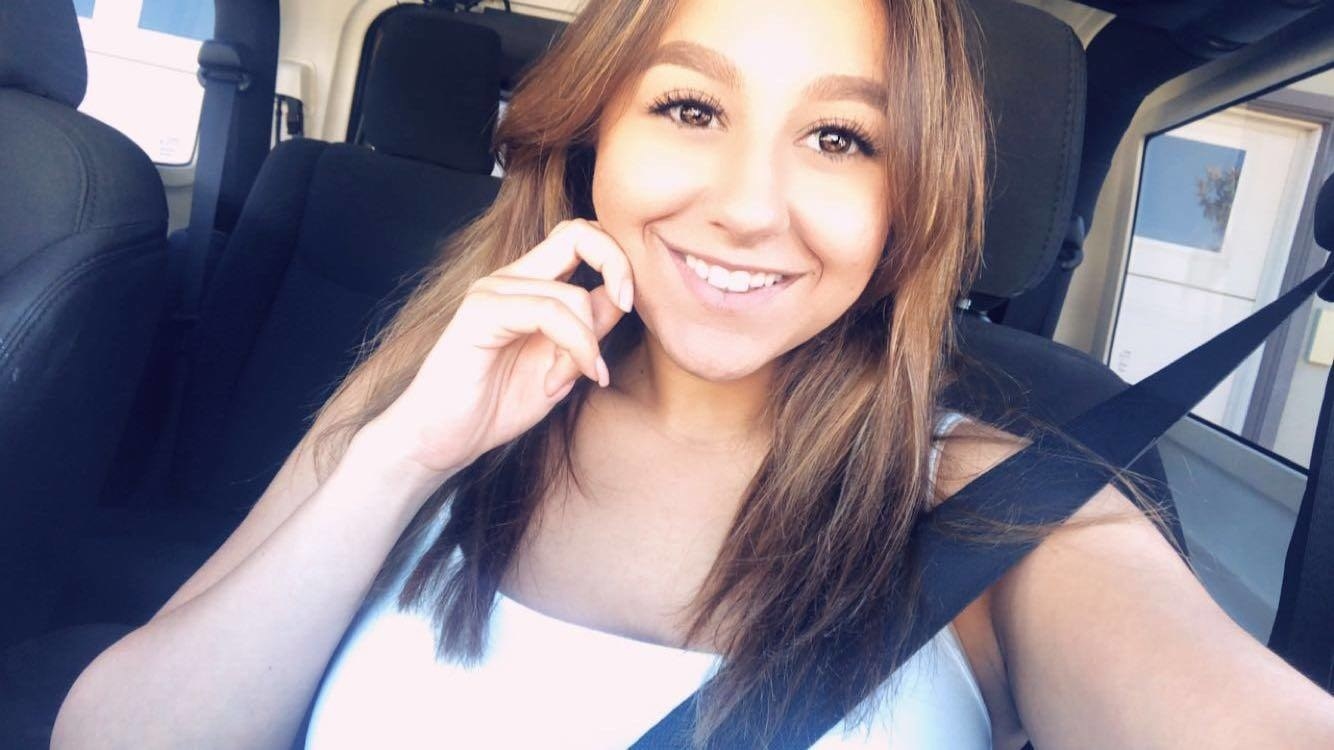 Kristina Morisette worked at the front desk at Borderline, and regulars remembered her as the friendly face that greeted them as they arrived.

Cole Knapp, 19, a second-year student at Moorpark College who lives in Newbury Park, told BuzzFeed News he had gotten to know Kristina from going to the bar almost every week.
"She's the face I see every time I come," Knapp said.
The 20-year-old had been working at Borderline for more than a year, but had recently interviewed for a new job, Hannah Trenton, who had been friends with Morisette since first grade, told BuzzFeed News.
She was so well-known by the regulars that they would often bring her snacks, food, or coffee while she worked at the front desk.
Cliff Housego, a dance instructor at the Borderline, said Morisette's friendly smile and demeanor was always welcoming at the bar, even with patrons who sometimes walked in in a foul mood.
"She was just the sweetest," he said.
Working near the front door at Borderline, Morisette was among the first confronted by the gunman.
"She is one of the most innocent people on the face of the planet, like one of the sweetest people," Dylan Short, a 24-year-old from Simi Valley, told BuzzFeed News. He added that he couldn't understand how anyone would use violence against her.
Casey Morrison, 25, used to be a promoter at Borderline and met Morisette when she started working there.
"She would always greet everyone with a smile, a great attitude," he told BuzzFeed News.
Alaina Housley, 18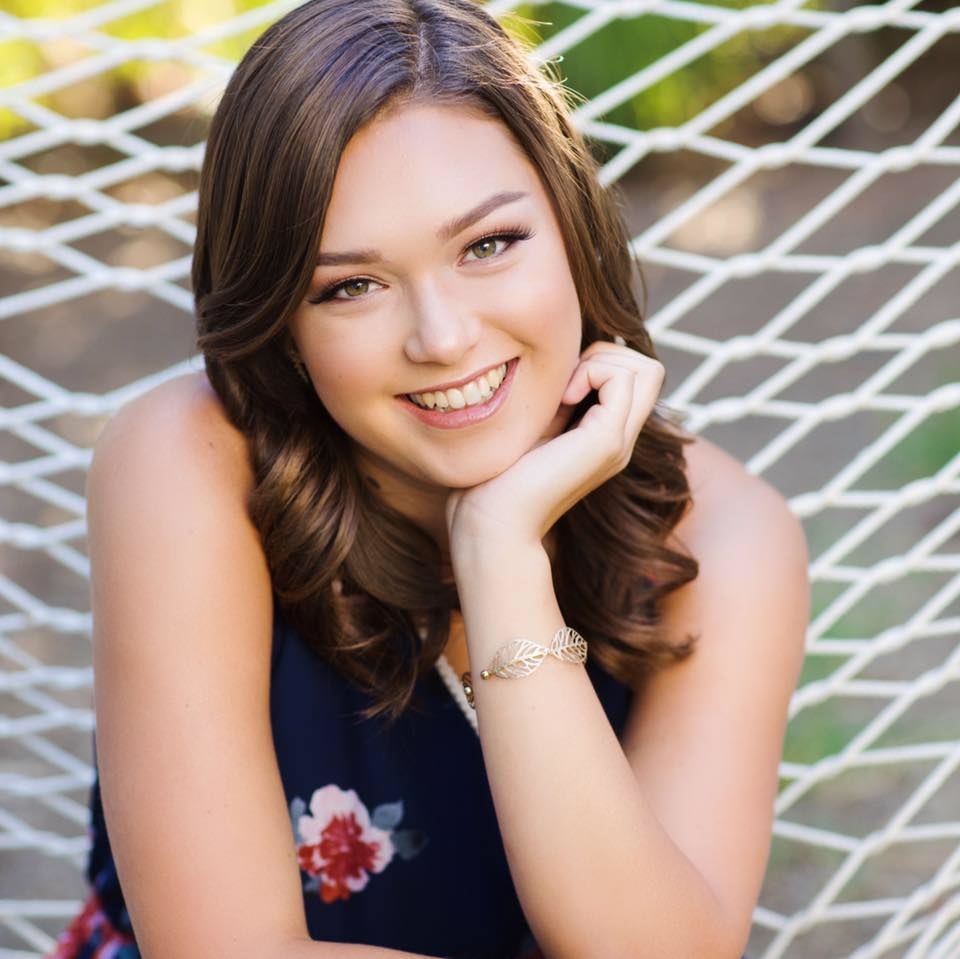 Alaina Housley, who was one of at least 16 Pepperdine University students who were at the College Country Night at Borderline Grill & Bar Wednesday night, was killed in the shooting, her family members confirmed to BuzzFeed News.
She was the niece of former Fox News reporter Adam Housley and his wife, actor Tamera Mowry-Housley.
"Our hearts are broken," Adam and Tamera said in a statement. "Alaina was an incredible young woman with so much life ahead of her and we are devastated that her life was cut short in this manner."
Her parents described her as kind, smart, beautiful, and respectful in a statement. She was the latest in the family to attend Pepperdine and happy to carry on the tradition, they said.
"We want to honor Alaina by focusing on how she lived her life," they said. "She would have enjoyed the public debate that is certain to happen after this tragedy. But she would have insisted that it be respectful with an eye toward solving these senseless shootings."
For nearly seven hours after the shooting, Alaina's friends and family hadn't heard from her. Her Apple Watch and iPhone continued to show her location on the dance floor of the bar, Adam Housley told the Los Angeles Times.
"My gut is saying she's inside the bar, dead," he said. "I'm hoping I'm wrong."
Justin Meek, 23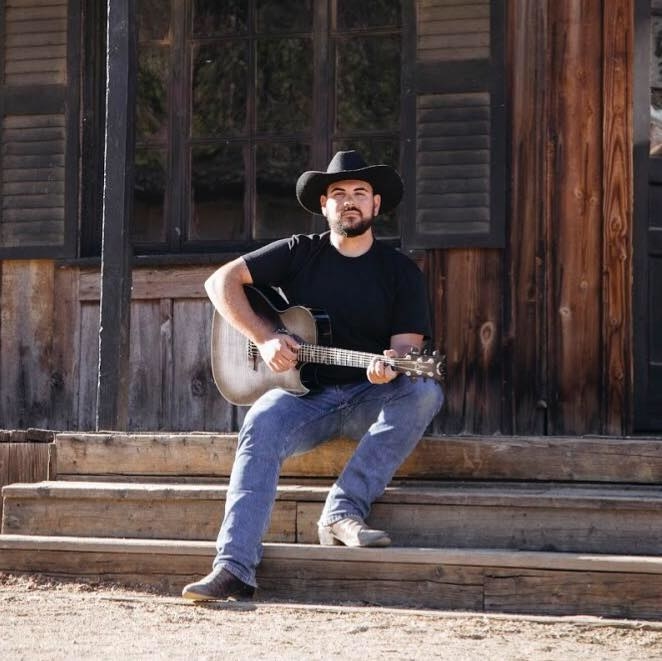 Justin Meek died a hero, authorities told his family. Meek, 23, was a recent graduate of California Lutheran University, where he studied criminology and criminal justice, and taught line dancing at the Borderline Grill & Bar.
When the shooter opened fire Wednesday, Meek began pushing people out of the way to safety, one of his friends said at a prayer service at Cal Lutheran on Thursday.
"All he wanted to do was to protect us," Fernan Diamse, a senior at the university, told the crowd.
Meek suffered multiple gunshot wounds while he barricaded himself between the gunman and other patrons, the friend added.
Cal Lutheran University said in a statement that Meek "heroically saved lives in the incident."
His sister, Victoria Rose, still attends the university and was with Meek at the bar when the shooting began. She was able to get out safely, according to posts by friends and family on Facebook.
Meek was described as being like "a giant teddy bear walking around campus with a great voice," Diamse said at the prayer service.
For roughly the last year, Meek had been working with a young autistic man, assisting with social skills and taking him out in the community, the man's mother, Jennifer McNulty, told BuzzFeed News.
He wanted to help people, said McNulty, who learned he had died at the prayer service.
"I knew he would be right out there protecting people," she said. "I didn't know what had happened, but I had a feeling."
Casey Morrison, 25, who worked as a promoter at Borderline, said Justin was a "fun, bright, and bubbly" person.
"He had amazing energy and I don't think I ever saw him upset," Morrison said. "He was like a big teddy bear. He would always give me a big hug every time I walked in; he was always the first person I saw either walking up to the line or walking inside and he constantly had a smile on his face. He didn't deserve this."
While at Cal Lutheran, Meek worked at the veterans resource office.
"His gregarious and outgoing attitude allowed him to instantly bond with the veterans who entered the office," Jenn Zimmerman, the university's veterans coordinator, said in a statement.
Meek's parents are veterans, and he was planning on joining the US Coast Guard, she added. In the meantime, he continued to help out on campus and was planning to cook for the school's upcoming Veterans Day celebration.
He sang in the school's choir, performing with the Kingsmen Quartet, singing carols during the holidays, and performing the national anthem at graduation.
"The busier he was, the more he interacted with his peers, the more he thrived," Zimmerman said. "He was a kind and compassionate person who really cared for others."
Manrique was a Marine Corps radio operator who had recently been hired by Team Red, White & Blue, a nonprofit organization that supports veterans.
Manrique's sister, Gladys Koscak, confirmed in a Facebook post on Thursday that he was among the victims.
"He was shot and killed in an absolutely senseless act of violence that we will never understand. He had spent his entire adult life, post military service, helping veterans readjust to civilian life," Koscak wrote. "I have no doubt that he died a hero, shielding others from gunshots. He will forever be our hero, son, brother, and the best uncle anybody could ever ask for."
Military news outlet Task and Purpose reported that Manrique served with 2nd Combat Engineer Battalion, 2nd Marine Division, deploying to Afghanistan in 2007 with the 26th Marine Expeditionary Unit.
Sean Adler, 48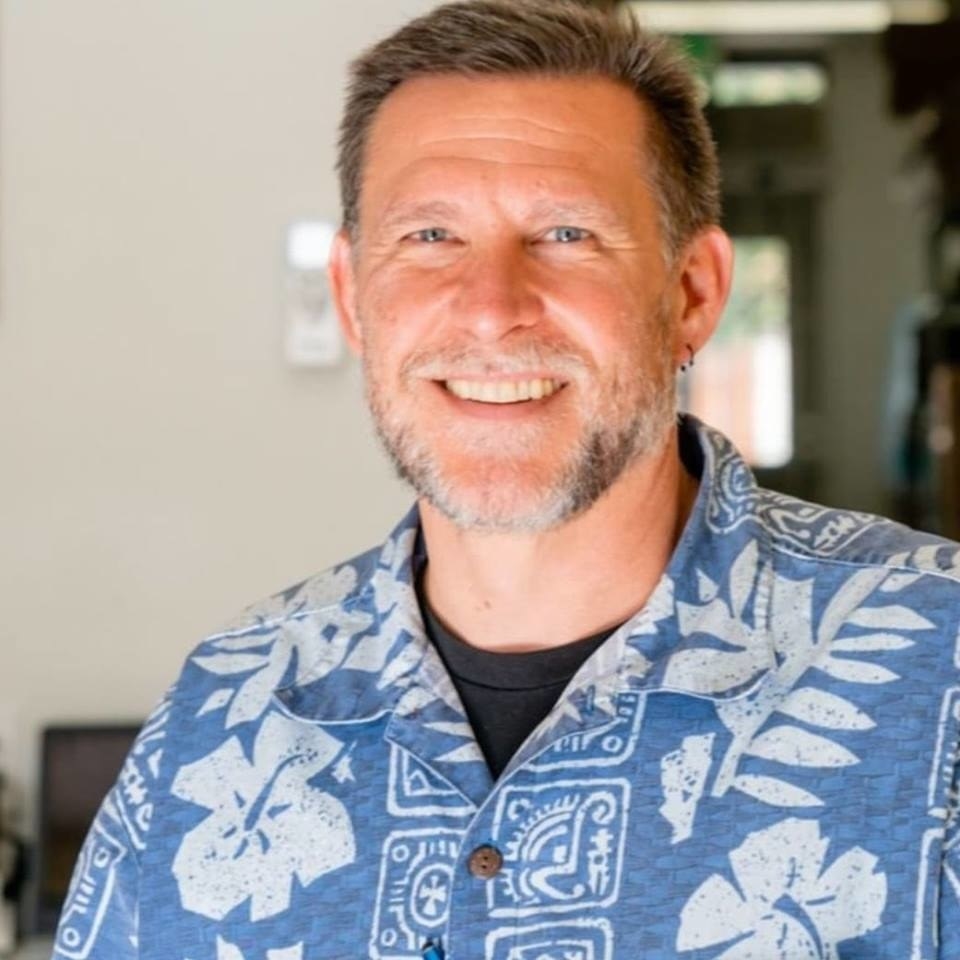 Adler was a longtime resident of Simi Valley, where he was involved in youth sports and had recently opened a coffee roasting business.
On Wednesday, he had been working as a bouncer at the Borderline, according to a post on Simi Valley's Royal High School wrestling team page. He'd previously been a strength coach for the wrestling team, where he was remembered for his contributions to the team.
"He was positive, motivational, and truly wanted the best for the people around him," the post said.
Adler had also previously taught self-defense techniques and offered anti-bullying training to kids. But most recently, his focus was on coffee. He opened Rivalry Roasters, a café and coffee roaster, in August.
"We want people to resist bad coffee," Adler told Edible Ojai & Ventura County, a local food blog, at the time.
Though his career had changed, Adler continued a focus on his school community. He donated used coffee grounds as fertilizer for Monte Vista School and the Simi Valley Community Garden, Edible reported.

Noel Sparks, 21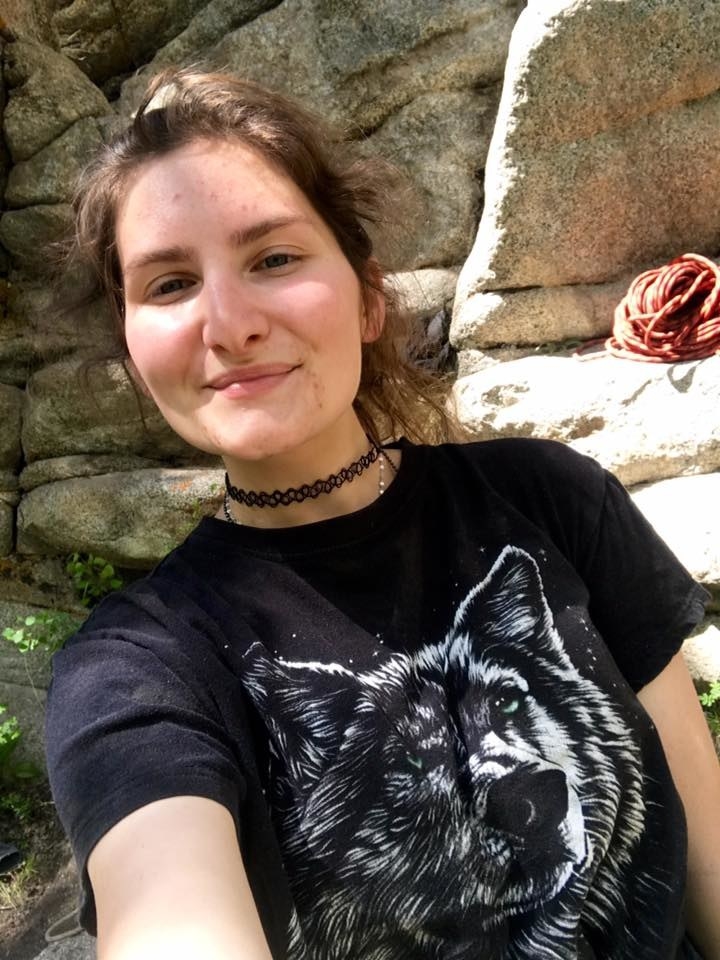 Noel Sparks was also killed in the shooting, United Methodist Church Westlake Village wrote in a Facebook post, asking for prayers for her parents.
Sparks grew up in the Thousand Oaks area and was a regular at events at the Borderline. She attended local Moorpark College, according to her Facebook page.
Before the shooting, Sparks posted a photo of the event at Borderline on her Snapchat, calling it a quiet night.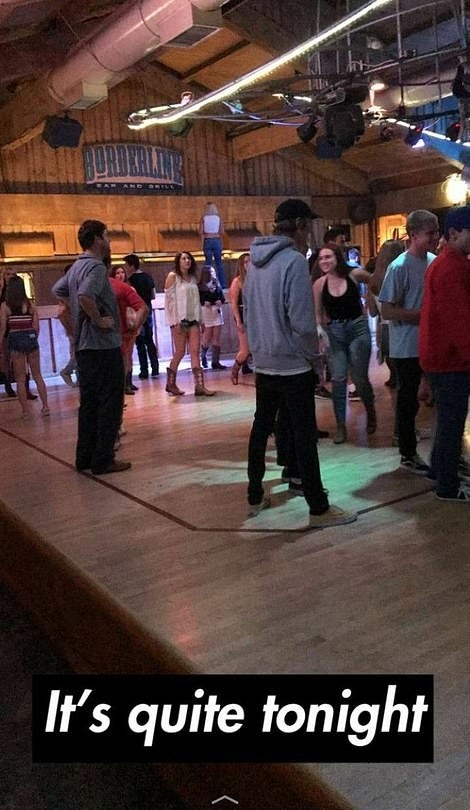 "I watched her snapchat and this was her last post ... I have goosebumps just thinking about it," Sparks' friend from church, Madison Nenkervis, said in a Facebook post. "Such a sweet amazing soul," she said.
Several friends on social media remembered Sparks for her kindness and selflessness.
"She was always an angel in class to her classmates and her family," Sparks' elementary school teacher said in a Facebook comment.
Sarah Penrose, who knew something was wrong when her friend didn't reach out to her loved ones after the shooting, said she wished she could have spent more time with Sparks.
"She leaves behind her a legacy of selfless-servitude," Penrose said on Facebook. "She was always so joyful to help others and fill needs."
Blake Dingman, 21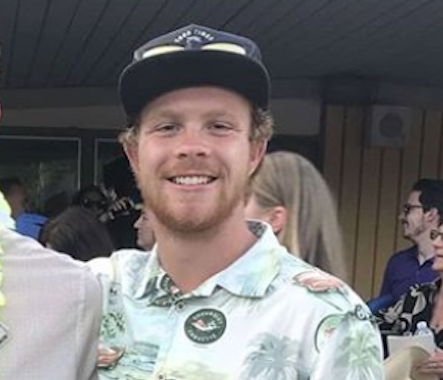 Blake Dingman, who grew up in Newbury Park, was an avid off-roader, posting photos of his 1993 Ford Ranger from scenic spots around Southern California.
On Wednesday, he was at the Borderline with his friend Jake Dunham, also from Newbury Park and active in off-roading.
At the request of Dingman's younger brother, No Sways Offroad announced a memorial meet-up in honor of "Jake and Blake" for other drivers set for Monday in Thousand Oaks.
"I know we're all heartbroken so let's send them off in a way they'd want!" the announcement said.
Jake Dunham also grew up in Newbury Park and spent his time off-roading, riding dirt bikes, and camping.
A recent photo showed him at the Jump Champs, where he tested how much air and speed he could get in his truck.
On social media, friends mourned Dunham and Dingman, sharing photos of desert drives, days spent boating, and hanging out with friends.
Mark Meza, 20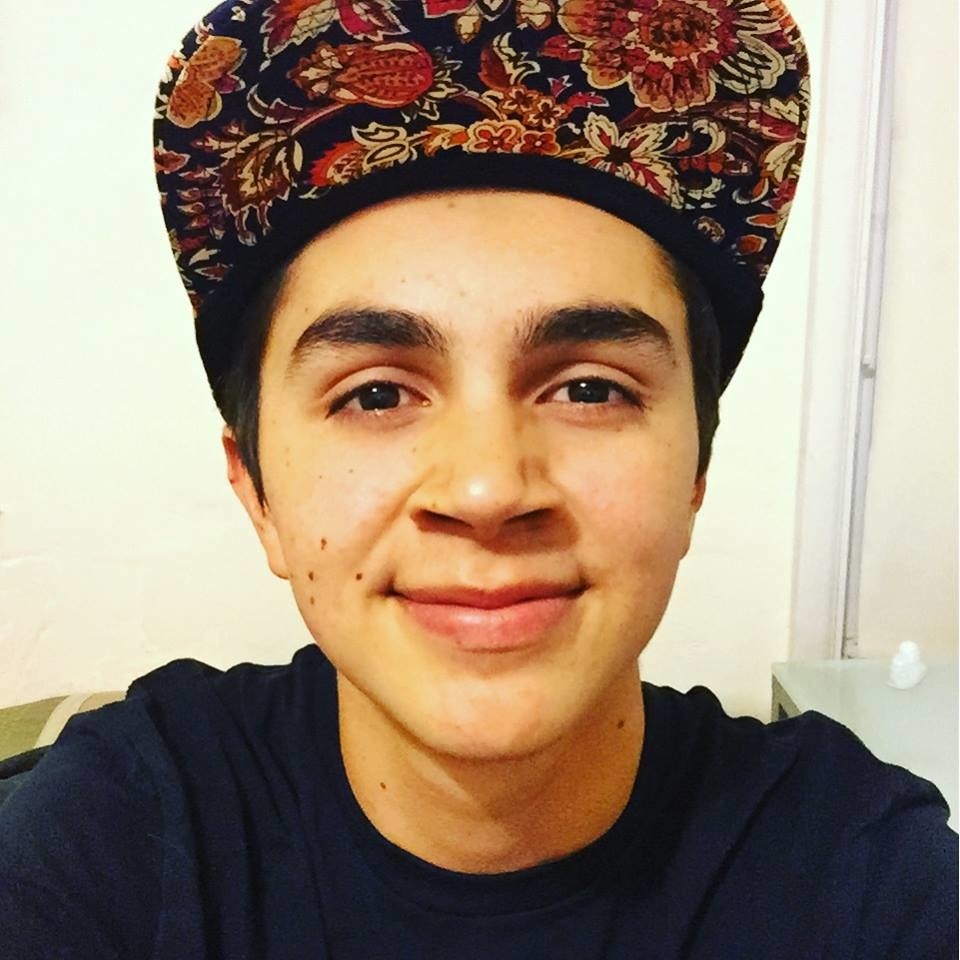 Mark Meza Jr., who was a busser and food runner at Borderline Bar & Grill, was killed two weeks before his 21st birthday, KEYT reported.
He would have turned 21 on Nov. 19, according to his family.
"Marky was a loving and wonderful young man who was full of life and ambition," his family said in a statement to KEYT. "His family is devastated by his loss."
He grew up in Carpinteria, California, where he attended public schools.
"Mark was loved by many in our community and will be dearly missed," the Carpinteria Unified School District said in a message to parents. "Please hold his family and friends in your hearts and thoughts at this difficult time."
In 2014, he studied photography at Santa Barbara City College.
"The entire SBCC community mourns this tragic loss of bright, young, promising lives," college spokesperson Luz Reyes-Martin told BuzzFeed News. "We send our deepest sympathies to the friends and family of the victims. We are heartbroken to learn of Mark's death."