Ferguson's police chief has named Officer Darren Wilson as the man involved in the fatal shooting of 18-year-old Michael Brown on Aug. 9.
Chief Thomas Jackson identified the 28-year-old officer at a press conference Friday, 9:47 a.m. ET.
Wilson, from St. Louis, is a six-year veteran of the Ferguson police department. He has no history of disciplinary action. He has not been formally charged or arrested yet.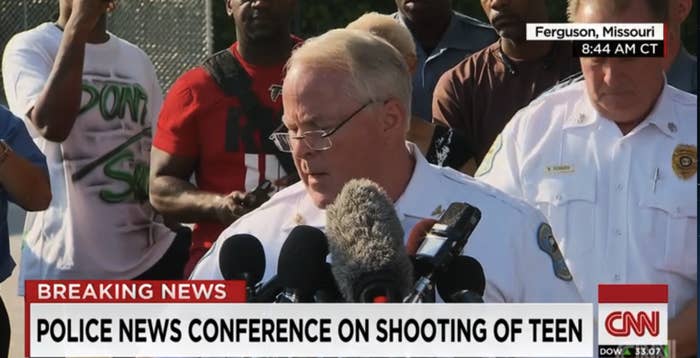 Jackson also mentioned that Wilson had responded to a strong-arm robbery that occurred at a convenience store shortly before Brown's fatal shooting.
Reporters at the press conference received surveillance footage of the robbery, but it was not immediately clear who the suspect was in the footage. The police report said there was a direct connection between the robbery and Brown's shooting.
However, the police chief later said Wilson was not aware that Brown was a suspect in the robbery and had stopped him because he was walking in the middle of the road.
Jackson later described Wilson as a "gentleman, a quiet officer" who "never intended for any of this to happen."
Rumors circulating on social media misidentified Officer Darren Wilson as Sgt. Darren R. Wilson who is President of the Ethical Society of Police in St.Louis. He issued a clarification on his Facebook page, calling it "a horrific coincidence."
The chief of the St. Louis Police Department confirmed that Sgt. Wilson was not the police officer involved in Brown's shooting.