That "Un-Retouched" Photo Of Cindy Crawford Was Altered, Photographer Says
The photographer who took the original photo for Marie Claire said the image was stolen and "maliciously altered" to appear un-retouched.
Remember that "un-retouched" photo of supermodel Cindy Crawford that went viral and had the internet applauding Crawford for promoting a healthy body image?
Turns out, the photo was "significantly doctored" to appear un-retouched, said John Russo, the photographer who shot it for Marie Claire Mexico in 2013.
The L.A.-based celebrity photographer's lawyers sent a letter to The Telegraph and other publications asking them to retract the photograph and apologize for publishing the "stolen" and "significantly doctored/altered" image.
The letter, provided to BuzzFeed News, states:
Not only have you published what was a stolen and doctored photographic image, but you have also sought to afford credibility to what is a fraudulent photograph by describing this as, inter alia, "a leaked, un-retouched
photograph of the presumed perennially perfect supermodel" and "Cindy Crawford in her un-touched Marie Claire photos", and in the tenor and content of your article inferring that Cindy Crawford had endorsed and authorised the photograph.
The letter said the original image was released without Russo or Crawford's consent or knowledge and asked for it to be removed from The Telegraph's website.
In a sworn statement, Russo, who shot Crawford for the 2013 cover of Marie Claire Mexico, said it was "falsely claimed" that the photo was "un-retouched."
Russo, who described himself as a "world-renowned celebrity and fashion photographer" said that the photo was stolen, "maliciously altered," and disseminated to the media.
"It has been falsely claimed that this photograph represents an
un-retouched photograph of Cindy Crawford. This is unequivocally untrue. This is a fraudulent version of my photograph which has been maliciously altered and does not represent the actual legitimate image taken by me," he said in the statement.
On Friday, The Telegraph ran a correction on its website apologizing for the error.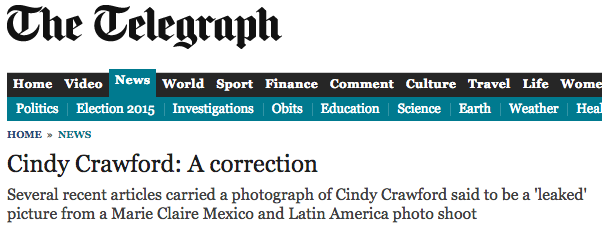 Marie Claire previously said the photo was a leak and confirmed that it was un-retouched and that it revealed "a body that defies expectations — it is real, it is honest, it is gorgeous."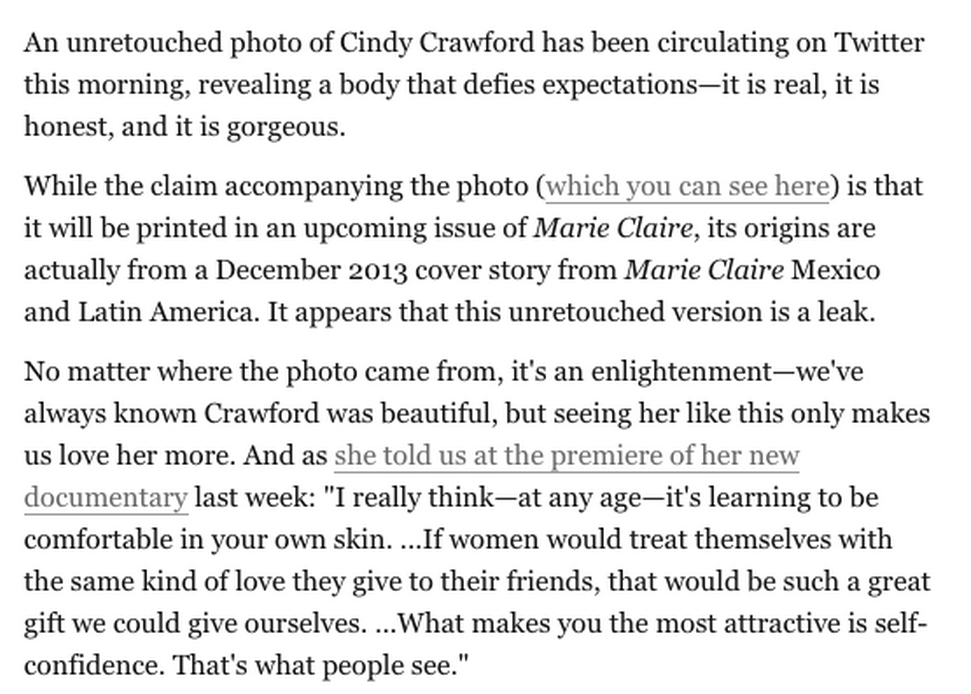 A spokesperson for Russo told BuzzFeed News that they have reached out to Marie Claire to resolve the issue and rectify their statement.
Marie Claire did not immediately respond to BuzzFeed News' request for comment.