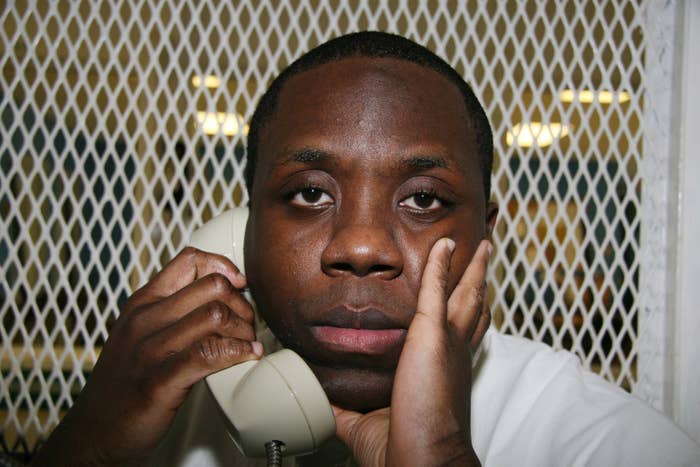 UPDATE
Holiday was pronounced dead at 8:30 p.m. local time, KBTX reported. In his final words, he thanked supporters and loved ones.
UPDATE
The Texas Court of Criminal Appeals voided the lower court's ruling in a brief order on Wednesday night, allowing the execution of Raphael Holiday to proceed.
Conclusion of the Texas Court of Criminal Appeals ruling:
UPDATE
Although the U.S. Supreme Court declined to stop Raphael Holiday's execution on Wednesday, a local judge withdrew the state court's previous order setting the execution for Wednesday night.
For now, then, Holiday's execution is off.
Government officials, however, appealed to the Texas Court of Criminal Appeals, seeking an order that the trial judge "vacate the trial court order withdrawing the November 18, 2015 execution." Such an order would mean that the execution could proceed.
ORIGINAL REPORT
A Texas man is slated to be executed Wednesday for burning three children to death — including his 18-month-old daughter — despite his claims that his court-appointed attorneys have "abandoned" him.
In March 2000, Raphael Holiday moved out of the house he shared with Tami Lynn Wilkerson and their 18-month-old daughter, Justice, along with Wilkerson's two other daughters — Jasmine DuPaul, 5, and Tierra Lynch, 7.
Wilkerson had filed charges against Holiday and sought a protective order against him after she learned he had sexually assaulted Tierra, according to court documents.
On Sept. 5, Holiday returned with a gun and threatened to "burn the house down with everyone in it." He then ordered everyone to sit on the couch and made Wilkerson's mother, Beverly Mitchell, pour gasoline all over the house, court records show.
Mitchell said she saw Holiday "bend down," after which the fire started. All three children died in the fire, while Holiday stood outside and watched, court documents stated.
Holiday has asked the U.S. Supreme Court to stop his execution on the grounds that his two court-appointed attorneys abandoned him when he wanted to pursue avenues of legal appeal that had not yet been exhausted.
His appeal, filed by a pro-bono lawyer, claims that Holiday's two lawyers, appointed under the Criminal Justice Act (CJA), announced that they were through with the case "and then actively blocked Mr. Holiday's efforts to substitute" them, despite having instructed him to look for other death penalty lawyers.
Holiday says his execution should be stopped for new counsel to be appointed. He also claims that after the two lawyers, James "Wes" Volberding and Seth Kretzer, refused to file petitions seeking clemency — on the "cynical assumption that clemency has no chance" — they eventually "threw together" a "sham clemency application" in 48 hours without Holiday's knowledge.
"We decided that it was inappropriate to file [a petition for clemency] and give false hope to a poor man on death row expecting clemency that we knew was never going to come," Volberding told the Dallas Morning News.
Kretzer said in a court letter that they also recognized the "political realities" of Texas.
Last week, the 5th U.S. Circuit Court of Appeals denied a motion to replace the two attorneys.

Holiday's most recent appeal states that "irreparable harm" will occur if he is executed without him having a "meaningful opportunity to seek clemency and develop unexhausted constitutional claims."
The state responded by saying Holiday's appointed counsel have "sworn their commitment" to represent him and that he had failed to propose alternative counsel to take their place.
After the Supreme Court denied a petition to review the case in June, Volberding and Kretzer informed Holiday in a letter that they would not file additional appeals or seek clemency from the governor, the Dallas Morning News reported.
They also opposed a motion filed by an appellate lawyer who helped Holiday by asking the court to assign him new attorneys and threatened her with sanctions.
Holiday could become the 13th person to be executed by Texas this year.