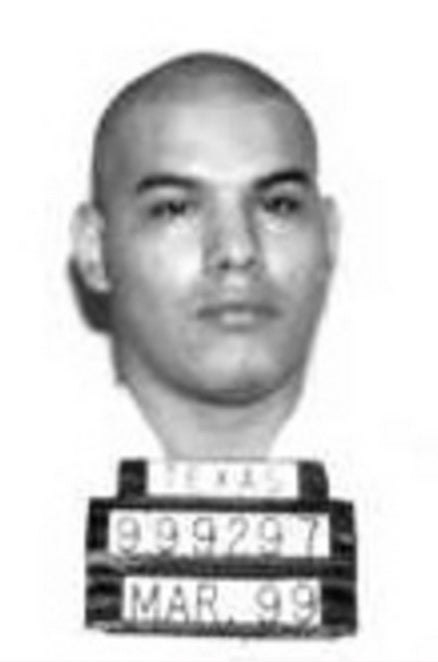 Pablo Vasquez, 38, was executed in Texas Wednesday for the 1998 murder of 12-year-old David Cardenas.
Vasquez killed the boy by hitting his head with a pipe and cutting his throat. He then mutilated and dismembered Cardenas and he admitted in a taped confession to drinking his blood.
He was pronounced dead at 6:35 p.m. local time, KTLM-TV reported.
Vasquez's lawyer appealed to the U.S. Supreme Court, asking justices to take his case and stay his execution on the grounds that the trial court repeatedly excused several prospective jurors who were morally or religiously opposed to the death penalty.
On Wednesday afternoon, the Supreme Court denied the request. There were no noted dissents from the court's decision.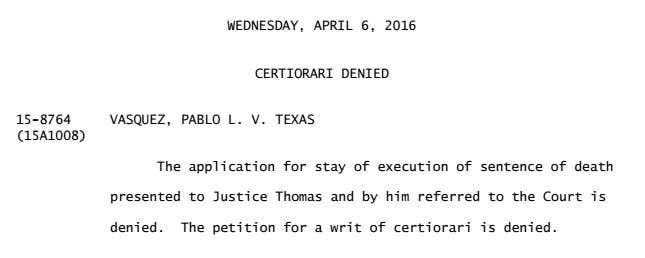 The petition stated that during jury selection for Vasquez's capital murder trial in 1998-99, the trial court repeatedly excused prospective jurors "with sympathies against the death penalty, or with sympathies against judging others, who were nevertheless qualified to serve as jurors," which his lawyer argued violated Vasquez's constitutional rights to a fair and impartial jury.
The 26 excluded jurors referenced in the petition as forming the basis of his claim include Jehovah's Witnesses who said they were against "judging others," as well as some who held religious or personal beliefs against the death penalty, the petition states.
His lawyer argued that, while these potential jurors gave those initial comments, the trial court did not "remotely establish" that any of the excused jurors were not qualified to serve as jury members at the trial.
The state countered that Vasquez's petition must be rejected because it is barred by an independent state procedural ground. Additionally, the state counters that the potential jurors were properly excluded from the jury.
Vasquez's previous appeals to courts to stop his execution on the grounds that he was mentally ill were unsuccessful.
Vasquez was the sixth person to be executed by Texas this year.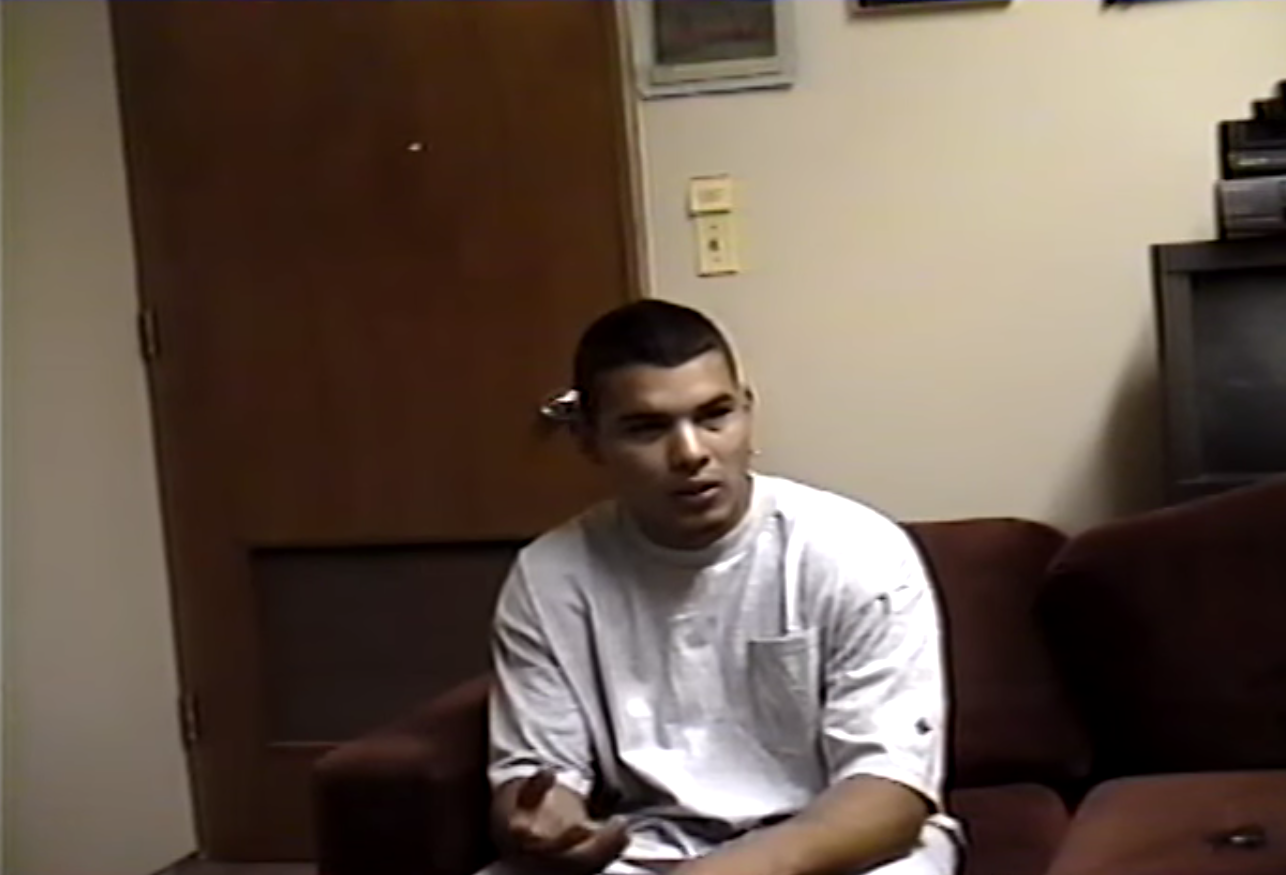 On the night of April 17, 1998, Vasquez, then 20, attended a party with his 15-year-old cousin, Andy Chapa, where they met Cardenas, 12, the Associated Press reported.
Vasquez, who was drunk and high on cocaine, used a pipe to hit Cardenas over the head and then cut his throat. He also drank his blood, according to Vasquez's taped confession to police.
"The blood was dripping and (I) got it all over my face, so I don't know," Vasquez told police. "I mean, something just told me drink, drink like you took a drink of mole and …"
"You drink. You drink what?" one of the detectives asked him.
"His blood," Vasquez said. "I don't know. I mean, my face was covered in blood, and I put him down 'cause I felt weird."
The two men took Cardenas's body to a field and then mutilated it. The boy's body was found with with one of his arms missing, no skin on his back, and a hole in the back of his head, according to court documents. "The body was also mutilated after death by a means that caused bones to shatter," the documents said.
Chapa is serving 35 years in prison after pleading guilty to a murder charge. Three other relatives of both convicts were sentenced to probation and fines after pleading guilty to hiding evidence.
Vasquez told police that he "blacked out" and heard voices in his head telling him to kill Cardenas. When asked why he wanted to cut Cardenas's head off, Vasquez said, "The devil was telling me to take it away from to keep it, keep it, couldn't come off. I was just freaking out 'cause I was hearing that."

He also stole a gold ring and chain from Cardenas's body. Vasquez's cousin testified that he told her he killed the boy because Cardenas did not "give him what he wanted."