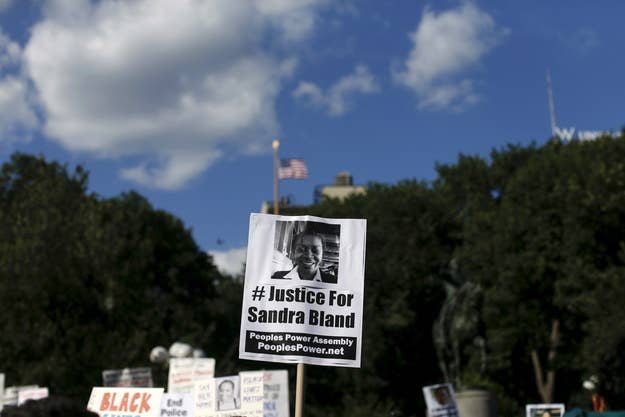 Autopsy results released Thursday show no evidence that Sandra Bland was killed inside her Texas jail cell, officials said.
Waller County sheriff officials said they believe Bland died in her cell the morning of July 13 from asphyxiation with a trash bag, three days after she was pulled over for not using her turn signal and then arrested for allegedly assaulting the state trooper.
The full autopsy report can be found here.
On Thursday, Waller County Assistant District Attorney Warren Diepraam told reporters that there is "no evidence to indicate this is a homicide."
Diepraam added that there were no injures on Bland's hands, face, head or internal organs that would indicate a homicide or violent struggle.
The only injury on Bland's neck was a ligature mark, according to the Harris County Institute of Forensic Sciences, which conducted her autopsy.
Diepraam said the injury was "consistent with a suicide," which her death has been classified as.
Diepraam said the ligature mark around her neck was "uniform and consistent," which would not have been expected "had this been a murder or violent struggle," he said.
She also had lacerations on her wrists, which were consistent with being handcuffed.
There were also superficial abrasions on her back — from her shoulder bone to spine — that were in a "state of healing with scabbing present," Diepraam said. Those marks were consistent with someone applying force against her back, or Bland applying force against an object.
"We don't know who, if anybody, placed their knees on her back," Diepraam said, adding that hypothetically, the injury was consistent with getting kneed in the back. However, "those marks do not reveal who placed them."
A portion of a leaf was found inside the scab, according to the autopsy.
Roughly 30 "cut marks" were also found on Bland's left forearm, which were in a state of healing with scabbing and scarring present. They occurred two to four weeks before she was jailed and were "not indicative of recent inflictions," according to Diepraam.
But LeVaughn Mosley, a friend who Bland called from her jail cell last week, told BuzzFeed News that he did not see any cut marks on Bland's arms when she dropped off her bags at his house the day before she was arrested.
"She was wearing a sleeveless dress and I would have noticed [the cuts], especially since they said there were over 30; that would have been observable," said Mosley, who knew Bland for about 10 years.
Mosley added that the autopsy result showing 30 "cut marks" was "completely fabricated," and questioned why the marks were not documented by Waller County jail officials when Bland was booked.
Like Bland's family members, Mosley said he did not believe she committed suicide, and instead held jail officials responsible for her death.
Bland, he said, was "excited" about her new job and "exhibited no behavior that a suicidal person might." And the last time they spoke, Bland was "hopeful" about getting out of jail, Mosley said.
Officials showed a photo of the noose Bland allegedly made of a trash can liner:
"There has been a confirmation" of preliminary tests determining there was marijuana in her system at the time of her arrest, Diepraam said, adding additional testing of her body fluids would be conducted to determine the amount of marijuana in her system.
Diepraam said that Bland's ingestion of marijuana was relevant to her state of mind, during the confrontation with the trooper on the street, or her suicide in the jail cell. He said that it was a "mind-altering substance and a mood amplifier" and its presence in her system was "relevant to determine whether it played a role in her death by exacerbating existing conditions."
Diepraam suggested there was a possibility that Bland could have smoked or ingested a large amount of marijuana days before getting arrested, or that she could have hypothetically used the drug right before being stopped by the trooper or in her jail cell. However, jail authorities have said that there was no evidence to indicate that Bland smoked the drug in her cell.
The presence of the compound in marijuana that gets users high, THC, in Bland's blood does not guarantee that she was high at the time of her arrest, or even at any point in the month before she was pulled over.
Unlike alcohol, which is water soluble and therefore disappears from the blood as drunkenness subsides, marijuana is fat soluble, and remains in the body long after a person stops being high.
The more often someone smokes, the more THC builds up in their system, and the longer it stays there. For someone who smokes only once or twice a year, all of the THC will leave their body within a few days, but if a person gets high a few times a week for several weeks in a row and then suddenly stops, they will still test positive for THC for about another month.
Although there is very little research on marijuana withdrawal, the few studies that do exist suggest that when heavy marijuana users stop smoking, they may experience loss of appetite, a slight increase in irritability, and an increase in vivid dreams.
The final autopsy result is set to be released tomorrow, Diepraam said. There would be no second autopsy conducted as some reports indicated. However, Bland's family may have requested a second autopsy for themselves, he added.