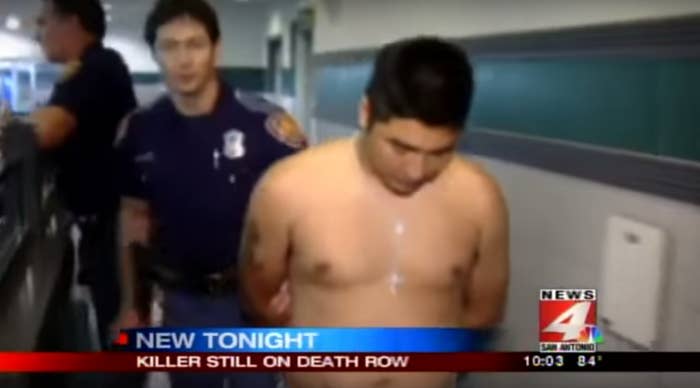 The Texas Court of Criminal Appeals on Friday halted the upcoming execution of Ronaldo Ruiz, who was set to be put to death on Aug. 31.

Texas was set to execute Ruiz, a hit man in the 1992 murder of a 29-year-old woman. Ruiz, 43, was set to die by lethal injection on Aug. 31 after he was convicted in the murder-for-hire of Theresa Rodriguez.

Ruiz would have become the sixth inmate to be executed in Texas in 2016.
In his latest habeas corpus application, Ruiz raised questions about deficiency of his trial counsel and his initial habeas counsel, as well as questions about the constitutionality of executing him "over two decades after his conviction" — a matter the U.S. Supreme Court has repeatedly declined to consider.
In the Court of Criminal Appeals' brief, unsigned order, the court restates Ruiz's claims and then concludes, "After reviewing applicant's writ application, we have determined that his execution should be stayed pending further order by this Court."
The country's busiest death chamber has not carried out an execution in nearly four months. The past six scheduled executions in Texas — including Ruiz's previously scheduled July execution date — were stayed, delayed, or withdrawn for various reasons.

This marks the longest period Texas has gone without killing inmates since 2014, when no executions took place for nearly five months amid furor over Oklahoma's botched execution of Clayton Lockett and legal challenges related to Texas' drug secrecy.
Jason Clark, a spokesperson for the Texas Department of Criminal Justice (TDCJ), told BuzzFeed News prior to Friday's ruling in Ruiz's case that the agency was "not involved in setting or withdrawing execution dates." He added that the TDCJ "stands ready to carry out" executions.
In a year already marked by fewer executions, Texas is the only state with executions scheduled for the remainder of 2016. Other active death penalty states are grappling with a variety of obstacles ranging from the effect of Supreme Court rulings earlier this year to drug shortages and the fallout from botched executions.

Even in Texas, in August alone now, three scheduled executions have been stayed — while the date for another was changed.
Ruiz was hired by two brothers, Mark Rodriguez and Michael Rodriguez, to kill Michael's wife Theresa for a life insurance scheme. Ruiz shot and killed Theresa in the couple's garage after following them home from a movie theater. The brothers paid Ruiz $2,000 for the murder.

Ruiz was first scheduled to die in 2007, but a federal appeals court gave him a reprieve. His execution was then set for July 27 of this year after the US Supreme Court refused to review his case in May 2015. However, his execution was pushed to Aug. 31 because of the state's failure to sufficiently notify his counsel of his pending execution, Jennifer Moreno, an attorney at the Berkeley Law Death Penalty Clinic told BuzzFeed News.

On Aug. 19, a federal judge dismissed a lawsuit from five death row inmates, including Ruiz, who demanded that the state retest its drugs before executing them. That case is now on appeal before the 5th Circuit Court of Appeals.