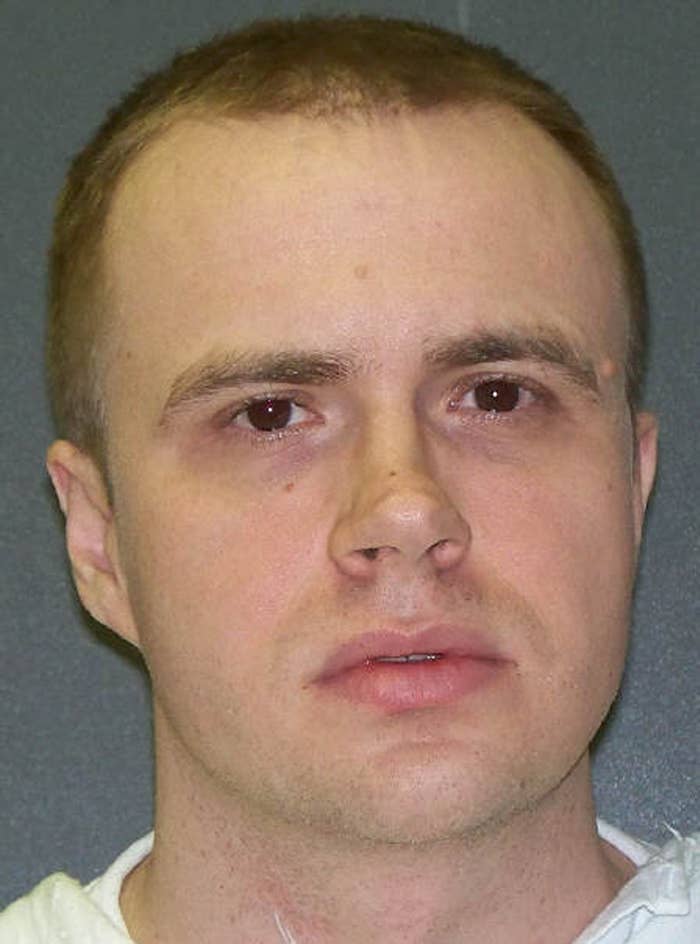 Robert Pruett, 38, was executed Thursday night for the 1999 murder of a Texas corrections officer, Daniel Nagle, while Pruett was serving a life sentence for another crime.
The US Supreme Court denied his last attempts to get the execution halted earlier Thursday.

At the time of Nagle's murder, Pruett was serving a 99-year sentence after being convicted as a party to a murder committed by his father, when Pruett was 15-years-old. His father remains incarcerated for that crime.

In December 1999, Nagle wrote a disciplinary charge against Pruett for trying to take his lunch to the recreation center in violating of prison rules.

Later that day, Pruett stabbed Nagle eight times with a shank made of a metal rod while he was in his office, according to court documents. Nagle, 37, died of a heart attack from the trauma of multiple stab wounds, the autopsy report said.

The state's theory was that Pruett murdered Nagle because he was upset about being reprimanded for carrying a sandwich into the recreation area. The only piece of evidence linking Pruett to the crime was torn up pieces of the disciplinary report Nagle wrote for Pruett that were found near his body.
In his final statement before being put to death, Pruett said he was sorry for hurting so many people, the Associated Press reported.
"I've had to learn lessons in life the hard way," he said.
After telling friends who were there to witness the execution that he loved them, he said: "I'm ready to go. Nighty night. I'm done, warden."
In multiple state and federal appeals after his conviction in 2002, Pruett has steadfastly maintained his innocence in Nagle's murder. His lawyers have said there is a "complete lack" of physical evidence tying Pruett to the crime.
They also say that Pruett was framed by others who had a "powerful motive" to want Nagle dead because Nagle was working on a grievance complaining, among other things, of corrupt officials at the Texas Department of Criminal Justice's unit where he worked.
At Pruett's trial, the only eyewitnesses to the crime who testified were inmate informants, whose "so-called snitch testimony is notoriously unreliable," Pruett's appeals state.
In 2015, Pruett avoided execution after a trial judge granted his motion for DNA testing to be conducted on the metal rod that was used to stab Nagle. The DNA tests proved inconclusive, but a swab of the metal rod revealed DNA belonging to an unknown female, who was likely someone involved in the previous DNA testing of the rod, authorities said. His execution was rescheduled for October.
In appeals since then, courts have denied his requests for additional DNA testing. In two separate appeals filed on Tuesday, Pruett's lawyers asked the US Supreme Court to stop his execution.
The requests state that Texas courts have denied Pruett his due process and seeks additional DNA testing. One of the cases is seeking review of a decision from the US Court of Appeals for the 5th Circuit. The other is an original petition at the Supreme Court, asking the court to rule on whether the Constitution "prohibit[s] a State from carrying out the execution of someone who is actually innocent" and, if so, how federal courts enforce that and what standards are used to do so. Texas opposes both requests.
The court denied the requests on Thursday, shortly before the execution was scheduled to take place. Although the vote count for such requests is not made public, justices can note their disagreement with the court's decision. None did so on either of Pruett's requests on Thursday.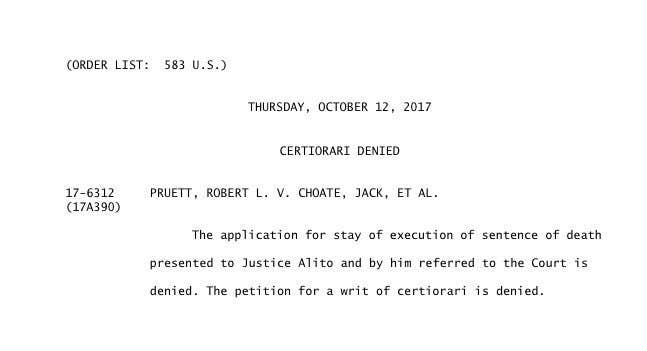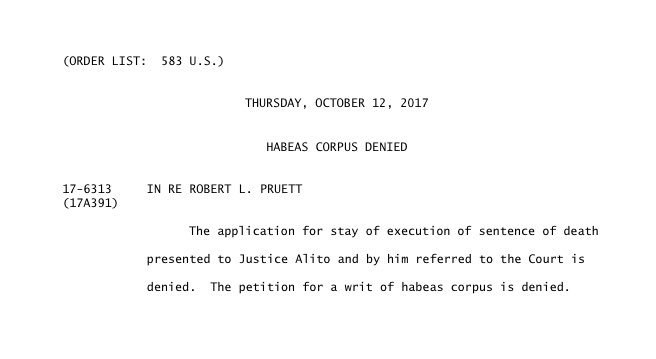 Chris Geidner contributed to this report.