UPDATE
Richard Masterson was executed Wednesday evening. In his last words, he said, "Sometimes you have to live and die with the choices you make. I made mine and now I'm going to pay for it," KHOU reported.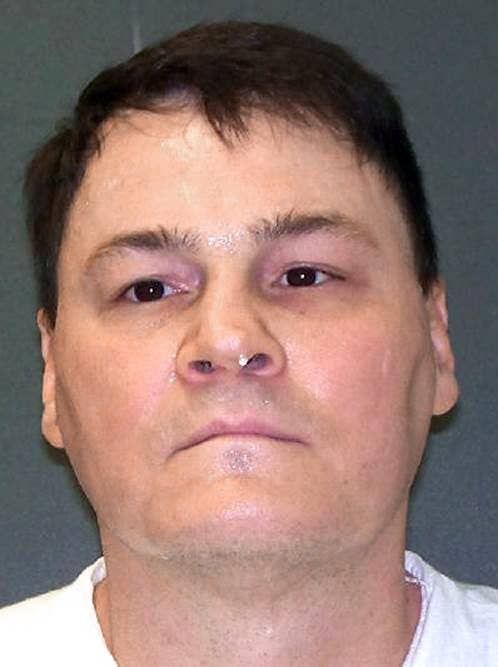 UPDATE
The U.S. Supreme Court denied all of Richard Masterson's requests for a stay of execution on Wednesday evening, meaning his execution should proceed as scheduled Wednesday evening.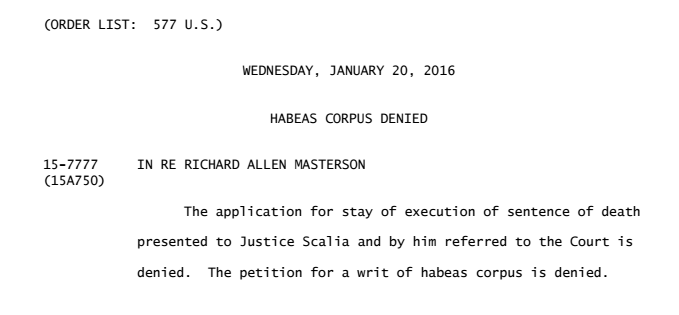 ORIGINAL REPORT:
Texas is scheduled to execute Richard Masterson on Wednesday for the 2001 murder of Darin Honeycutt.
Masterson, 42, was convicted and sentenced to death for strangling Honeycutt and robbing the victim's home. Masterson confessed to the police but later recanted his statement.
Masterson could become the second person to be executed in 2016 and the first inmate to be executed by Texas this year.
Masterson's attorneys have appealed to state and federal courts to stop his execution, and have also asked Gov. Greg Abbott to grant clemency, on the grounds that he is innocent. They say that Honeycutt was not murdered, but died of a heart attack. None of those appeals have been successful, with most of the claims now pending in petitions before the U.S. Supreme Court. The state is opposing all of those pending petitions. Three of the pending claims come out of state court denials, and one is an original action filed at the Supreme Court. A claim also is pending in the federal appeals courts.
Masterson's main claim is that Texas convicted him based on "false scientific testimony" from Paul Shrode, a medical examiner described as a "fraud" who was unqualified to perform Honeycutt's autopsy. Shrode testified that Honeycutt died when Masterson put him in a sleeper hold, cutting off oxygen to his brain. According to Masterson's appeal, Shrode lied on his job application to the Harris County Medical Examiner's Office, botched multiple capital-murder autopsies including Honeycutt's, and gave false testimony in court. "The decedent's death was not a homicide at all. He died of a heart attack caused by a preexisting severe coronary artery disease," the one request stated.
His lawyers say that Masterson initially confessed to the crime due to drug withdrawal and severe depression. Masterson testified that he voluntarily confessed to capital murder because he wanted the death penalty rather than a life in prison. He also said that he confessed to killing Honeycutt because he was embarrassed to admit that he was having sex with a man when he died. His statement to the police was given in exchange for an officer's promise to help see that charges against Masterson's nephew were dropped, according to his appeal. Masterson's appeal says that his lawyers were ineffective and had "failed him at every stage."
As one of Masterson's filings states, Masterson and Honeycutt, who "was known to dress as a woman who went by the name of Brandy Houston," left a bar on Jan. 26, 2001, to have consensual sex. In his initial statement to police, Masterson said that he intended to kill Honeycutt in order to rob him. However, during his trial, Masterson said that the death was accidental. He said he complied with Honeycutt's request for autoerotic asphyxiation and applied pressure to his neck. After Honeycutt became unresponsive, Masterson testified that he believed he had died and panicked because of his prior convictions. He took a VCR from Honeycutt's apartment and opened several drawers "to make the scene look like a robbery," according to his lawyers. Masterson also fled in Honeycutt's car. Honeycutt's naked body was later found in his bedroom by a friend.
"While his efforts to cut oxygen to Mr. Honeycutt's brain likely contributed to Mr. Honeycutt's death, Richard did not strangle him to death," Masterson's filing stated.
The state has argued that Shrode's "unrelated professional difficulties" were not enough to prove Masterson's innocence and noted additional evidence of his guilt, including his statement to his brother's boss saying, "I think I put somebody to
sleep." Masterson also told his brother, James Masterson, that the idea that Honeycutt died of heart attack was "bullshit." The state said that Masterson confessed to strangling another victim, who survived, within days of Honeycutt's death.
Vienna's cardinal, who said that he was in close touch with Masterson, told reporters on Monday that Pope Francis — who has called for the abolition of the death penalty — was following the case, the Associated Press reported.
"Richard has been waiting 12 years for his execution," Cardinal Schoenborn said. "It is frightening."