Update — 7:45 p.m. ET
Willie Trottie was executed about 90 minutes after the Supreme Court denied his stay requests, the Associated Press reported.
He was pronounced dead at 6:35 p.m. CDT.
Trottie repeatedly asked for forgiveness from the witnesses, including his victims' families. "I'm going home to be with the Lord," he said. "Find it in your hearts to forgive me. I'm sorry. Stay strong. Jesus take me home."
Willie Trottie, 45, is scheduled to die by lethal injection in Texas on Wednesday at 7 p.m. ET, for murdering his common-law wife and her brother in 1993.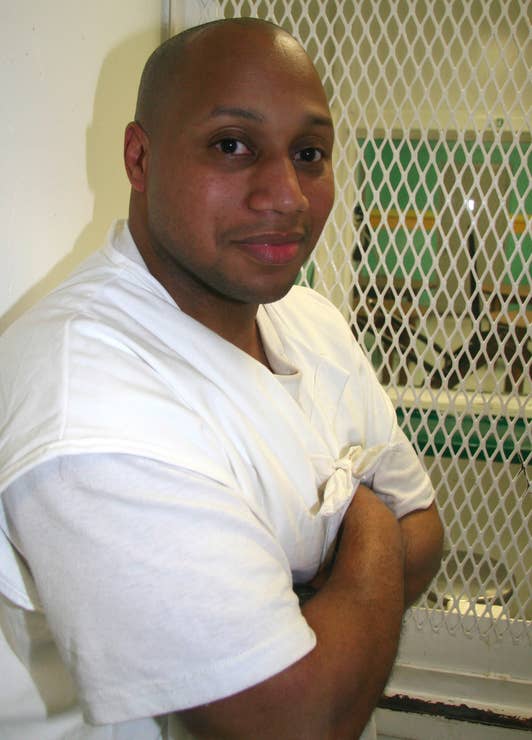 Update — 5:54 p.m.
The Supreme Court denied both of Willie Trottie's requests to hear appeals and issue a stay of execution for the Texas man, due to be executed at 7 p.m. EDT Wednesday.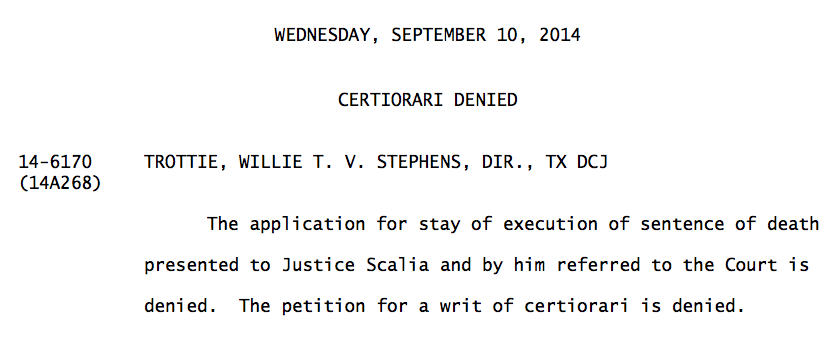 His lawyers have argued that Texas is using expired drugs to kill him, violating his constitutional rights by causing him "torturous pain."
A stay of execution relating to that issue was denied on Tuesday by the 5th Circuit Court of Appeals.
Trottie's lawyers also had filed a separate appeal to the 5th Circuit to stay the execution based on an argument that Trottie did not receive adequate legal representation during his original trial. A stay of execution relating to that issue was denied on Monday by the 5th Circuit. Trottie's lawyers have asked the Supreme Court to stay his execution and hear his appeal on that issue, a request Texas officials oppose.
in the drug-related issue, Trottie's lawyers claimed that the Texas Department of Criminal Justice (TDCJ) intends to use expired pentobarbital made by an unidentified compounding pharmacy. They said that the drug had not been tested for potency or sterility since March leading to a substantial risk that the expired dose would cause Trottie severe pain and violate his Eighth Amendment protection from "cruel and unusual punishment."
Lawyers for the state have asserted that their supply of pentobarbital is effective through the end of September. TDCJ spokesman Jason Clark said Tuesday that the compounded drug had a "by use date" of Sept. 30 and the potency was 108% and contaminant-free.
However, Trottie's lawyers have said that the drug was last tested in March and that there was no scientific evidence to support the department's claim that it was good to last till the end of the month. Maurie Levin, one of his lawyers, said that compounded drugs tend to lose their effectiveness after a week or month, according to scientific literature. They also cited four recent problematic executions, including Oklahoma's botched execution in April and Arizona's prolonged execution in July where the inmate died after nearly two hours.
The 5th Circuit rejected that argument on Tuesday, arguing that "Trottie has not alleged any change in the State's procedure or execution drug that would distinguish the prior unsuccessful legal challenges."
Update — 3:05 p.m. EDT
Lawyers for Willie Trottie have filed a second stay request and related petition for certiorari in the case claiming use of expired drugs.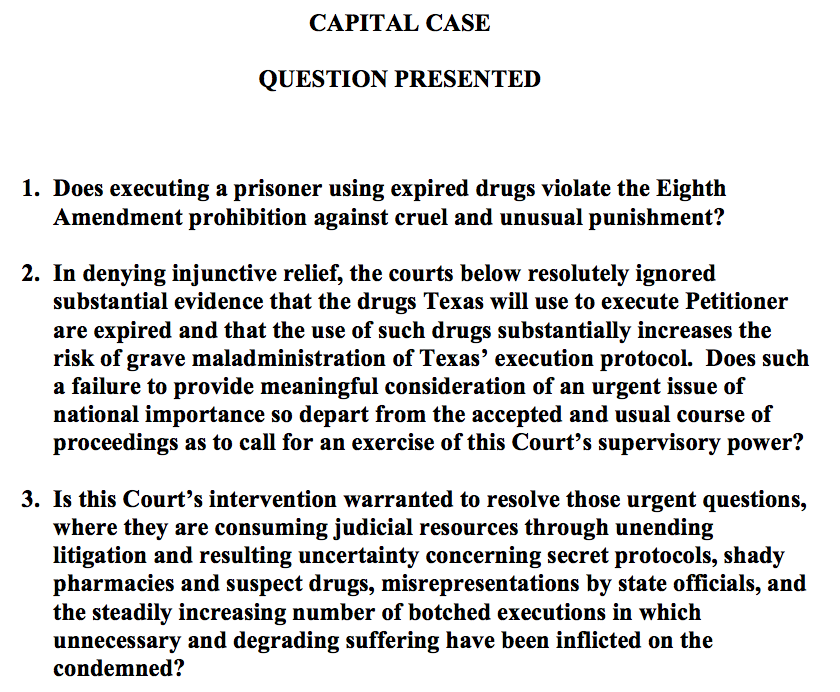 Trottie could become the eighth person to be executed in Texas this year and the first since Attorney General Greg Abbott said the state can keep the source of execution drugs a secret.
Amid growing debate on states' secrecy surrounding lethal injection drugs, Abbott's decision marked a reversal from when he rejected three similar attempts by the TDCJ to keep the sources of the drugs secret since 2010. The TDCJ has refused to disclose this information saying it is necessary to protect pharmacies from public threats.
Trottie was sentenced to death for a double murder. In May 1993, he fatally shot his estranged 24-year-old common-law wife, Barbara Canada, 11 times, saying, "Bitch, I told you I was going to kill you." He had repeatedly threatened to kill her if she didn't return to him after their breakup. He also fatally shot her brother, 28-year-old Titus Canada, twice in the back of his head.