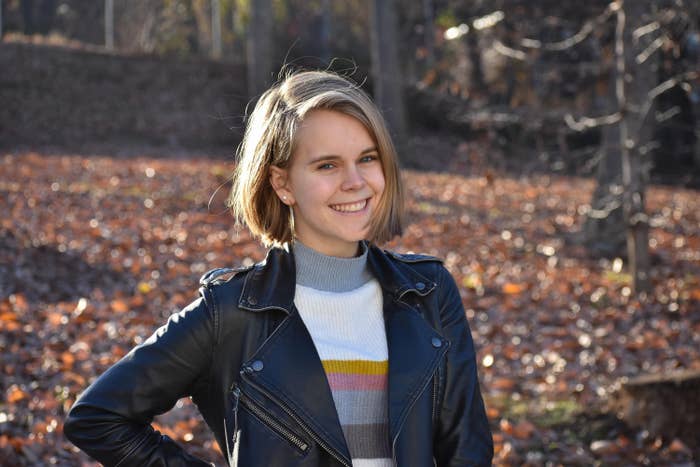 Luchiano Lewis, 16, was sentenced to 9 years to life in prison for his role in the 2019 fatal stabbing of 18-year-old Barnard College student Tessa Majors, whose violent killing in a Manhattan park left the community reeling.
Lewis pleaded guilty last month to second-degree murder and first-degree robbery.
The judge, Robert Mandelbaum, called it a "tragic and senseless case" where a young woman's life was taken "before she even had a chance to live," according to a tweet from NBC New York reporter Myles Miller, who was in the courtroom Thursday.
The sentencing range indicates Lewis will spend nine years at minimum in prison, and after that, a parole board will determine when he is released.
"On December 11, 2019, the hopes and dreams for our daughter Tess came to a tragic end," her family wrote in their victim impact statement that was read out in court. "Our hearts ache as we watch Tess's friends return to school, perform concerts, start new jobs, and experience all the things that our daughter never will."
Prosecutors played a surveillance video of Majors' final moments as she fell face down on the street after being stabbed.
Before he was sentenced, Lewis told the court, "I don't come here before you today as a boy, but as a human... I am here today to accept my penalty."
"Dad, I'm sorry that I failed you," he added.
Lewis was one of three teenagers charged in Majors' killing during an armed robbery attempt in Morningside Park. He was 14 at the time but was charged as an adult.

One of the other teens, who was 13 at the time of the killing, was tried as a juvenile. He pleaded guilty to one count of first-degree robbery last year and was sentenced to 18 months in detention, the New York Post reported.
The third teen, Rashaun Weaver, who prosecutors said wielded the knife, has pleaded not guilty to charges of murder and robbery. His trial date is expected to be set next week, the New York Times reported. He was 14 at the time.
Majors' family described her as brilliant student and an aspiring journalist who volunteered at the local animal shelter, loved her friends and family — especially her younger brother — and played bass in a band. She had performed her first show in New York City less than three months before she was killed.
"She had big dreams," her family's statement said. "Tess was a friend to the friendless and kind in all the little ways that people remember forever."
Majors was walking up the steps in the park on the evening of Dec. 11, 2019, when the three teens confronted her. She was stabbed multiple times before she staggered up the stairs, where a security guard saw her and called 911. She was later pronounced dead at a local hospital.

During a court hearing last month, Lewis said that the robbery was Weaver's idea and claimed that he did not know Majors had been stabbed until the next morning when he saw the news of her death.
"I assumed Rashaun had a knife on him, but using a knife was not part of our plan," Lewis said.
The teen told the court that Weaver was the first to attack Majors while she was walking and looking down at her phone. According to Lewis, Weaver kicked her hard in the back, and when she stumbled, he recalled Weaver screaming, "Give me your money, run your pockets, I'm not playing!" the Post reported.
Lewis said that Majors asked, "Are you seriously trying to rob me?"
At one point during the attack, Lewis said he recalled hearing Majors shout out "coward" and believed it was directed at him.
Prosecutors alleged that Lewis held her in a headlock while Weaver stabbed her repeatedly as the feathers of her down coat flew in the air.
The violent crime set students at Barnard College and Columbia University on edge, as many of them walk through Morningside Park.
"It's hard as a student because I think we're all feeling like it could have been any of us," Julia Papas, a Barnard student, told BuzzFeed News after the incident. "She was one of ours, and to lose such a young student is numbing to the whole community."
In their victim impact statement on Thursday, Majors' family said that "murder shouldn't be normalized or rationalized."
They said that nearly two years after her death, her family still had "very little closure."
"Not a day goes by that we don't consider what could have been done to prevent her brutal — and again, senseless death."