Five people were killed and at least two children injured Tuesday in California when a man opened fire at multiple locations over the course of 45 minutes. The suspected shooter, who was not immediately identified, was killed by officers who forced his vehicle off the road after he failed to reach students hiding inside locked-down classrooms.
The shooter, identified by authorities as Kevin Janson Neal, is believed to have embarked on the rampage after fatally shooting his wife and burying her under the floorboards of their home, Assistant Tehama County Sheriff Phil Johnston said Wednesday. Neal was later killed by officers who encountered him on the road.
That rampage spread to seven locations in Rancho Tehama, including an elementary school where the suspect opened fire with a semiautomatic rifle on classrooms.
Officials described a terrifying scene at Rancho Tehama Elementary School, where the gunman rammed the school gate with a stolen truck before classes started, and began shooting through windows and walls of the small school, injuring one student.
"It was a really horrific scene," Corning Union Elementary School District Superintendent Rick Fitzpatrick told reporters during a press conference. "Multiple, multiple, multiple rounds being fired. Multiple magazines were found at the scene."

It was "very clear" early on that "we had a subject that was randomly picking targets," Johnston said, adding the suspect did "several random drive-by shootings of residences" in the area. Authorities said they did not know what the suspect's motives were.
"This guy was on a killing rampage," Johnston said.
The suspect's name is being withheld until his next of kin is notified of his death, Johnston added.
Johnston said one of the first victims killed in the shootings was a female neighbor who had several ongoing disputes with the gunman.
One of those disputes in January resulted in the gunman being arrested in January on suspicion of assault with a deadly weapon, and a restraining order being issued against him.
After that shooting near the suspect's home, the suspect fled the area wearing a vest similar to that worn by by soldiers, Johnston said, carrying several magazines loaded with ammunition. The shooter then fired at a female driver on the road who had three children with her.

The woman and one of her children were injured in the shooting.
The suspect then headed to the elementary school.
Fitzpatrick said classes had not yet started at Rancho Tehama Elementary School, but the sound of gunfire nearby prompted administrators to shut down the campus and rush children who were playing in the school yard into classrooms.

Moments later, he said, the gunman crashed through the gate of the school, stepped out of a stolen white pickup truck armed "with a semi-automatic rifle he ran into the center of the quad where the school is located and began firing at windows and walls," Fitzpatrick said.
About 30 rounds were fired in the elementary school toward classrooms, Johnston said.
The school's decision to lockdown without being prompted by law enforcement, he said, was "monumental" in saving the lives of children, Fitzpatrick said. One of the students who had already taken shelter inside a classroom was shot while hiding under a desk.
"This was every administrators' nightmare," he said. "You live under the threat of something like this happening and, in this situation, the school staff was alerted by some gunshots."
The shooting at the school continued for about six minutes, officials said.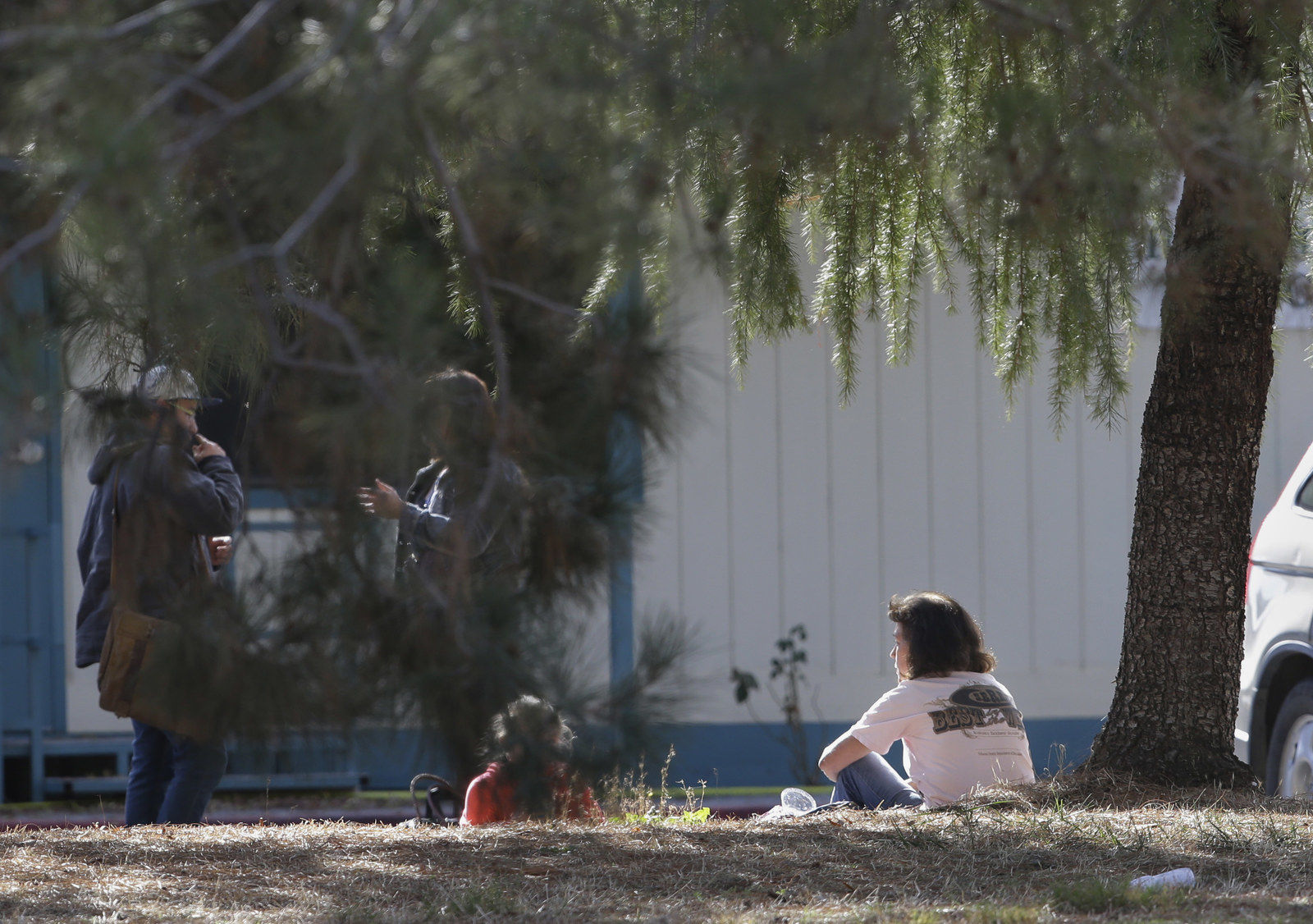 Fitzpatrick said phone lines were down as the shooting was happening because 911 calls from shootings in other areas of the community appeared to have flooded the system. He said he was alerted of the shooting by a secretary who emailed him while reaching over a desk as shots still rang out.
Johnston said the shooter tried to get into classrooms but, when he was unable to, left the area and crashed into another driver, opening fire on them as well. The shooter then took that person's vehicle, Johnston said, continuing to fire at people in a fashion that seemed random.
"This man was really bent on completing what he had set out to do today," Johnston said.
Officials said some of the victims of the shooting have told officials they had never met the shooter.
The shooting came to an end when a deputy encountered the suspect while driving, Johnston said, and forced his vehicle off the road. The two exchanged gunfire on the side of the road through the vehicles' windows, killing the gunman.
In all, sheriff officials said that 10 people were being treated for injuries at local hospitals. Their conditions were not known.
"This is a tragic day for all of us. There were children involved," Johnston told reporters. He said "a number of students" were medically evacuated from the school.
Five patients were transported to the Enloe Medical Center, including three children and one adult, a spokesperson said. All five were treated and released, the center said.

Officials said they recovered a semiautomatic rifle and two handguns from the shooter. The firearms do not appear to be illegal, Johnston said.
Johnston said law enforcement had been contacted before about the gunman firing weapons in his property before, but that those sort of complaints were not uncommon in the rural community where some people use their firearms on their own property.
The suspect may have been limited in owning guns for a specific period of time because of the restraining order that was issued against him in January, Johnston said, but he was not restricted from purchasing firearms because of his record.
In a statement, California Gov. Jerry Brown said he was "saddened to hear about today's violence in Tehama County, which shockingly involved schoolchildren."
Coy Ferreira told KRCTV that he heard what sounded like firecrackers as he was dropping his daughter — who is in kindergarten — at the school. Ferreira said that a school secretary ran out and yelled for the children to get in their classrooms.

"I was walking my child to the classroom because they blew the whistle for the first bell, and when that first whistle blew it sounded like a firecracker went off and we all stopped and were stunned," Ferreira said. "Then, like a minute later, there were three more shots fired."

After running into a classroom with 14 students, a series of shots were fired through the classroom windows, hitting one student. Ferreira told KRCTV.
This is a developing story. Check back for updates and follow BuzzFeed News on Twitter.