Florida police on Friday announced they had reversed course and would file charges against five teenagers who laughed and joked as they recorded a 32-year-old man drowning.
Jamel Dunn drowned in a retention pond near his mother's house in the city of Cocoa on July 9. None of the teenagers called for help or notified the police about his death, authorities said.

In the video that was later shared by Dunn's sister on social media, the teens, who have not been identified, were heard yelling, "Get out the water, you gonna die," "We're not gonna help your ass," and "Ain't nobody gonna help you, you dumb bitch." Police initially found the video on social media.

When Dunn's screams could be heard in the distance, the teens began laughing. "You bitch, you shouldn't have gotten in there," one of them said.

And when Dunn's head finally went under the water and did not resurface, one of the teens asked his friends, "Bro, you scared to see a dead person?"

They laughed as one of them said, "Oh, he's dead."

Another said, "He ain't coming back up."

"RIP," one of them said.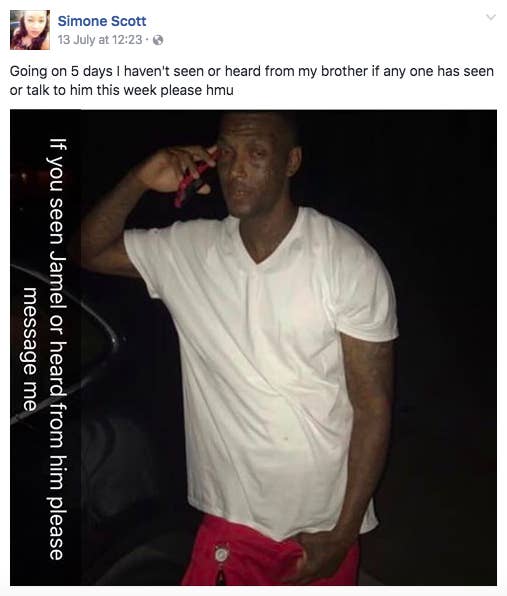 Dunn's family filed a missing person report on July 12, and two days later his decomposed body was found floating in the pond near the shoreline, Yvonne Martinez, a spokesperson for the Cocoa Police Department, told BuzzFeed News on Friday morning.
Martinez said that none of the teens, whose ages range between 14 and 16, would face any criminal charges despite authorities being "horrified" by the video.
After consulting with the state attorney's office, Martinez had said "there wasn't anything criminal we could charge them with."

She said that detectives were looking to charge them with "some sort of negligence that could contribute to manslaughter."

"But [the teens] weren't directly involved. They didn't push him into the water, they didn't coerce him into the water," Martinez said. Florida also does not have a Good Samaritan law, she noted. (Typically, Good Samaritan laws in other states protect people from liability if their assistance to those who are injured or in danger results in unintended consequences.)

"Obviously it's a tragic incident and that there are people like that in this world," Martinez said. "Unfortunately, there's not a lot we can do about it."
However, Cocoa police announced on Friday afternoon that they would pursue charges against the teens after all.
The five will be charged with the misdemeanor offense of failing to report a death.
"When we initially reviewed this case it was determined there were no laws broken as the teens were not directly involved with the death," Chief Cantaloupe said in a statement. "Further research of the statutes and consultation with the State Attorney's Office yielded the decision to move forward with charges under this statute. It's our belief that this law has never been enforced in a scenario like this, but we feel it could be applicable."
"Regardless of the circumstances surrounding his decision to enter the water that day, there is absolutely no justification for what the teens did," Cantaloupe said. "Pursuing criminal charges is a way to hold them accountable for their own actions."

Mayor Henry Parrish II praised the decision to bring charges over what he called "an isolated act of unspeakable inhumanity."
"While this in no way will bring justice for what occurred, it is a start," he said.
As of Friday morning, authorities had questioned three of the five teens involved in the incident. According to Martinez, a detective told her that the mother of one of the teens was in tears during the interview, while her son "sat there with a smirk on his face."
"When you look at the video and hear the comments that were made, and just the cruel nature of what happened there, there are just not really any words to justify it," Martinez told BuzzFeed News.

The video, found by detectives on social media, was given to the Brevard County State Attorney's Office, which decided not to pursue charges. The state attorney released the video to Florida Today, which posted the audio of the incident.


Dunn's death was due to drowning, Martinez said, adding that police had a surveillance video from a neighbor's house that showed Dunn "deliberately" walked into the pond himself.

On July 8, Dunn got into an argument with his mother at her house which was right by the pond, and eventually his fiancé was asked to leave the house, according to Martinez.

After his fiancé left on July 9, Dunn "immediately jumped over the fence of the house, took off his shirt, and went into the pond," Martinez said.

"He went there willingly and very deliberately," Martinez said. "What his intentions were when he got into water, or what his state of mind was... whether to kill himself by drowning, we can't say."

Police are awaiting lab results to see if there was alcohol or drugs in his system at the time of the incident, Martinez said.

Dunn's family said that he had a disability and walked with a cane, according to a fundraising page started by his sister, Simone McIntosh.

However, Martinez said there was no evidence of him walking with a cane in the surveillance video obtained by police.

"Who did it? Why?," McIntosh wrote on the fundraising page. "Homicide or suicide are still unanswered questions, in the mean time we are asking for help to prepare for funeral arrangements," she wrote.

Martinez said there was "absolutely no evidence to indicate that it was a homicide."
"It's a drowning. That's the cause of death," she said.

She said that Dunn's family was "distraught and angry" and wanted someone to be held accountable. She said they contended that Dunn was coerced into the water as he would have never gone in on his own.

"The video evidence we have shows that the juveniles didn't coerce him. He was already in the water when they started taunting him," Martinez said, adding that there was also "some distance" between the teens and Dunn.

She said that there have been discussions between authorities about creating a Good Samaritan-type law.

"The culture we're seeing in younger communities is 'see something, say nothing,'" she said. "We have a lot of investment in communities starting at a young age. This is going to take time and community involvement to change that culture."

In a Facebook post sharing the video, Dunn's sister wrote, "How could you witness someone die & not be charged w/anything?"


This is the video posted by Dunn's sister. ***WARNING: This video depicts disturbing content.