Since March, students at the University of Wisconsin-Madison have protested incidents of racism on campus with the hashtag #TheRealUW — and now they want some presidential candidates to acknowledge the movement ahead of the state's primary on Tuesday.
At a Bernie Sanders rally in Madison on Monday, a group of students held #TheRealUW banner which depicts Bucky Badger, the university's mascot, dressed like a Ku Klux Klan member.
The hashtag #TheRealUW began in response to a series of racist incidents at the school and is now being used by students and administrators to spark conversations about racism and discrimination on campus.
The university said it was investigating the most recent incident on March 31, when this note was slipped under a student's door.
Launa Owens, a first year student, was sent the note after she was photographed carrying #TheRealUW banner on campus during Hillary Clinton's campaign event at the university on March 28.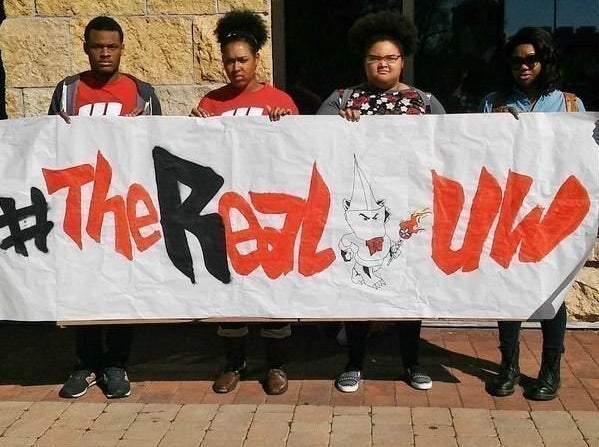 Tashi Lipscomb, another student who posted about the incident on Facebook, said it contained a threat to the four students, including herself and Owens, who were photographed carrying the banner to create awareness of racism on campus.
"There were four of us in the picture and [there] are four lines at the bottom of the page — notice one is crossed out," Lipscomb wrote.
Owens told Madison365, a nonprofit media organization for diverse voices, that she found the note on the morning of March 31.
"I picked it up and read it and at first I didn't think too much of it. It was just like a punk move to me," Owens said. "I had a class to go to. I'm in my class, I'm thinking more about it, I can't help thinking about it."
She also believed the note was threatening, saying it showed four vertical lines with one crossed out, presumably representing the four people in the photo.
In a statement to BuzzFeed News on Monday, the university said it was investigating the "highly offensive, racist message," which followed "several other displays of racially insensitive conduct" on campus.
"On March 31, the university received a report that a student in Sellery Hall received a highly offensive, racist message under her door. We responded immediately, to provide support to those affected and begin an investigation, both inside University Housing and the Hate/Bias Team, operated by the Division of Student Life. This incident follows several other displays of racially insensitive conduct in Sellery Hall and Dejope Hall.

The conduct displayed in these cases are completely unacceptable. They hurt fellow Badgers, make our campus a less welcoming place and do not reflect our shared community values. Further, they have a real impact on the lives of our students and their academic success.

Students who engage in hate or bias acts in violation of our codes of conduct will be disciplined. When we learn of these incidents, we will investigate, take disciplinary action against those students who have engaged in inappropriate conduct and provide support for the victims."
The racist note prompted a strong reaction from Patrick Sims, Vice Provost for Diversity and Climate, who posted a video calling it a "cowardly act."
In the nearly 9-minute long video titled "Enough is Enough," Sims addressed the note's recipient saying, "I'm sorry you have had to experience this."
He said, "This is not the forward-thinking institution that I thought it was; when our students hide in anonymity and present punk ass acts like this to other students. You wouldn't want this to happen to your family, your son, your daughter."
He acknowledged that those who were on the receiving end of such acts were "tired of this foolishness," but called for them to "speak up" and work to end "the cowardly acts that hide behind racism, hide behind xenophobia, hide behind the kind of hatred that we haven't seen since Jim Crow."
"No one person can stop the venom that is not only happening here, but happening throughout this entire nation. I swear you would think we're living in 1916 as opposed to 2016," he said.
Sims said that the university was accountable for creating a safe environment for students and that "no letter from the provost, the chancellor of vice provost of diversity is going to stop this from happening."
He also addressed those responsible for writing the note, saying, "To the folks who think this is funny, who think this a joke, tell me on what planet are you living on where this is the way you want to treat your fellow human beings? Your mom and dad probably taught you better than that. And if they didn't, you're here now. And you're gonna learn now."
The dean of students also said she was "ashamed" of the incident.
The hashtag, #TheRealUW, first began trending on Twitter around March 14, a few days after a student allegedly spat on a black student's face and called her "poor," according to a blog post by a witness.
In her post, Nora Laine Herzog alleged that a male student, later identified as Matthew Hsieh, 19, spat on the face of her friend, who was on an arts and activism scholarship.
Herzog alleged Hsieh called her friend "poor" and "told her she didn't deserve to be here, that she wasn't pulling her own weight because she was on scholarship."
Herzog also said Hsieh called her friend "all kinds of names relating to her race, her class, and her gender."
"He threatened to sue all of us, he shoved three of us, continued to say some really fucked up shit as he followed us down the hallway," Herzog wrote.
After investigating the students' complaint, the UW-Madison police decided not to file charges against Hseih, saying that the incident was a result of a long-running dispute between the two parties and that race was not a factor, the Wisconsin State Journal reported.
A few days after the incident, campus police began an investigation into racist graffiti found on the wall of a campus bathroom. The drawing showed a stick figure hung from a tree with the N-word written next to it, according to local reports.
The university told BuzzFeed News on Monday that no one had been charged in the graffiti incident, "but the case remains open."
Students began using the hashtag to share their experiences of racism on campus.
Racist incidents on campus were reported as early as Jan. 26, when a UW student posted swastikas and pictures of Hitler on the door of a Jewish student in Sellery Hall.
The student who posted the swastikas was disciplined, but officials did not elaborate on the process, the Wisconsin State Journal reported.
The university also investigated another incident on March 9, in which a group of students allegedly mocked a Native American elder by making stereotypical "war cry sounds" during a healing ceremony for victims of sexual assault.
The university told BuzzFeed News Monday that it had "previously completed misconduct processes for a Jan. 26 incident in Sellery Hall and a March 9 incident at Dejope Hall."
On March 15, Chancellor Rebecca Blank wrote a letter to students addressing the "troubling string of incidents" that she called "completely unacceptable."
"Students who engage in hate or bias acts that violate our codes of conduct will be disciplined," Blank wrote. "When we learn of these incidents, we investigate, take disciplinary action against those students who have engaged in inappropriate conduct and provide support for the victims."
The university also announced a series of steps to "improve campus climate."
However, students continued to express their frustration with the administration's response to address racial intolerance and discrimination.
Now, students are taking their fight national, hoping Sanders and Clinton acknowledge the issue ahead of Tuesday's statewide primary.
BuzzFeed News has reached out to the Clinton and Sanders campaigns for comment.