Students at Marjory Stoneman Douglas High School will only be allowed to carry clear backpacks on campus as part of new security measures implemented after a shooter killed 17 people at the Florida school, administrators said Wednesday.
"When students return from spring break, clear backpacks are the only backpacks that will be permitted on campus," the superintendent of Broward County Public Schools, Robert Runcie, said in a letter addressed to Stoneman Douglas High School families.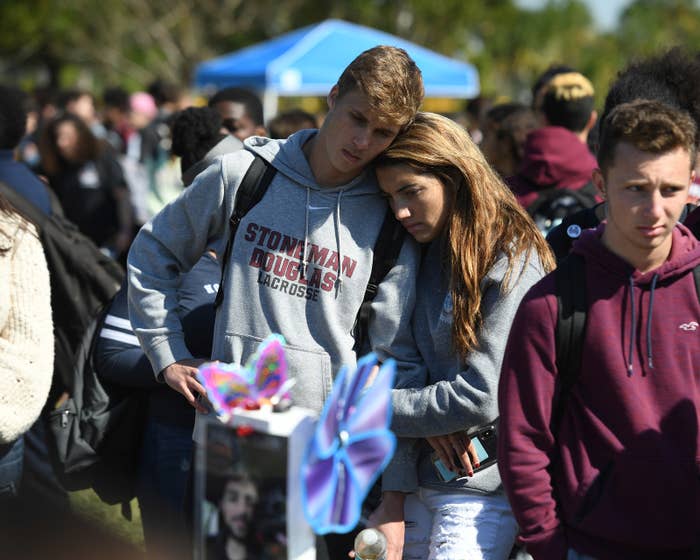 Students who don't have a clear backpack will be provided with one at no cost, the letter stated.
The letter was first reported by the New York Times and a copy was provided to BuzzFeed News on Thursday.
Every student will be issued a student identification badge and all students and staff members will be required to wear the badge at all times on campus, the letter said.
The district was also considering using metal-detecting wands and installing permanent metal detectors at certain points of entry to the campus, Runcie said.
While these measures were specific to Stoneman Douglas students, districtwide security measures included locking classroom doors at all times, securing exterior doors and gates throughout the day, and conducting regular emergency preparedness and response training for students, staff, and faculty members.
The state will also be providing the Broward County school district with approximately $8.5 million to place at least one school resource officer in each school and around $6 million to expand mental health services in schools, as part of the School Safety Bill that was signed into law.
"While we cannot change the heartbreaking and senseless act of violence at Marjory Stoneman Douglas, by working together, we can change the future," Runcie wrote in the letter.
The school's families received Runcie's letter just as its students prepare for the March for Our Lives — Saturday's nationwide demonstration calling for an end to gun violence in schools — a movement that was founded by the Stoneman Douglas survivors.
However, several Stoneman Douglas students were not happy about the school's decision to allow only clear backpacks on campus.
"I think that forcing students to carry clear backpacks is a misguided attempt to quell possession of weapons on campus (if that's what they're going for)," 17-year-old Stoneman Douglas junior Kyrah Simon told BuzzFeed News on Thursday. "The few students that were carrying knives shouldn't be a catalyst for clear backpacks, metal detectors, and all the other measures they're enforcing," Simon said.
Many of the survivors, including those instrumental in the #NeverAgain movement to end gun violence in schools, expressed their frustration on Twitter over the measure.
"I just really don't think clear backpacks will do anything," Carly Novell, a 17-year-old Stoneman Douglas senior, told BuzzFeed News on Thursday. "I feel like the clear backpacks are only going to make us more uncomfortable and remind us that our school is not the same," she said.
Novell pointed out that people could hide anything they wanted between folders inside the backpack.
"If the police can't protect us, backpacks can't either. I want to feel comfortable going to school and I havent felt that since I've gone back," she said.
A spokesperson for Broward County Public Schools told BuzzFeed News Thursday that she did not have additional information regarding students' concerns about the clear backpacks.
"All this policy does is make everyone feel like their privacy is being infringed on, and the real security problem remains unaddressed," Nikhita Nookala, a 17-year-old senior at the school, told BuzzFeed News.
She said that many students carry sport bags, instrument cases, and other book bags that can't be regulated.
"I'm not sure what administration or the county thinks they are solving by putting this policy into place," she said.
While some students acknowledged the school's attempt to keep them safe, they expressed discomfort at the thought of having the contents of their backpacks exposed.
"I'm going to miss having privacy, but I guess if it makes us safer, I shouldn't complain," Sara Giovanello, a16-year-old Stoneman Douglas junior, said. "But I'm genuinely anxious that someone will see some hygiene products from the inside of my backpack, or see what i keep inside and rob me for it."
Morgan Williams, 16, acknowledged that the school board was doing what they could to keep students safe, but said she disliked the idea of clear backpacks.
"Yes, if someone tries to bring a weapon in their bag you can see it. However, my friends and I feel uncomfortable with everything we bring with us on display anytime we walk down the halls or sit in our classrooms. At my school, backpacks are one of the ways students express themselves and it's not fair for that to be taken away from us," Williams, who is a junior at the school, said.
Other students pointed out that ordering students to carry clear backpacks was just a temporary fix to a deeper-rooted problem.
"A message to politicians: Our safety is at risk and our privacy is being stripped away," Jaclyn Corin, a 17-year-old junior and core member of the #NeverAgain movement, told BuzzFeed News. "Just fix it from the core and you wouldn't need to buy all these bandaid boxes for such a deep wound."
Some students said enforcing such a rule made "school seem like jail."
"This is absolutely ridiculous at this point like schools are slowly but surely becoming prisons," one student said.