Students and survivors returned to Marjory Stoneman Douglas High School on Wednesday morning as classes resumed for the first time since the Feb. 14 shooting that left 17 of their classmates and faculty members dead.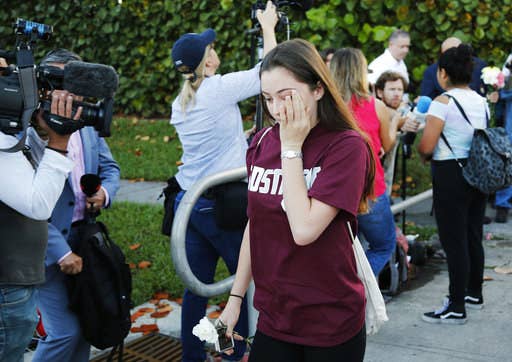 Students wore T-shirts emblazoned with the words "Douglas Strong" and carried flowers as they made their way to school.
The school will hold classes for four hours a day this week — from 7:40 a.m. to 11:40 am — as part of a modified schedule giving students time to heal after the tragedy and regain a sense of normalcy even as many survivors continue their organized efforts to end gun violence and mass shootings in schools.

A total of 3,123 students returned to classes on Wednesday, making it an attendance rate of nearly 95%, according to Broward Schools Superintendent Robert Runcie. "It was like a family reunion," he said.
"Today was a major milestone. We took a major step in the healing process as students returned to school and continued to be inspiring and show their resilience," Runcie said at a press briefing on Wednesday. Runcie said it was heartwarming to see students in the courtyard smiling and giving each other high fives and hugs.
Around 150 counselors and more than 40 therapy dogs were there to provide comfort and support to the grieving students.

So far, only 15 of 3,200 students have expressed interest in transferring to other schools, while four of 215 employees have asked about other employment options, Runcie said.
He described the week as one of "flexibility, support, and love."
"We know things will never ever be the same. We're trying to make sure we figure out how to move forward," he said.
Signs of strength, courage, and support were spotted all over campus.
Students and teachers posted about what it was like being back on campus for the first time since the shooting.
Some students remembered faculty members, including assistant football coach Aaron Feis, who died while shielding students from the shooter.
Astronomy teacher Brandon Kyle Jeter posted a photo with students, saying they were "reclaiming the nest," the call for the Eagles that resounded through the school.
Another teacher, Sarah Lerner, posted a photo of her class with their "borrowed therapy dog, Woody."
Students began their classes with a 17-second moment of silence, one for each of the victims of the shooting.
Principal Ty Thompson assured his students that the focus was on "emotional readiness and comfort, not curriculum."
Thompson also greeted his students and others with a hug, living up to his vow to "hug each and every one of you as many times as you need" and "to hold you as long as you need me to, for all 3,300 of you and your families."
Large numbers of law enforcement officers from the community and around the country were there to welcome students and teachers who were making their emotionally fraught return to campus.
Some officers held signs bearing messages of love and support as students walked to school.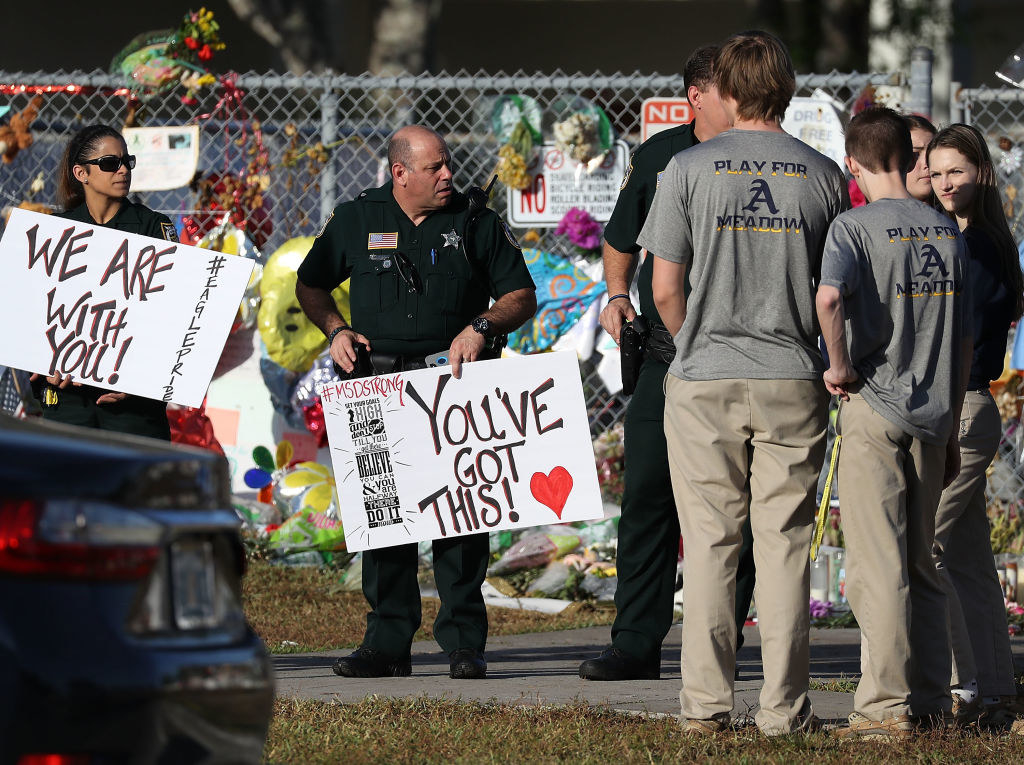 The police department of Hollywood, Florida, said it was "an emotional morning as we stood shoulder to shoulder with surrounding law enforcement agencies to welcome students, teachers, and staff back to school."
Security personnel high-fived students outside the school.
Well-wishers from the community, including those from other schools, turned out in droves to show their support for the students.
People on Twitter sent messages of strength and support to the Douglas High community.
"You don't know me but I just wanted to extend my love, support and thoughts to you," one person said.
The presence of armed officers at the school was a stark reminder of the consequences that students and teachers will have to grapple with in the aftermath of the deadly rampage.
Runcie said that the school would continue to have an "enhanced security presence" but assured that it would not be overwhelming for students.
Many students expressed their mixed emotions about returning to school. In a tweet addressing her classmates on Tuesday, survivor Aly Sheehy said, "I'm not going to lie, I've been dreading going back to school tomorrow. It will be weird. I will most definitely cry. However, we will do it together. We can face this."
Another student said she was scared, nervous, and upset, but added, "I'm happy that I have my friends by my side through all of this."
The founder of the #NeverAgain movement, Cameron Kasky, tweeted, "I've never anticipated a 6:00 AM alarm more in my entire life."
Another student and activist, Jaclyn Corin, sent words of encouragement to her peers.
The father of two students who were returning to school said, "Today is a sad day but it needs to happen and it's here."
"I pray that today is the beginning of our long and difficult journey from grief, sorrow and anger to a new consciousness of hope, compassion and love," Robert Runcie, superintendent of Broward County Public Schools, said in a tweet Wednesday.
Christine Hunschofsky, the mayor of Parkland, thanked the school's administration for working to get the students back to school.