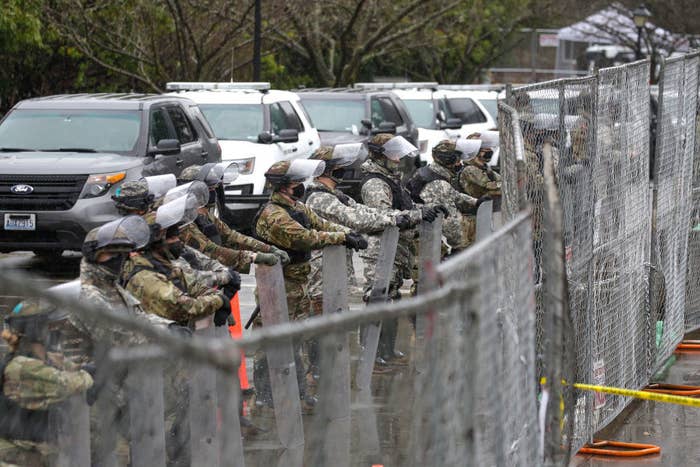 State capitals across the country are steeling themselves against possible attacks from violent pro-Trump mobs ahead of the presidential inauguration on Jan. 20, by deploying hundreds of National Guard troops, building security fences around their capitol buildings, barricading windows, closing statehouses and roads, and holding online legislative sessions.
Governors have beefed up security measures at statehouses, fearing a repeat of last week's bloodshed at the US Capitol where a frenzied mob — incited by President Donald Trump's dangerous lies about the election — broke through barricades, attacked police, and rampaged through the halls of Congress, forcing lawmakers to go into hiding.
The scale of the Jan. 6 riot, which targeted high-profile members of Congress and Vice President Mike Pence, raised significant security concerns for one of the most important government buildings and provoked fear of similar attacks at state capitols.
The FBI this week warned that "armed protests" involving extremists were being planned in all 50 states in the days leading up to Joe Biden's inauguration, the Associated Press reported.
Authorities in the nation's capital said Friday that they are establishing a "robust and hardened perimeter" around the White House, the Capitol, the National Mall, and other areas of downtown DC, along with stationing at least 15,000 National Guard troops and around 4,000 law enforcement officers ahead of President-elect Joe Biden's inauguration.
The Secret Service will establish a "green zone" in downtown Washington over the weekend, involving multiple street and train station closures as well as parking, pedestrian, and traffic restrictions.
At a press conference Friday, a Secret Service official acknowledged that because of the fortified perimeter around downtown DC there was "potential for people to go elsewhere, whether it is back to their state capitals or to other parts of the city."
California Gov. Gavin Newsom on Thursday authorized 1,000 National Guard personnel to protect the state Capitol and other critical infrastructure among other security measures ahead of the presidential inauguration.
"In light of events in our nation's capital last week, California is taking important steps to protect public safety at the State Capitol, and across the state," Newsom said in a statement. Federal, state, and local officials were working together "to ensure those disgraceful actions are not repeated here," he said.
Authorities installed a 6-foot chain-link fence around the state Capitol in Sacramento. The state is also working with social media companies to ensure that their platforms are not used by domestic terrorists and hate groups to organize or spread disinformation, Newsom said.
New Jersey Gov. Phil Murphy on Friday ordered state employees to work remotely on Jan. 20, because of the "level of tension in the country," the AP reported. State employees in Arizona have also been encouraged to work from home, the Arizona Republic reported. The National Guard is on call in the state and a chain-link fence was installed around the Capitol complex in Phoenix.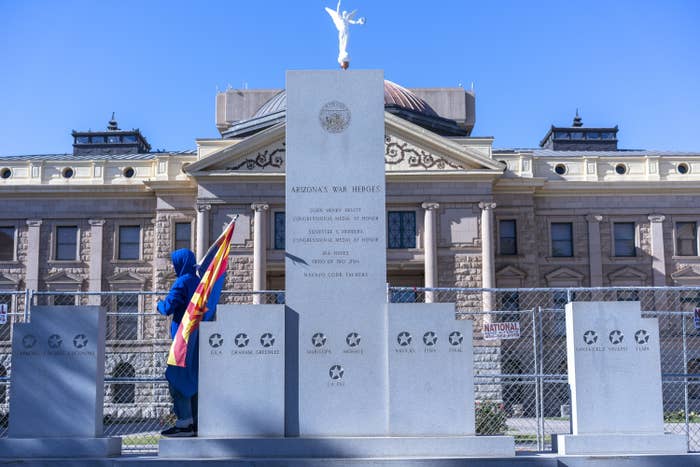 Two days after the US Capitol siege, Washington Gov. Jay Inslee activated 750 National Guard troops and a "large number" of State Patrol troopers to protect legislators and their staff at the state Capitol in Olympia. On the day of the US Capitol siege, a group of armed Trump supporters also breached a fence at the governor's mansion in Olympia.

"The actions we saw in both Washington, D.C. and Olympia earlier this week were completely unacceptable and will not be repeated in our state capital again," Inslee said in a statement.

A temporary chain-link fence, backed by National Guard troops, was erected around the Capitol.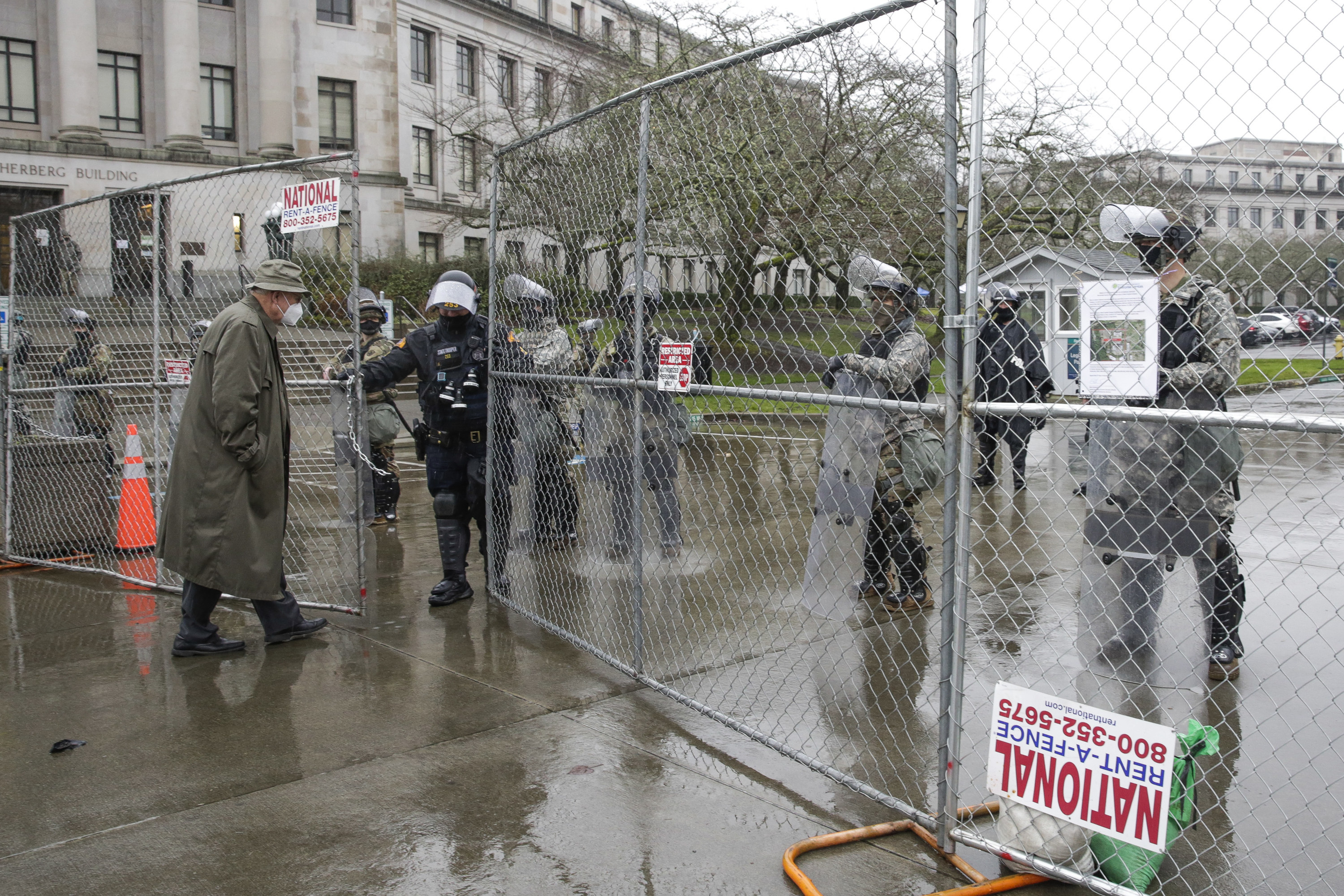 Two people were arrested at the Capitol campus on Monday, including a man who tried to enter a secure area as the 2021 legislative session was about to begin. Lawmakers voted that most of the new session would be held online.
On Tuesday, Inslee extended security measures through Jan. 20, citing "evolving intelligence on security threats posed in all 50 state capitals following the violence in our nation's capital, as well as recent illegal and dangerous actions associated with non-permitted events on our state's Capitol Campus."
He said many roads and trails would remain closed along with vehicle barricades to support people's ability to "peacefully assemble" in nonrestricted areas.
"These unfortunate, necessary security precautions could last longer, but we are hopeful that we will soon see political temperatures cool and threat levels come down, bringing a related easing of these restrictions," Inslee said.
Ohio Gov. Mike DeWine on Tuesday authorized 580 National Guard troops and announced that the Ohio Statehouse would be closed from Jan. 17 through Jan. 20. All downtown state office buildings would also be closed on those dates with staff reporting to alternate work locations.
DeWine said he had mobilized hundreds of National Guard members to assist local and state authorities in Columbus as well as federal authorities during the inauguration in DC.
The Columbus Police Department along with the Ohio State Highway Patrol "will have a significant presence in downtown Columbus in coming days," the governor's office said.
"We must always, and will always, respect the rights of peaceful protesters, however, the sad truth is that there are people in our country who want to turn peaceful protests into opportunities for violence," DeWine said in a public briefing. "Just as we respect and will protect peaceful protesters, we will also just as vigorously resist violence. Violence will not be tolerated in Ohio."
Workers boarded up ground-level windows at Wisconsin's Capitol in Madison on Monday, in what officials described as a "proactive precautionary measure." Last week, Gov. Tony Evers mobilized National Guard troops to assist Wisconsin's Capitol Police in securing the building. He authorized an additional 500 National Guard troops to assist federal law enforcement in DC ahead of the inauguration.
Following reports of a right-wing group planning armed protests at Michigan's state Capitol on Sunday, crews boarded up windows of government buildings near the Capitol in Lansing, as Gov. Gretchen Whitmer activated National Guard troops to help the Michigan State Police in efforts to protect the Capitol campus, the Detroit Free Press reported.
A state commission voted Monday to make it illegal to open carry weapons in the Michigan Capitol. Officials ordered a 6-foot fence to be constructed around the building and an increased number of state police officers are patrolling the campus through mid-February.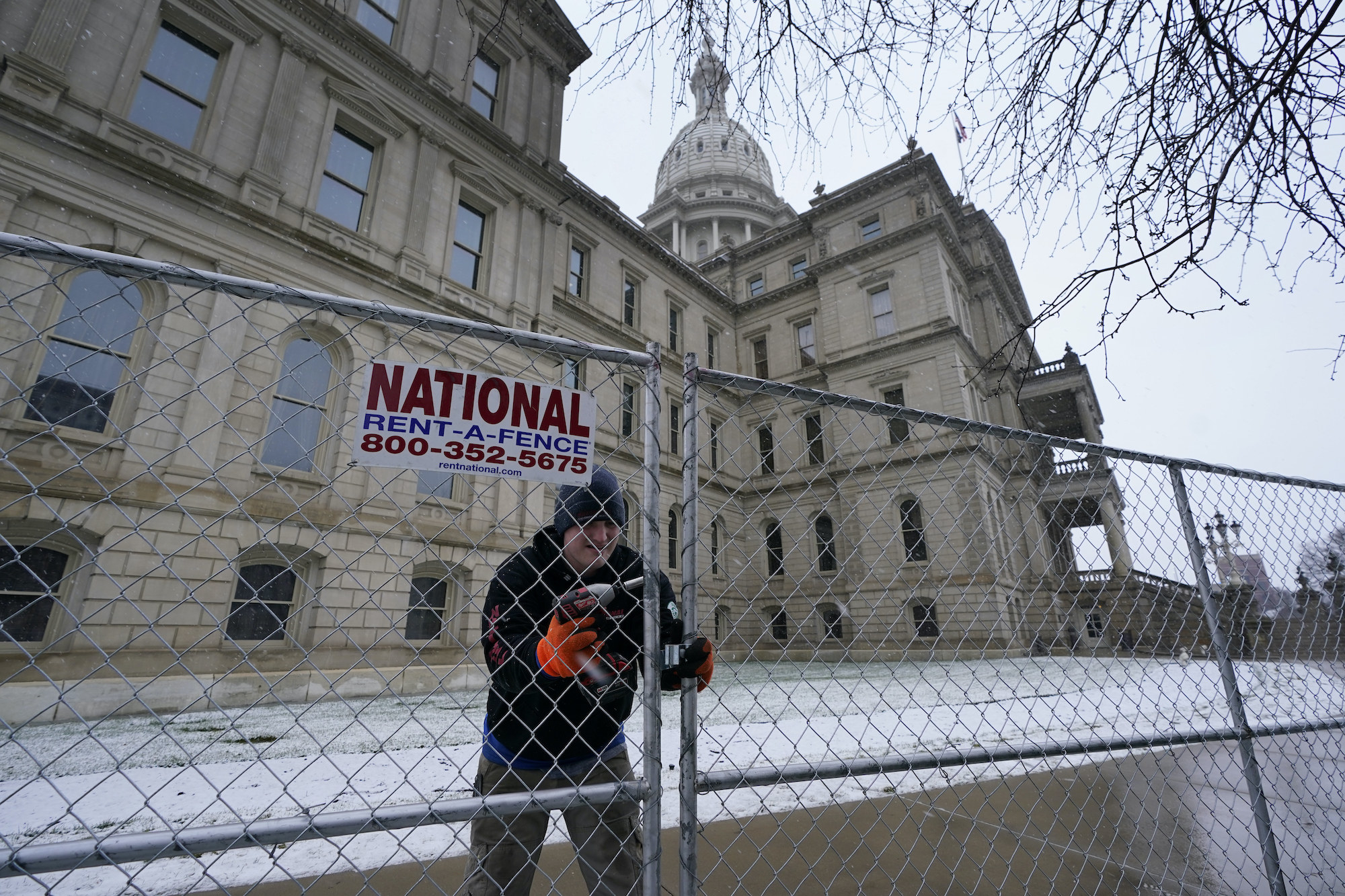 Lansing police will close roads on Sunday and officials urged residents to stay at home, adding that the department has "unprecedented preparedness" for possible violence, the Detroit Free Press reported.
Michigan has seen months of armed protests against coronavirus restrictions in the state and threats from extremist groups, including a foiled right-wing plot to kidnap Whitmer. A day after the US Capitol riot, the Michigan Capitol closed for a few hours after a human-made a bomb threat against a lawmaker critical of Trump.
On Jan. 7, State Attorney General Dana Nessel warned people to stay away from the Capitol, tweeting, "Our State Capitol is not safe."
Governors in Oklahoma and Oregon also activated National Guards troops to protect their state capitols.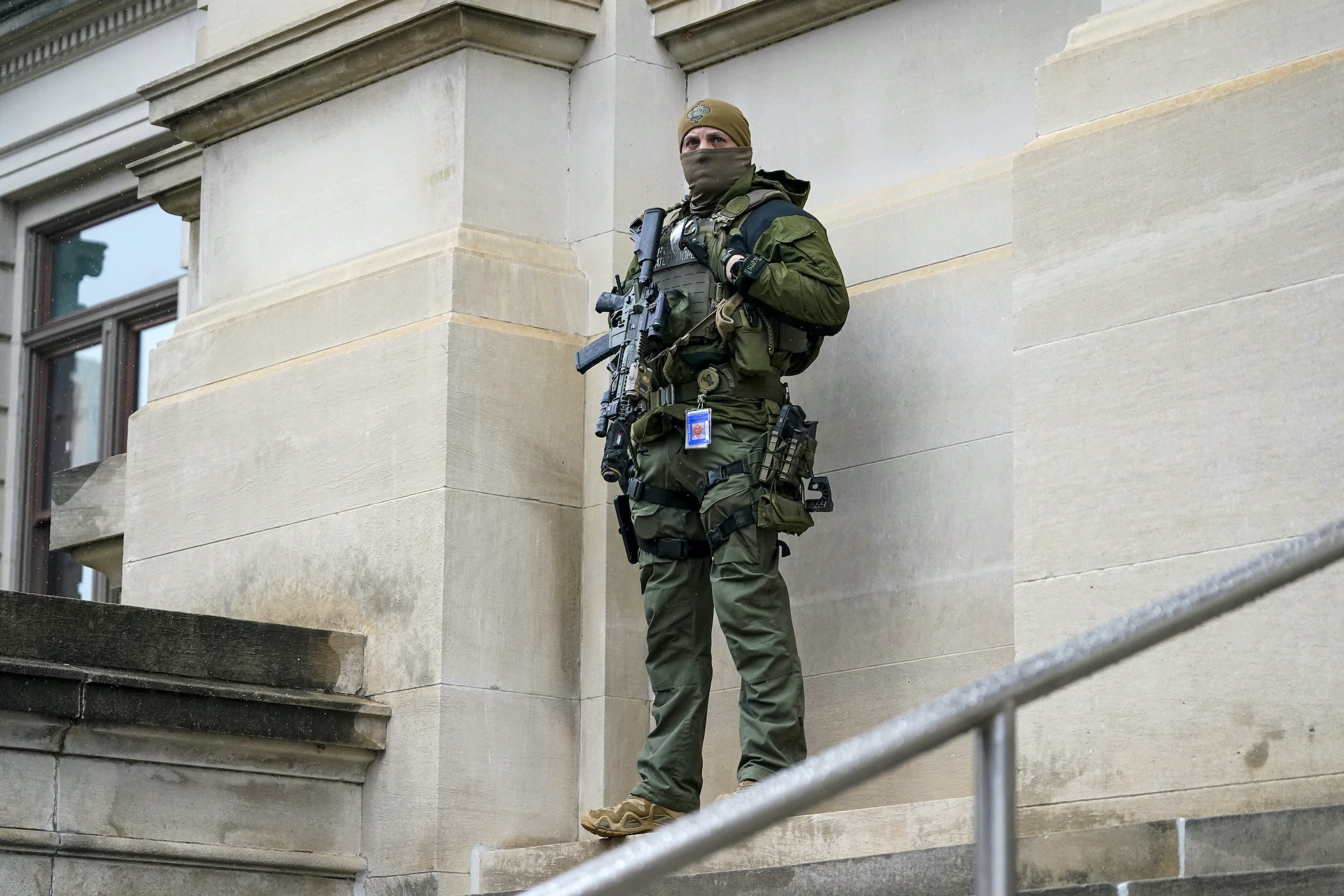 SWAT teams and patrol cars were stationed outside Georgia's Capitol this week as lawmakers began the legislative session. An 8-foot security fence was erected around the perimeter of the building and Gov. Brian Kemp said he extended an executive order allowing him to deploy National Guard troops if needed while multiple local and state agencies said they were prepared to protect the Capitol in Atlanta.
"Given the disgraceful, un-American acts we saw last week in Washington, these gentlemen and their teams are fully prepared to deal with anything and everything that may happen in the days and weeks ahead," Kemp said on Tuesday. He said that while the threat level to the state Capitol was "very low," he was "taking nothing for granted."
"I think you can see what happens when you do that, looking back to last week," he said.
Sarah Mimms contributed reporting to this story.