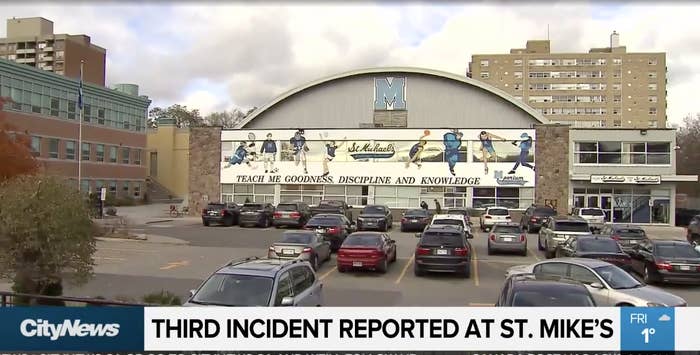 Police in Toronto are seeking information on multiple incidents of alleged sexual and physical assaults at a private all-boys Catholic school after videos of two of the alleged assaults surfaced on social media earlier this week.
St. Michael's College School in Toronto has expelled eight students and suspended one after videos of two separate incidents — one which involved allegations of sexual assault — were circulated online.
Toronto police said Friday that its investigation into one of the incidents — in which a student was allegedly sexually assaulted with a broomstick by a group of boys in a locker room — has opened a "number of occurrences involving incidents of alleged assaultive and sexually assaultive behavior" at the school.

Police said they believed there may be other victims and witnesses and urged them to come forward and speak to investigators.
The incidents have sparked widespread criticism and scrutiny of the prestigious school, which describes itself as "Ontario's only independent Catholic high school for young men in Grades 7–12," offering them "an enriched, Catholic, Liberal Arts education."
In one video, a group of boys appears to be sexually assaulting a partially naked teen with a broomstick in the school's locker room, according to CityNews — which viewed the videos and was first to report on the incidents.

The Star — which also viewed the 22-second video — reported that the victim was being held down by several boys, while two students appeared to be assaulting him with the broomstick. In the video, someone is heard yelling "Get it in there" and "put it in," the Star reported.
In a separate 49-second video, another teen boy in his underwear appears to be thrown into a sink with running water while several students slap his bare skin, CityNews and the Star reported.
Toronto police said it began investigating the alleged locker room assault Wednesday, only after receiving information from media outlets, leading many to question why the school didn't inform the authorities about the alleged assault first.
Police said Wednesday that the locker room video had been classified as child pornography.
"Anyone who has this video is in possession of child pornography," the police statement said. "The video must be deleted immediately and cannot be shared with anyone."
In a timeline detailing the school's response to the incident, St. Michael's said that it was made aware of the first video — involving the teen being slapped in a sink — on Monday and notified the police.

A spokesperson for Toronto Police confirmed to BuzzFeed News that St. Michael's had contacted police Monday about the sink incident. The spokesperson said that from the information they received at the time, the sink incident was not criminal in nature and that police had advised the school on how to handle it.
According to the timeline, the school was made aware of the second video involving the alleged sexual assault Monday but did not inform police about it. The school said it conducted internal investigations into both incidents, and only upon their completion, provided information and the video of the alleged assault to the police on Wednesday.
The school said that it was made aware of a third incident on Thursday and had notified police about it. The school or police did not provide further information on this third incident.
St. Michael's said it expelled four students and suspended one in relation to the sink incident and that four other students involved in the alleged locker room assault were also expelled. The school also canceled its junior football season, the Globe and Mail reported.
The school issued statements saying both videos "severely violated" the student code of conduct.
"We understand and share the anger and distress that such horrible acts could happen on our school grounds involving boys in our care," St. Michael's College School said in a statement Friday. "It is unacceptable and falls far short of upholding the principles we strive to live by," the statement said.
Some on social media compared the alleged locker room assault at St. Michael's College to a controversial sexual assault scene depicted in the second season of the Netflix show 13 Reasons Why, in which three student-athletes brutally rape a male student in a bathroom by shoving his head in a toilet and sexually assaulting him with a broken mop handle.
However, there have been numerous similar incidents involving male student-athletes using objects such as broomsticks to sexually assault their teammates in locker rooms as part of "initiation" or "hazing" rituals across campuses in North America.
Earlier this month, four high school football players in Maryland were charged with rape after they allegedly sexually assaulted some of their teammates in a dark locker room using a broomstick as part of a "hazing ritual."
In October, a high school football player in Oklahoma was charged in an incident where a group of players allegedly sexually assaulted a freshman with a broomstick.


CORRECTION
A previous version of this post incorrectly used an image of the University of St. Michael's College in the University of Toronto instead of St. Michael's College School in Toronto. The photo has been replaced.