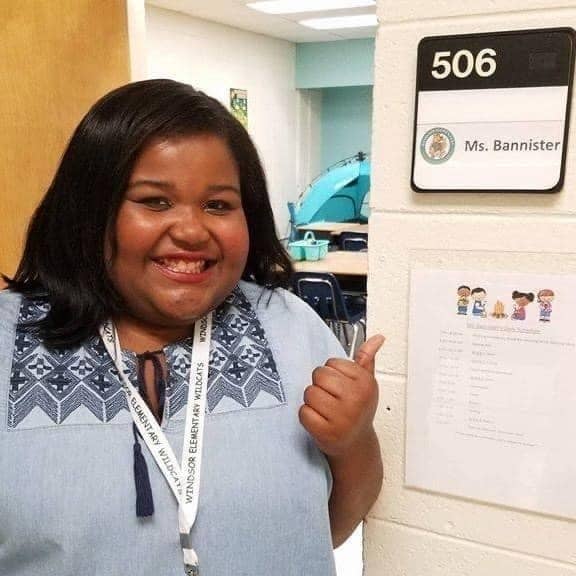 The journalists at BuzzFeed News are proud to bring you trustworthy and relevant reporting about the coronavirus. To help keep this news free, become a member and sign up for our newsletter, Incoming.
Last September, Demetria "Demi" Bannister — a third-grade teacher at Windsor Elementary School in Columbia, South Carolina — wrote and performed a song about the importance of coming to school that she set to the tune of "Old Town Road".
The song was a huge hit at the school where the popular 28-year-old teacher came to be known as "Windsor's Songbird."
This September, less than two weeks after she was at the school as part of her preparations to begin her third year of teaching the third grade, Bannister died of complications caused by the coronavirus.
Bannister was at the school on Aug. 28, which was the last workday for teachers before the school year began, Richland School District Two officials said. She started teaching her third-grade class virtually from her home on Aug. 31. Bannister then tested positive for COVID-19 on Sept. 4 and died three days later.
The school district said that it was sharing information about Bannister's death with permission from her parents "who wish to remind others about the seriousness of this disease caused by the coronavirus."
"I'm just hopeful that her death will be a reminder to the public that this coronavirus is mean, it's nasty, it does not discriminate, and that it's devastating," Bannister's uncle, Heyward Bannister, told BuzzFeed News. "It disrupts families' lives."
Heyward, 68, said that Bannister was always his favorite niece — "and I have many of them," he added.
He could tell from when she was a child that Bannister was a "spirited person" who always wanted to nurture, care, and love others.
"She was a little bit of a prankster too… always getting my nieces and nephews in trouble," Heyward recalled.
At first, Bannister considered becoming a healthcare professional, but "the blood kind of deterred her," her uncle said.
When Bannister began her education career five years ago as a fifth-grade teacher at Windsor Elementary, Heyward knew it "was the perfect fit for her."
"She had the temperament and the interest in elevating, cultivating, and molding young minds," he said.
Bannister felt that teaching was truly a calling of hers, cousin Shayla Jones told BuzzFeed News.

"She was teaching before she even became a teacher," said Jones, who grew up with Bannister. "She was always the teacher and my cousins and I would be the students."
Bannister loved her students and would always try to "push them to be more than who they thought they were," Jones said.
Her family and colleagues also remembered Bannister as a gifted singer.
"She could sing like an angel," Heyward said.
"Known as Windsor's Songbird, Ms. Bannister used her musical talents to bring a great deal of joy to our school," Denise Quickel, the principal of Windsor Elementary, said in statement.
She also led the school's student choir in several performances and hosted a student club for aspiring singers. Bannister loved her students, Quickel said, and "never missed an opportunity to advocate for students and public education."
When she was not singing at school, Bannister would often perform for her family at many of their reunions and celebrations that she was involved in planning.
The last time Heyward saw his favorite niece was on Aug. 15 at her parents' house, where Bannister had helped organize a drive-by parade to celebrate her grandmother's 90th birthday during the pandemic.
The event brought many family members together, and Jones knew that her cousin was elated that she was able to celebrate and see the grandmother who had helped raise her.
Heyward said that, as a creative person, his niece loved planning the family's reunions, participating in talent shows and coming up with games for both the old and the young at their gatherings.
"She got a joy out of making other people happy," he said.
Bannister's family could not be with her when she died at the hospital because of coronavirus protocols.
"I feel bad that she was by herself," Jones said. "No one could talk to her."
That was the hard part of all of this, Heyward said: "There doesn't seem to be closure."
Both Heyward and Jones said that Bannister had been looking forward to teaching her third-grade students, even as she was taking all the required precautionary measures during the pandemic.

The school district said that after being notified of Bannister's positive test, they began contract tracing, notifying her close contacts, and following cleaning protocols at the school.
While several South Carolina school districts, including Richland 2, started their academic year with all-virtual classes, the state has mandated students to be back in school for in-person instruction by mid-September, the Post & Courier reported.
Both Heyward and Jones believe that reopening schools is a bad idea.
Despite taking all the precautions and following protocols, Bannister still got COVID-19, Jones said. "Being in school is not a good idea for anyone," she said.
Heyward believes that political leaders have been sending "mixed messages" about how the coronavirus was going to go away and how it was safe to reopen schools.
Without adequate testing and a vaccine, Heyward said that schools need to pause on reopening and reevaluate the situation because "valuable lives are being lost."
"I would hope that people would see her death as a testament to how serious this is," Heyward said. "And, regardless of your political position, that you see value in protecting yourself and others."