AeroMexico Publicly Apologizes To Sikh Model For Refusing To Let Him Board Because Of His Turban
Waris Ahluwalia told BuzzFeed News that airline officials did not let get him on the plane after he refused to remove his turban for a security check.
Waris Ahluwalia — a New York–based actor, model, and jewelry designer — said he was not allowed to board an AeroMexico flight from Mexico City on Monday because of his turban.
On Monday night, AeroMexico publicly apologized to Ahluwalia after he vowed not to leave Mexico City without an apology from the airline.
"We apologize to Mr. Waris Ahluwalia for the unfortunate experience he encountered with one of our security guards during the boarding process on his flight to New York at the Mexico City International Airport," the statement said. "This incident inspires us to make sure that our safety personnel strengthens its customer service protocols, with full respect for the cultural and religious values of our customers."
Ahluwalia, who rose to prominence in 2013 after he became the first Sikh man to be featured in a Gap ad, told BuzzFeed News that AeroMexico officials told him he could not fly on any of its flights after he declined to remove his turban.
Ahluwalia, 41, said that his boarding pass had four S's — which marked him for secondary screening at the Mexico airport. "It's amazing how many times I've been randomly selected," the actor, who has starred in The Grand Budapest Hotel and The Darjeeling Limited, told BuzzFeed News.
After going through the first layer of security, Ahluwalia said he was asked to go through additional security at the boarding gate.
"They waited until everyone boarded the plane before they did the secondary security check on me," he said, adding that they went through his bag and made him remove his shoes and sweatshirt while conducting a full-body check.
They then told him to take off his turban, Ahluwalia said. Turbans, a religious head covering for Sikhs, are to be removed only in the privacy of their homes.
"I said, 'That's not going to happen,'" Ahulwalia said. "They talked amongst themselves in Spanish and then an airline official came up to me and said I will not be flying on any AeroMexico flights and will have to book myself on another flight."
"Being asked to remove your turban in public is like being asked to remove all your clothes in public," Ahluwalia said.
During the security check, officials used a hand wand to screen his turban and also swabbed his hands, which did not bring up any issues, Ahluwalia said.
In a statement to BuzzFeed News on Monday, AeroMexico said that Ahluwalia was asked to submit to screening and inspection before boarding "in strict compliance with TSA protocol." The statement said, "We have offered the passenger to alternatives to reach his destination as soon as possible. We sincerely regret any inconvenience caused by this incident."
According to the TSA, people wearing head coverings may be asked to undergo a pat-down and may only be asked to remove the head covering in a private screening area if the alarm continues to sound after the pat down.
A document detailing TSA screening procedures by the Sikh Coalition, an NGO fighting for the rights of Sikhs in America, says that Sikhs have the right to refuse to remove their turbans in public if they have successfully cleared additional pat-downs.
"I was shaking," Ahluwalia said after the interaction with AeroMexico officials.
Ahluwalia said that he was AeroMexico's guest, as they had offered to fly him first class for the trip.
He said it wasn't the first time he was asked by Mexican officials to remove his turban in public. "In September, I had the 'SSSS' on my boarding pass and they created a little box for me next to the boarding gate, sort of like I was a monkey," he said. But he said they let him board the flight after he declined to remove his turban then.
Incidentally, Ahluwalia played a Sikh character who vehemently protested against his turban being removed by law enforcement officials in the Denzel Washington film Inside Man.
"I'm not talking to anybody without a turban," Ahluwalia's character tells NYPD officers who are interrogating him. "It's part of my religion to cover my head in respect to God. I'm a Sikh," he says.
When the officers continue to grill him, he responds, "I'm fucking tired of that shit. What happened to my fucking civil rights? Why can't I go anywhere without being harassed?"
Ahluwalia posted about the encounter on social media, prompting strong reactions from people.
YouTube and Vine star Jasmeet Singh took to Twitter to express his frustration.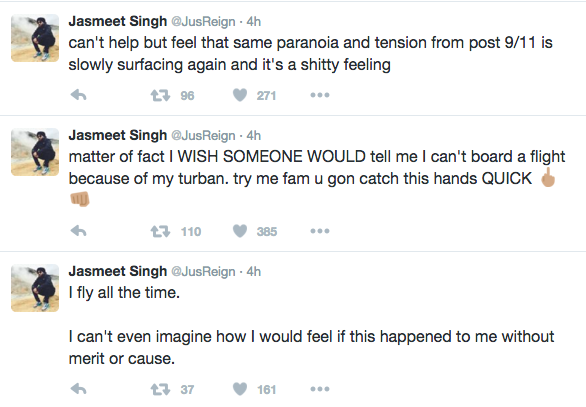 Others said they've had similar experiences.
Ahluwalia and the Sikh Coalition demanded a public apology from AeroMexico and an assurance that its staff would be trained on how to screen passengers with religious headgear.
Ahluwalia said that after the social media outcry, airline executives offered to get him to New York on the next flight, but he refused. "It's no longer about me and my comfort," he told BuzzFeed News. "We have a situation here, and that situation is ignorance."
He said that he would not leave Mexico City until AeroMexico addressed his three demands and made a policy change.
"I'm not angry," Ahluwalia said. "Let's just make that change so that no one else has to deal with anything like this again."